ANZCEN Clinician Educator Incubator
The Clinician Educator Incubator is a professional development programme for clinicians engaged in health professions education, with a focus on the critical care specialties in the Australia and New Zealand setting. This one year programme enrols participants into a mentored digital community of practice.
If you are a clinician who wants to develop as a scholarly educator, apply best practices and innovations to health professions education, and help lead critical care education in the 21st century, we invite you to work with us and join our community.
Participants are chosen for their demonstrated commitment to health professions education and their potential to develop as Clinician Educators. Through collaboration and mentorship they will develop their expertise and engage in education projects that will benefit our community of educators, our learners, and ultimately help improve patient care.
We are indebted to the creators and faculty of the ALiEM Faculty Incubator project for their inspiration, support, and generosity in sharing resources in the development of the Clinician Educator Incubator.
Applications for the 2022 Incubator are now open! (see below)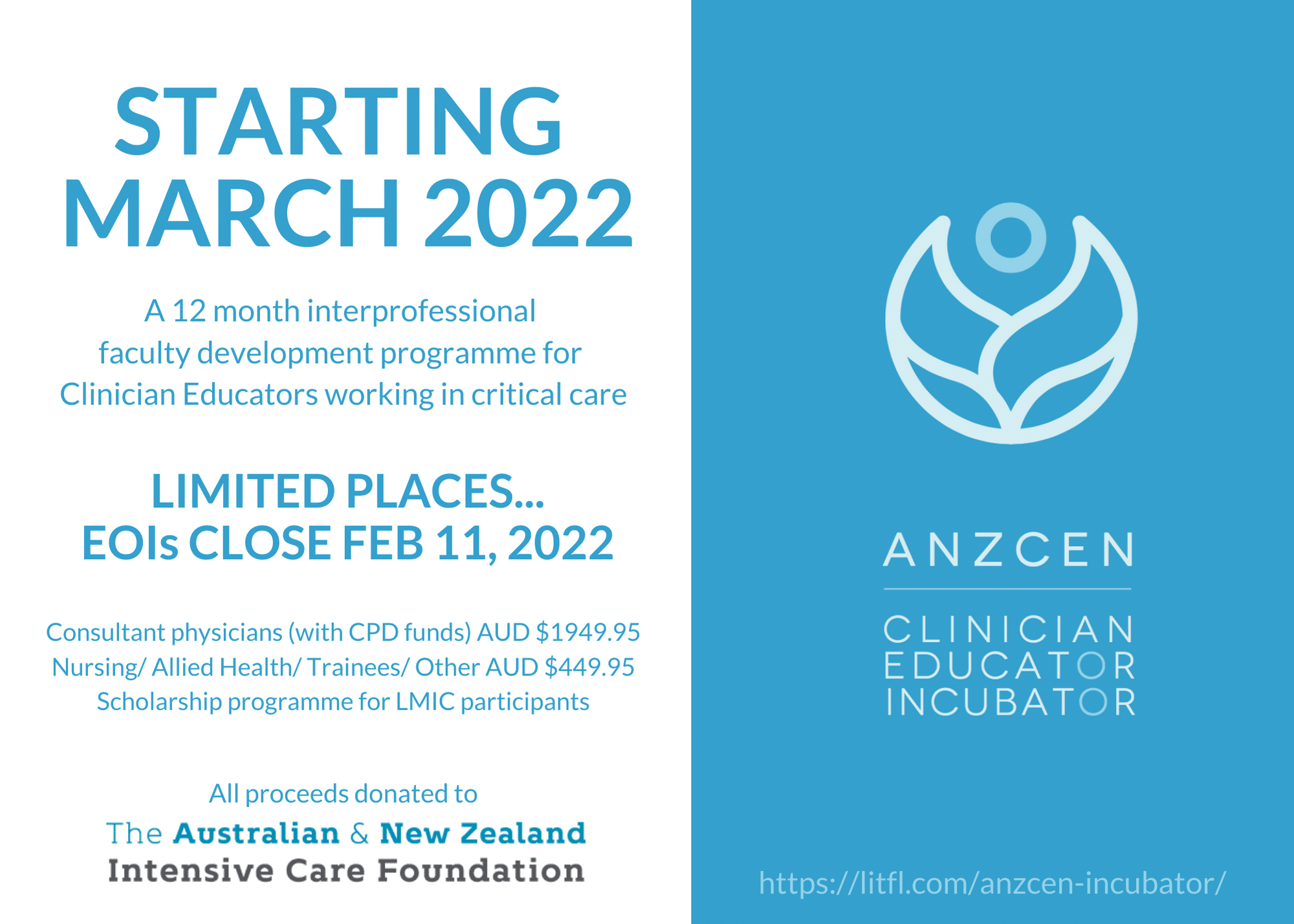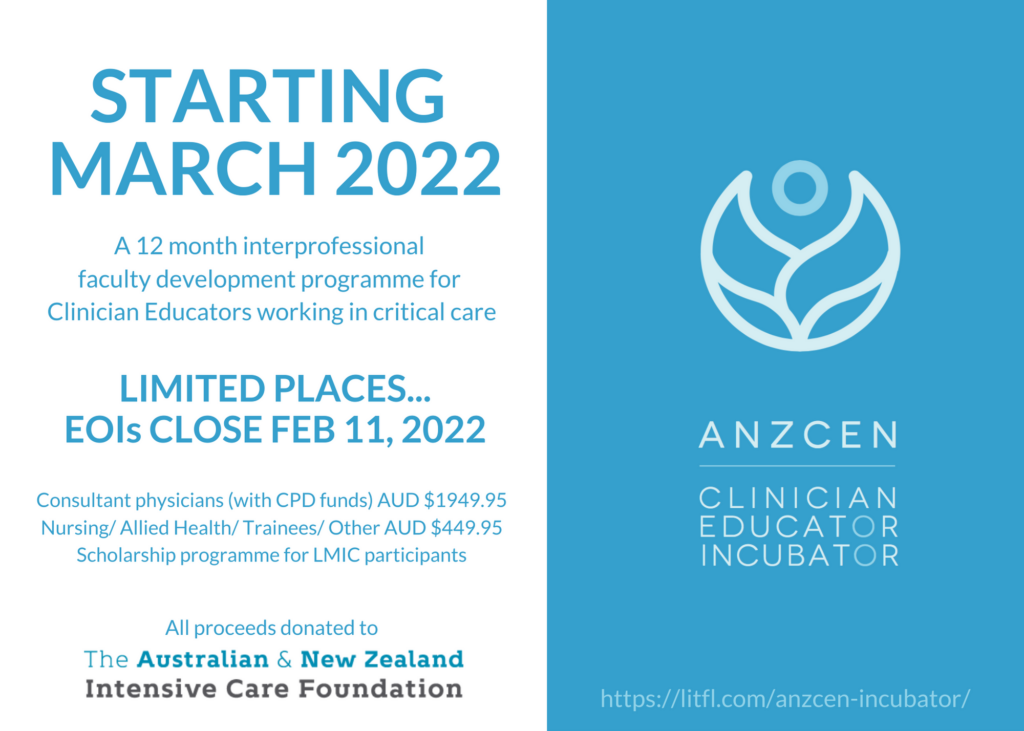 Goals of the Clinician Educator Incubator
To create an interprofessional virtual community of critical care Clinician Educators
To grow a living professional network of collaborators and mentors that continues beyond the year long programme
To provide participants with a core foundation in education theory and learning science, curriculum development, teaching best practices, assessment, and programme evaluation
To translate learning into practice through reflection, collaboration, coaching, and contextual application
How participants will learn
The programme takes a social constructivist approach, emphasising that learning is collaborative, contextual, build on prior knowledge, and involve self-directed elements. There are no exams or tests. Assessment is used for learning, and involves reflective exercises, peer review and feedback, engagement in topic discussions, and completion of small projects and scholarly activities.
Learners will have direct access to health professions educators with diverse experience and expertise, including internationally recognised leaders in their fields. Each month we discuss different topics critical to 21st century health professions education, tackle a monthly challenge project, develop a year-long collaborative scholarship project, virtually meet with our mentors and peer collaborators, and take advantage of other opportunities in critical care education.

Topics and timeline
| | | |
| --- | --- | --- |
| Topic | Start | Topic |
| 0 | Mar 2022 | Orientation |
| 1 | Apr | Clinician Educators, Scholarship and the Digital Age |
| 2 | May | Education Theory and Learning Science |
| 3 | Jun | Teaching Techniques |
| 4 | Jul | Education Research and Critical Reading |
| | Aug | REST MONTH |
| 5 | Sep | Curriculum Development |
| 6 | Oct | Assessment |
| 7 | Nov | Programme Evaluation and Quality |
| | Dec | REST MONTH |
| 8 | Jan 2023 | Simulation |
| 9 | Feb | Teaching and Learning with Technology |
| 10 | Mar | Education Leadership and Change |
Our platform
Slack is a digital communication platform used by many major companies (even NASA!). It has served as the successful platform for the ALiEM Faculty Incubator and in the Clinician Educator Incubator since 2020. Slack transforms how teams work, saves your email inbox from being overfilled, and is "platform agnostic" in that it can be used via a web browser or as an app on your laptop or phone. We will use a private Slack workspace to communicate, collaborate, and work together. 
Face-to-face meetings
Clinician Educator Unconferences will be held periodically in Australia and New Zealand and Incubator participants are invited to attend. These participant-driven events are highly interactive and tailored to the needs of the participants. There will be opportunities to bond and learn from one another, build our community, engage with key topics to address your learning needs, collaborate on projects in person, and get feedback on your work. Depending on the COVID19 pandemic situation meetings may be face-to-face or virtual.
Why participant numbers are limited
The Incubator has a limited number of places by design. The Incubator faculty is dedicated to investing in committed learners and ensuring that each participant gets the personalized attention to develop their full potential. Our goal is to develop a true, lifelong community of practice that will continue to collaborate and shape the future of critical care education for many years. Members will be part of rotating project-based small groups, as well as have personal access to leaders in the field. A smaller membership size helps ensure that every member is an active and engaged part of the community. 
Why join the Clinician Educator Incubator?
There are lots of reasons!
Personal access to experts and leaders from numerous clinical and non-clinical arenas
A year-long curriculum designed by experts in health professions education
Mentorship for your own health professions education projects, scholarly activities, and career development
Create scholarly outputs that promote health professions education in critical care
Join a community of practitioners who will develop and learn together, support one another, and collaborate together throughout their careers
Supplement other health professions education (e.g. university qualifications) with a programme and community that is focussed on creating solutions at the "coal face", embedded in workplace learning, and is truly interprofessional in nature.
Membership cost
The cost for this year-long programme is:
Consultant physicians (with CPD funding): AUD $1949.95
Trainees/ Nursing/ Allied Health/ other health professions: AUD $449.95
Participants who are an active member of any of the ANZCEN partner organisations (ACCCN, ANZICS, CICM, or ANZAHPE) will receive a AUD $100.00 discount on the above registration fees.
A limited number of scholarships are available to applicants that demonstrate significant need (e.g. participants from LMICs). Compare this to other faculty development courses*:
ALiEM Faculty Development Incubator (USD $1500) for 12 month programme
The Teaching Course (USD$1500) for 4 days
Harvard Macy Institute Program for Educators in Health Professions (USD$6,200.00) for 14 days
None of the faculty are remunerated. The purpose of the Incubator registration fee is to ensure that participants are truly committed to our Incubator programme and to develop a fund that supports education research and projects through the Intensive Care Foundation charity.
*costs of other courses may have changed since the time of writing
Prerequisites
Preference will be given to applicants who are clinicians that are actively involved in any of the following interprofessional learning activities:
Clinical teaching
work integrated learning activities
Team training
undergraduate, post graduate university educational programmes
simulation-based education
Application Process
In order to apply for the 2021 cohort, the following materials must be submitted after completing the brief Expression of Interest Registration Form:
Current Curriculum Vitae (with Educator's Portfolio, if available): This should outline specifically all the formal training and previous experiences in medical or health professions education.
Short form biography

Share with a photograph and a 500-word biography that describes your:

Formal and informal background in critical care clinical education
Intended contribution to the critical care/ health professions education community from involvement in the Incubator
Your intended career interests and goals development

Letter of Support Form completed by your departmental/ unit Director or Manager, or a recognised leader in Health Professions Education (click here to download letter template).
Letter for special consideration (optional) – Please include this if you feel you qualify for need-based financial assistance (do not exceed 500 words).
Application Deadline
Applications for the 2022 Clinician Educator Incubator are now open!
Applications close on February 11th 2022 (midnight AEDT); applicants must complete the Expression of Interest Registration Form by this date. Applicants will receive an electronic receipt by email followed by emailed instructions for uploading their application documents within 48 hours of registering their expression of interest. All application documents needed to be uploaded by COB February 17th 2022 (AEDT).
Applicants will be notified of the outcome of the application process by email by COB on March 1st 2022 (AEDT).
Incubator Leadership Team and Faculty
Meet the Incubator Leadership team

Chris Nickson (@precordialthump)

Chris is an Intensivist and Emergency Physician and has completed further training in clinical toxicology, clinical epidemiology and health professional education. He has a passion for helping clinicians learn and for improving the clinical performance of individuals and collectives. He is an Adjunct Clinical Associate Professor at Monash University, a member of the CICM First Part Examination Committee, and is the Innovation Lead for the Centre for Health Innovation at Alfred Heath where he leads translational simulation. He is heavily involved in the Alfred ICU's education and simulation programmes, and runs the education website, INTENSIVE. He created the 'Critically Ill Airway' course and teaches on numerous courses around the world. He was one of the founders of the FOAM movement (Free Open-Access Medical education) and was a co-creator of litfl.com, the RAGE podcast, the Resuscitology course, and the SMACC conference. His one great achievement is being the father of two amazing children.

Manisa Ghani (@anzcenincubator)

Manisa is an Intensivist and Emergency Physician based in Melbourne. She believes that being both a clinician and an educator is her calling, and has been systematically developing herself to fulfil this role to the best of her ability. She is currently completing her Masters study on the role of community of practice (CoP) in social learning. She is heavily involved in medical student teaching, both at the University of Melbourne St Vincent's Clinical School and The University of Notre Dame Clinical School. She is a CICM Co-Supervisor of Training (SOT) at St Vincent's Hospital.

Paul Ross (@ICUnurses)

Paul is an ICU nurse and educator. He holds a Masters of Adult Education and Nursing Research, and is about to commence a PhD focusing on the art and science of nursing in critical care. He is part of the #FOANed movement, and runs Nursing Education Network and Intensive Nurse blogs. Outside of work, you will find me road cycling and walking my dogs.

Kylie Moon (@kyliemoon9)

Kylie Moon is an ICU nurse at the Royal Melbourne Hospital, researching high performance resuscitation teams and resus education for a Masters in Clinical Education minor thesis. Her research is aimed at identifying informal pathways/hidden curriculum and communities of practice used to developing high performance in resuscitation, and improving the alignment of resuscitation education to the clinical demands of ICU. Her main interests are in innovative and simulation-based education and learning theories, like transformative, experiential and social constructivism, and experimenting with these theories on her two kids.

Cameron Knott (@knottcameron)

Cameron works clinically as the Deputy Clinical Unit Head of the Bendigo Health Intensive Care Unit and maintains links with the Austin Health ICU in Melbourne. He holds a Master of Clinical Education with a thesis in clinical simulation faculty development and was a founding member of the ANZCEN. As a Monash University Senior Lecturer and the Academic Lead of the Clinical Skills and Simulation Centre (CSSC), Monash Rural Health Bendigo, Cameron supports the Monash University clinical medical student program and the MD2/MD4 University of Melbourne clinical skills programs. Cameron carries honorary appointments at the University of Melbourne, where he engages in scholarly interests centred around person-centred healthcare system redesign, improved workplace inter-professional team performance training, safe consumer-centred healthcare, and improved system performance. He is also interested in the integration of digital health and collaborative data science in these areas.

Ben Porter

Toni Moylan

Yogesh Apte

Josh Monester

Meredith Chittenden
Meet the Incubator Faculty

Our Incubator faculty 'dream team', as of October 2021, includes:

Albert Chan
Alison Juers
Allan Lai
Andrea Jackson
Angus MacDonald
Bec Szabo
Ben Porter
Brett Vaughan
Bruce Lister
Cameron Knott
Charlotte Alexander
Charlotte Denniston
Chris Nickson
Chris Poynter
David Brewster
Deb Massey
Derek Louey
Eamon Raith
Eduardo Kattan
Eric Gantwerker
Eve Purdy
Felix Ankel
Ian Summers
Isabella Stokes (Lowe)
Jason Watterson
Jayne Lysk
Jess Schults
Jodie Hopkins
Jonathan Sherbino
Josh Monester
Julia Coull
Ken Hoffman
Kylie Moon
Laura Flood
Laurel Weaver
Liz Tran
Lou Trent
Manisa Ghani
Margaret Bearman
Margaret Hay
Marjorie Collett
Meredith Chittenden
Michael Clifford
Michael Purvis-Smith
Mya Cubitt
Nick Simpson
Paul Ross
Patricia Hurune
Rahul Costa-Pinto
Rebecca Smith
Ryan Radecki
Sarah Yong
Sarah Ward
Sharyn Ireland
Sonia Baldock
Suneth Jayasekara
Teresa Chan
Todd Fraser
Toni Moylan
Victor Lee
Wai Tat Wong
Yogesh Apte
Partners
The Clinician Educator Incubator was developed by members of the following partner organisations:
Any proceeds from the ANZCEN Clinician Educator Incubator are donated to the Intensive Care Foundation charity.
Frequently Asked Questions
1. I'm a clinician but I don't work in critical care, can I still apply?
Yes! … and what is critical care, anyway?
Here is Peter Safar's 1974 definition:
We have defined "critical care medicine" as the triad of 1) resuscitation, 2) emergency care for life-threatening conditions, and 3) intensive care; including all components of the emergency and critical care medicine delivery system, prehospital and hospital.
Our clinical focus is on critical care, given the backgrounds of the faculty and the driving purpose of the Incubator. However, many of the challenges and opportunities of health professions education and the role of the Clinician Educator are shared across clinical specialities. Furthermore, like any complex problem, health professions education benefits from diverse views and perspectives. As such, we believe professionals from beyond critical care can enhance our community and benefit from participation.
2. What is a Clinician Educator exactly?
Good question!
The Incubator aims to promote the role of Clinician Educators and help individuals develop themselves in this role. Based on the work of Sherbino, Frank, and Snell (2014), we view the key tasks of the Clinician Educator as (1) maintain clinical expertise, (2) provide best practice education and teaching, (3) engage in education scholarship and/or research, and (4) engage in, or consult on, education programme leadership, design and improvement.
A Clinician Educator can be from any health profession. It is distinct from a Clinical Educator who we view as an educator that provides clinical teaching and learning opportunities.
Sherbino J, Frank JR, Snell L. Defining the key roles and competencies of the clinician-educator of the 21st century: a national mixed-methods study. Acad Med. 2014;89(5):783-9.
3. What is ANZCEN and the ANZ Intensive Care Foundation?
ANZCEN is the Australia and New Zealand Clinician Educators Network. It is an informal network of educators, primarily with an interprofessional critical care focus, promoting the development of the Clinician Educator role and education best practices.
The Intensive Care Foundation is the major charity for critical care in Australia and New Zealand. The Intensive Care Foundation is dedicated to improving the care of critically ill patients, through funding vital research and education projects.
4. Why build this Incubator? Aren't there enough health professions education courses already?
There are many courses and qualifications that help provide the foundations of health professions education. However, opportunities are often limited for longitudinal mentorship, especially outside one's own institution and beyond the ivory towers. More than most courses the Incubator is contextually grounded, in that everything is discussed through the lens of the workplace and participants will collaborate with the colleagues who they will continue to work with throughout their careers. Thus, the Incubator can supplement other qualifications (e.g. University-based courses) and provide a testing ground for clinicians who may go onto further health professions education qualifications in the future.
Finally, we look to the success of the ANZICS Clinical Trial Group as an example of a group of enthusiasts who have shared resources, engaged with experts, and bootstrapped themselves into a community of world class research practitioners over many years. We believe we can do the same for Clinician Educators by taking advantage of the opportunities of the Digital Age.
5. How much protected time should participants allocate to Incubator activities?
We recommend that participants allocate a minimum of 12 hours per month to Incubator activities. Participation in the Incubator requires a significant commitment. However, the time required for individuals will likely vary according to prior knowledge and experience, and proficiency with the platforms used. As with any learning activity, the more you put in the more you will get out. Self-directed learning is a key component of the Incubator, and numerous additional learning resources are suggested each month – however, it is impossible to read/ review all of them… you will need to be selective according to your learning needs and the Incubator community will help you.
6. I am studying for another qualification, or will be away for a couple of months, can I join the Incubator?
If you are a trainee and have significant commitments that overlap with the Incubator time schedule (e.g. impending Fellowship exams) we suggest you wait and join a future Incubator programme once your other commitments are out of the way. Similarly, with other anticipated major life events that will mean you need to take a significant amount of time out. The primary reason for this is that completion of the Incubator programme requires active collaboration in a longitudinal group project over the 12 month period, so a significant break in the middle of the programme will prevent participants – and their collaborators – from getting the most out of the experience. However, we know that "life happens" so if you enrol and then need time out or face other challenges, we will support you to find solutions and get the most out of the Incubator.
If you are engaged in completing a postgraduate health professions education qualification you will likely find the Incubator programme complementary to your studies. Some assignments may be able to be used for both programmes, though you will need to ensure that any work submitted for a formal qualification meets the course requirements (e.g. intellectual property requirements). The Incubator will add contextual relevance, networking, and an active community of practice to your qualification.
7. Can you do a podcast describing the Clinician Educator Incubator and what it is all about?
Done already! Have a listen to Swapnil Pawar's interview with Chris Nickson about the ANZCEN Clinician Educator Incubator programme on his Educator's Podcast.
8. OK, I want to apply. How do I make my application as strong as possible to increase my chance of being selected?
Selection of participants is a competitive process due to the limited number of places in the Incubator. Possible ways to strengthen your applications include:
Develop your Educator's portfolio to accompany your Curriculum Vitae, including evidence of reflective practice.
Complete further qualifications in health professions education and/or obtain a defined education role in your workplace.
Provide meaningful contributions to scholarly education projects.
Emphasise your intended contribution to the critical care/ education community and how your career interests and goals development is aligned with the Incubator.
Ensure you have the strongest possible letter of support.
Ensure the application arrives before the closing date for applications.
The Incubator selection committee uses pre-defined criteria to assess applications to try to ensure:
Preparedness and commitment of participants to actively participate in the Incubator and make a meaningful contribution
Benefit from participant involvement in the community, in terms of their personal development as well future contribution to health professions education and the Incubator community
Progress is made toward equity, both in terms of the diversity of participants and their likely future contributions to health professions education
9. I need more information, who do I contact?
If you have questions please contact us via this email address: [email protected]. We are happy to help!