ECG Library Content
Topic
Title
ECG Lectures
ECG interpretation lectures - the basics
lecture, ecg, basics, interpretation
ECG Diagnosis
OMI: Replacing the STEMI misnomer
OMI, NOMI, STEMI, Occlusion Myocardial Infarction
ECG Diagnosis
Bundgaard syndrome
Familial ST-segment depression syndrome
ECG Diagnosis
Aslanger Pattern
OMI, NOMI, STEMI, Occlusion Myocardial Infarction
ECG Diagnosis
Masquerading Bundle Branch Block (MBBB)
LBBB, RBBB, CHB
ECG Exigency
LMCA, Left Main Coronary Artery Occlusion, ST elevation in aVR
ECG Eponym

Hay Block (1906) - (Mobitz II AV Block)

ECG, Mobitz AV Block, Mobitz Type II, 2nd degree AV block, atrioventricular block
ECG Eponym

Mobitz Classification of Second degree Atrioventricular Block (1924)
[MOBITZ, Woldemar]

ECG, Mobitz AV Block2nd degree AV block, atrioventricular block
ECG Eponym

Romano-Ward Syndrome (1963)
[ROMANO, Cesarino] [WARD, Owen Conor]

ECG Syndrome, Congenital (autosomal dominant) long QT syndrome (LQTS)
ECG Eponym

Jervell and Lange-Nielsen Syndrome (1957)

ECG Syndrome, JLNS, Congenital (autosomal recessive) long QT syndrome (LQTS) bilateral sensorineural hearing loss
ECG Eponym

Wolff-Parkinson-White Syndrome (1930)

ECG Syndrome, short P-R, PR interval, paroxysmal tachycardia, pre-excitation, preexcitation
ECG Eponym

Bornholm disease (1930)
[SYLVEST, Ejner]

Chest Pain, acute, transient viral myositis associated with Coxsackievirus B. Epidemic Myalgia, pleurodynia
ECG Eponym
Chest Pain, Soldiers heart, cardiac neurosis, neurocirculatory asthenia
ECG Exigency
VT, BCT, WCT, Brugada criteria, Verekie
ECG Exigency
severe hypokalaemia, spironalactone, rhabdomyolysis, ECG, u wave, diabetic ketoacidosis
ECG Exigency
pacing, pacemaker, post-op, Mobitz I, Wenckebach, AV block
ECG Exigency
bidirectional ventricular tachycardia, Catecholaminergic Polymorphic Ventricular Tachycardia, CPVT, digoxin toxicity
ECG Exigency
congenital, short QT syndrome, SQTS, AF, Atrial fibrillation
ECG Exigency
RVOT, broad complex tachycardia, BCT, Right Ventricular Outflow Tract Tachycardia, VF, Arrest, Arrhythmogenic Right Ventricular Cardiomyopathy, ARVC
ECG Exigency
NSTEMI, inverted U wave,
ECG Exigency
tricyclic antidepressant, TCA, Doxepin, QRS broadening, cardiotoxic
ECG Exigency
AIVR, Accelerated idioventricular rhythm, Isorhythmic AV dissociation, Sinus arrhythmia, idioventricular
ECG Exigency
LAD, LBBB, High left ventricular voltage, HLVV, WPW, Broad Complex Tachycardia
ECG Exigency
tachy-brady, AVNRT, flutter, polymorphic VT, VF, torsades de pointes, R on T, Cardioversion
ECG Exigency
LBBB, Wellens, ECG, proximal LAD, occlusion, rate-dependent, inferior ischaemia
ECG Exigency
SI QIII TIII, PE, PTE pulmonary embolism, PEA arrest, RBBB, LAD
Curveball
HOCM, STE, aVR, LMCA, torsades des pointes. TDP
Curveball
aortic arch, right sided, diverticulum of Kommerell
Curveball
IABP, CABG, shock, circulatory collapse
Curveball
electrical alternans, ECG, pulsus paradoxus
Curveball
Intra-aortic Balloon Pump, Waveform, dicrotic notch
Curveball
DeBakey, TAA, aortic dissection, CTA
Curveball
Tetraology of Fallot, BT shunt, Blalock-Tausig, ToF
Curveball
Pulmonary Embolism, PTE, PE, McConnell, thrombolysis, echo
ECG Exigency
LMCA Stenosis, ST elevation in aVR, Left Main Coronary Artery
ECG Exigency
anterior AMI, De Winter T waves, LAD stenosis
ECG Exigency
dual chamber AV sequential pacemaker
ECG Basics
Rate, estimate, 25 mm/s, 50 mm/s, 10 mm/s,
ECG Basics
ECG Rhythm interpretation, 7 step approach
ECG Basics
ECG Axis hexaxial, SUPER SAM, isoelectric lead, quadrant,
ECG Basics
3 lead, 5 lead, 12 lead, electrodes, lead placement
ECG Basics
Template, presentation, formulation, exam, answer
ECG Basics
p-wave, positive deflection, Atrial depolarisation
ECG Basics
pathological, stemi
ECG Basics
Dominant R wave in aVR
ECG Basics
camel hump, biphasic, Peaked, Hyperacute, Inverted, Flattened t-waves
ECG Basics
NSTEMI, Prinzmetal, Unstable, Inverted, quinidine, hypokalaemia, bradycardia, Prominent U waves
ECG Basics
osborn wave, camel hump sign of Osborn, hypothermic hump, late delta wave, hathook junction, J wave, H wave, K wave
ECG Basics
WPE, Pre-Excitation Syndrome
ECG Basics
Epsilon wave, arrhythmogenic right ventricular dysplasia (ARVD), Prolonged S-wave upstroke
ECG Basics
PR Interval, Prolonged PR
ECG Basics
P-R Segment, pericarditis, atrial ischaemia, PR-segment depression, TP segment
ECG Basics
QT Interval, SQTS, LQTS, Segment, Q-T
ECG Basics
STEMI, ST depression, ST elevation,
ECG Basics
Interval J-Point,
ECG Basics
Interval QRS, broad, narrow
ECG Anatomy
Left Atrial Enlargement, LAE, Left atrial hypertrophy, LAH, left atrial abnormality, bifid P wave, mitrale
ECG Anatomy
Right Atrial Enlargement, RAE, Right atrial hypertrophy, RAH, right atrial abnormality, p pulmonale
ECG Anatomy
RAH LAH RAE LAE atrial hypertrophy
ECG Basics
Conduction block differential
ECG Basics
ECG Differential Diagnosis
ECG Basics
SVT versus VT, SVT vs VT, VT vs SVT, Ventricular tachycardia vs supraventricular tachycardia with aberrancy
ECG Basics
Myocardial infarction, localization, MI, STEMI
ECG Basics
Pediatric paeds, pediat
ECG Diagnosis
Accelerated Ventricular Rhythm, Isorhythmic AV dissociation, fusion, capture beat, interference-dissociation
ECG Diagnosis
Accelerated Junctional Rhythm
ECG Diagnosis
AMI, STEMI, Anterior, Anterolateral, Tombstone, Ostial LAD, septal STEMI
ECG Diagnosis
Arrhythmogenic Right Ventricular Dysplasia, ARVD, Naxos Disease
ECG Diagnosis
Atrial Flutter
ECG Diagnosis
PAF, AF, lone
ECG Diagnosis
Atrial ectopics, atrial extrasystoles, atrial premature beats, atrial premature depolarisations
ECG Diagnosis
Atrial Tachycardia, Paroxysmal Atrial Tachycardia, PAT, AT
ECG Diagnosis
first Degree AV block, lengthen, long, PR interval
ECG Diagnosis
AV block, second degree, 2nd, Mobitz 1, Wenkebach
ECG Diagnosis
Block: Mobitz 2 Hay
ECG Diagnosis
3:1, 4:1, 2:1 AV Block
ECG Diagnosis
2nd degree AV block, 2nd degree heart block, Second degree AV block, 4:1 AV block
ECG Diagnosis
CHB, 3rd degree AV block, Third degree heart block
ECG Diagnosis
Supraventricular Tachycardia (SVT)
ECG Diagnosis
AVNRT (AV-nodal re-entry tachycardia)
ECG Diagnosis
WPW, Wolff,Parkinson, White, LGL, Lown Ganong Levine, AVRT
ECG Diagnosis
Atrial fibrillation/flutter in pre-excitation
WPW, Wolff,Parkinson, White, LGL, Lown Ganong Levine, AVRT
ECG Diagnosis
AVRT (atrioventricular re-entry tachycardia), orthodromic, antidromic
ECG Diagnosis
BER, J point elevation
ECG Toxicology
beta-blocker overdose, betablocker overdose, calcium channel toxicity, sodium channel blockade
ECG Toxicology
beta-blocker overdose, betablocker overdose, calcium channel toxicity, sodium channel blockade
ECG Diagnosis
CPVT, VT, digoxin, aconite, BVT
ECG Diagnosis
Bifascicular Block, RBBB + LAFB, LPFB
ECG Diagnosis
Biventricular Hypertrophy, Katz-Wachtel phenomenon
ECG Eponym
SCD, cardiac arrest
ECG Toxicology
Carbamazepine Cardiotoxicity
ECG Diagnosis
HCM, HOCM, DCM, CM
ECG Diagnosis
HCM, HOCM, IHSS, Hypertrophic obstructive cardiomyopathy, idiopathic hypertrophic subaortic stenosis
ECG Diagnosis
Restrictive Cardiomyopathy RCM low voltage QRS
ECG Diagnosis
CLD, COPD, CAL
ECG Eponym
STEMI, wave, T-wave, infarction, anterior STEMI equivalent, peaked T waves
ECG Diagnosis
Kartagener, situs inversus
ECG Toxicology
Digoxin Effect, Salvador Dali moustache, ST depression, Shortened QT interval
ECG Toxicology
Digoxin Toxicity
ECG Diagnosis
Electrical alternans, pericardial effusion
ECG Diagnosis
Junctional Escape Rhythm
ECG Diagnosis
Idioventricular escape rhythm
ECG Diagnosis
Fascicular tachycardia, Belhassen-type VT, verapamil-sensitive VT or infrafascicular tachycardia
ECG Diagnosis
Fusion Beats (Dressler), VT, ventricular tachycardia
ECG Diagnosis
Electrolyte: Hypercalcemia
ECG Diagnosis
sine wave, Hyperkalaemia
ECG Diagnosis
Thyroid, high left ventricular voltage, HLVV,
ECG Diagnosis
Hypocalcemia, calcium, prolonged QT, QTc
ECG Diagnosis
Hypokalaemia, u wave, TDP
ECG Diagnosis
Hypomagnasaemia, magnesium, MG2+
ECG Diagnosis
Hypothermia, temperaturre, environmental, osborn wave, shivering
ECG Diagnosis
thyroid, low QRS voltage
ECG Diagnosis
QRS widening, broad wide QRS
ECG Diagnosis
Raised Intracranial Pressure, ICP, SAH, subarachnoid
ECG Diagnosis
RBBB, LAFB, SVT vs VT
ECG Diagnosis
Junctional Ectopics, Junctional Extrasystoles, Junctional Premature Beats, Junctional Premature Depolarisations
ECG Diagnosis
STEMI
ECG Diagnosis
ECG Limb Lead Reversal
ECG Diagnosis
Upper Limb Lead reversal
ECG Diagnosis
LAFB, left anterior hemiblock, left anterior hemi-block
ECG Diagnosis
Left Axis Deviation, LAD
ECG Diagnosis
William Morrow,
ECG Diagnosis
LBBB STEMI
ECG Diagnosis
AMI, STEMI, LMCA
ECG Diagnosis
RAD, qR complex, rS complex, R wave peak time
ECG Diagnosis
Left Ventricular Aneursym
ECG Diagnosis
LVH
ECG Diagnosis
Low QRS voltage
ECG Diagnosis
ECG Motion Artefacts, shiver, hypothermia, CPR, precordial thump
ECG Diagnosis
Multifocal Atrial Tachycardia, Chaotic atrial tachycardia
ECG Diagnosis
Myocardial Ischaemia, ischemia
ECG Diagnosis
Myocarditis, myopericarditis
ECG Diagnosis
Pacemaker Rhythms
ECG Diagnosis
Pacemaker Malfunction
ECG Diagnosis
Pericarditis
ECG Diagnosis
Polymorphic VT, ventricular tachycardia, VT, torsades des pointes, tdp,
ECG Diagnosis
Poor R Wave Progression, PRWP
ECG Diagnosis
Posterior MI, ST depression, flip V2, precordial depression, deep q
ECG Diagnosis
ventricular ectopics, ventricular extrasystoles, ventricular premature beats, ventricular premature depolarisations.
ECG Diagnosis
Pulmonary Embolism, PE, PTE
ECG Toxicology
sinus tachycardia, Prolonged QTc interval
ECG Diagnosis
Right Axis Deviation, RAD
ECG Diagnosis
William Morrow, RSR' pattern, Wide slurred S wave
ECG Diagnosis
RVH
ECG Diagnosis
Myocardial infraction, AMI, STEMI, RV, RVI, Right sided leads, V4r, V1-6r
ECG Diagnosis
Idiopathic VT, Arrhythmogenic Right Ventricular Dysplasia, RVOT, ARVD, ARVC
ECG Diagnosis
Right Ventricular Strain, RVS, RVH, PE, PTE, ARVC
ECG Diagnosis
Short QT Syndrome SQTS
ECG Basics
NSR
ECG Basics
Sinus Arrhythmia
ECG Diagnosis
Sinus Bradycardia
ECG Diagnosis

Sinus Node Dysfunction (Sick Sinus Syndrome)

Sinus Node Dysfunction (Sick Sinus Syndrome) sss
ECG Diagnosis
Sinoatrial Exit Block
ECG Diagnosis
camel hump, >100 bpm
ECG Toxicology
Overdose: TCA, tricyclic, sodium channel blockade, dominant R avR
ECG Diagnosis
Anterior STEMI, anterolateral, anteroseptal, tombstones
ECG Diagnosis
STEMI, AMI, lateral, reciprocal ST depression, T wave inversion, diagonal branch (D1), South African Flag sign
ECG Diagnosis
STEMI, tombstones, lateral reciprocal, AMI, dominant right coronary artery, RCA, LCx, dominant left circumflex artery
ECG Diagnosis
broken heart syndrome, octopus pot, Transient akinesis, apical akinesia, Cathecholamine Surge
ECG Diagnosis
Block: Trifascicular Block
ECG Diagnosis
VF, shockable cardiac arrest rhythm, irregular electrical activity, quivering, Chaotic, coarse, fine
ECG Diagnosis
Extreme Ventricular tachycardia, Sine Wave, identical upside down
ECG Diagnosis
VT, monomorphic, fusion, captire, wide complex, tachyarrhythmia, Josephson
ECG Diagnosis
biphasic T wave, V2-3, critical stenosis, left anterior descending artery, LAD
Blog Post
WPW, Pre-Excitation Syndrome
ECG Eponym
Bazett's formula, QT interval, QTc
ECG Eponym

Osborn Wave (1953) - [OSBORN, John J]


camel hump sign of Osborn, hypothermic hump, late delta wave, hathook junction, J wave, H wave, K wave
ECG Eponym
QT interval, QTc
ECG Eponym

First ECG in a human 1887 - WALLER, Augustus Desiré

ECG, Jimmy the dog
ECG Exigency
Wenckebach, AV block, SA, deliberate mistake, SA block
ECG Eponym

Luciani period (1873) - LUCIANI, Luigi

Group beating, second degree, AV block 2nd degree
ECG Eponym

Demonstrated AV block in humans (1873) - GALABIN, Alfred Lewis

ECG, Mobitz AV Block, Mobitz, 2nd degree AV block, atrioventricular block, apexcardiogram
ECG Eponym

Wenckebach Phenomenon (1898) - (WENCKEBACH, Karel Frederik)

ECG, Mobitz AV Block, Mobitz Type I, 2nd degree AV block, atrioventricular block, wenkebach
ECG Diagnosis
QT prolong, QTc, toxicology
ECG Eponym

Lown–Ganong–Levine syndrome (1952)

[LOWN, Bernard] [GANONG JR, William Francis] [LEVINE, Samuel Albert]

ECG Syndrome, LGL, AVRT, pre-excitation, accessory conduction pathway, short PR interval
Eponym Murmur

Gibson murmur (1906) [GIBSON, George Alexander]

Murmur, machinery murmur, second left interspace, patent ductus arteriosus, PDA
Eponym Murmur

Key-Hodgkin murmur (1827) [KEY] [HODGKIN]

Murmur, diastolic murmur, aortic regurgitation, saw cutting through wood
Eponym Murmur
Murmur, mid-diastolic murmur of acute rheumatic mitral valvulitis diastolic
Eponym Murmur

Bruit de Roger (1879) [ROGER, Henri-Louis]

Murmur. VSD, ventricular septal defects
Eponym Murmur

Still's murmur (1909) [STILL, Sir George Frederic]

Murmur, juvenile idiopathic arthritis, vibratory murmur, physiological bruit, benign functional
Eponym Murmur

Cabot–Locke murmur (1903)

Murmur, early diastolic murmur, untreated anaemia
Eponym Murmur
Murmur, mid-diastolic murmur of acute rheumatic mitral valvulitis diastolic
Eponym Murmur

Dock's murmur (1967)

Murmur, Early diastolic murmur, severe stenosis of the left anterior descending coronary artery
Eponym Murmur

Graham Steell Murmur (1888)

Murmur, high pitched early diastolic murmur, pulmonary incompetence, pulmonary hypertension
Eponym Murmur

Austin Flint Murmur (1862)

Murmur, mid-diastolic aortic regurgitant murmur heard at the apex
Eponym Murmur

Rivero-Carvallo sign and manouver

TR, TS, Accentuation, tricuspid stenosis, tricuspid regurgitation
ECG Eponym

Lenègre-Lev disease (1964)

Acquired CHB, complete heart block
ECG Eponym

Sgarbossa criteria (1996)

LBBB, STEMI, rule, criteria
ECG Eponym

Ashman Phenomenon (1947)

atrial fibrillation, RBBB extra beat, long-short RR
ECG Eponym

Katz-Wachtel phenomenon (1937)

BVH, Combined ventricular hypertrophy in infancy, pediatric, VSD, TGA
ECG Eponym
Lewis lead (1913) - LEWIS, Thomas
Lewis Lead, ECG, PQRST
ECG Eponym
Epsilon wave; ARVD; Fontaine ECG leads in 1977 by FONTAINE, Guy Hughes
ARVD, ARVC, epsilon wave, F-ECG, bipolar precordial leads, Fontaine leads
---
ECG Library Function
LITFL ECG library is a free educational resource covering over 100 ECG topics relevant to Emergency Medicine and Critical Care. All our ECGs are free to reproduce for educational purposes, provided:
The image is credited to litfl.com.
The teaching activity is on a not-for-profit basis.
The image is not otherwise labelled as belonging to a third-party.
We welcome constructive feedback and input from experts in the field, so please feel free to contact us if you have any:
High quality ECG examples or interesting cases to contribute.
Suggestions for new topics to include.
Suggestions for ways to improve or update the content of current topics.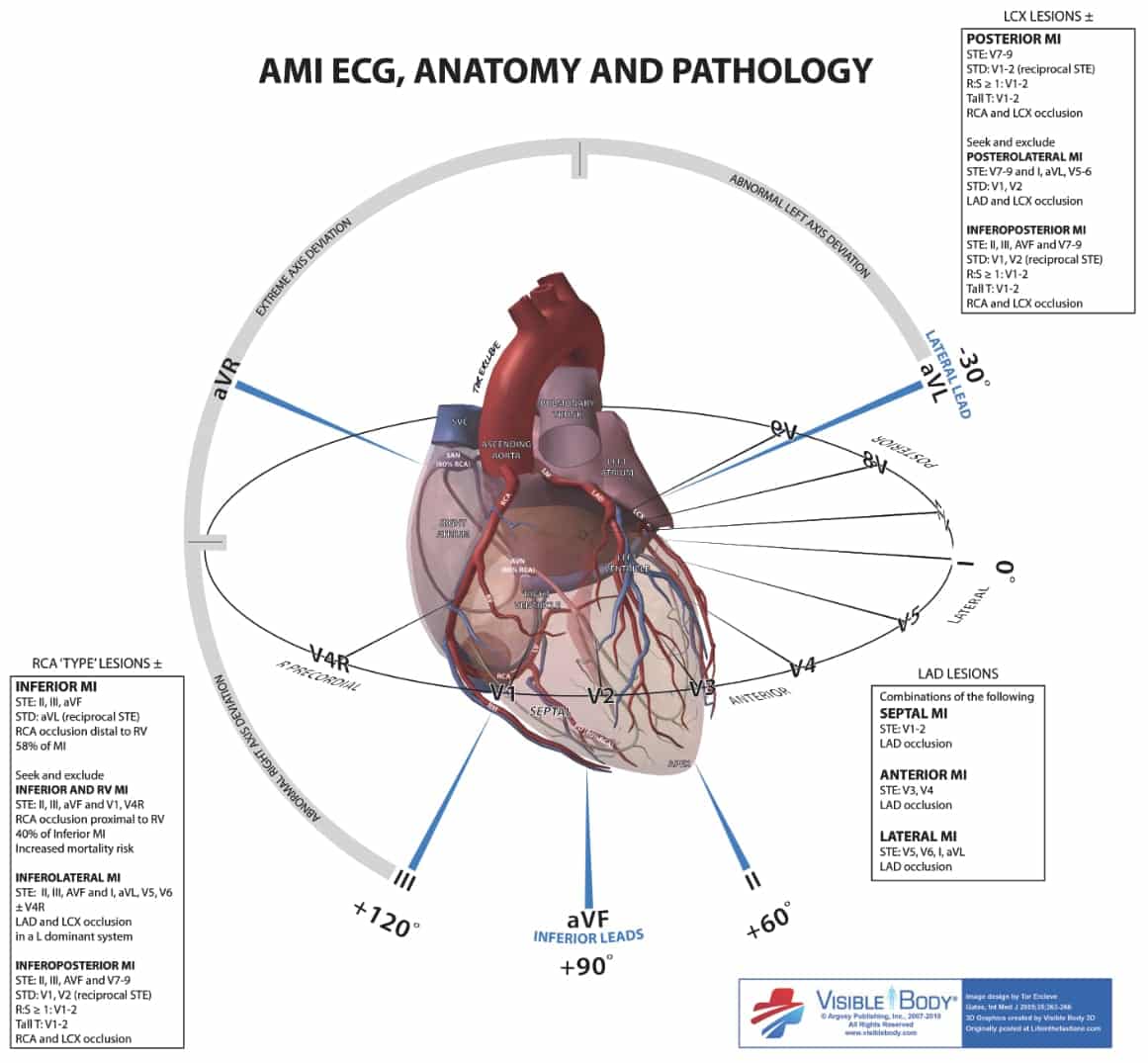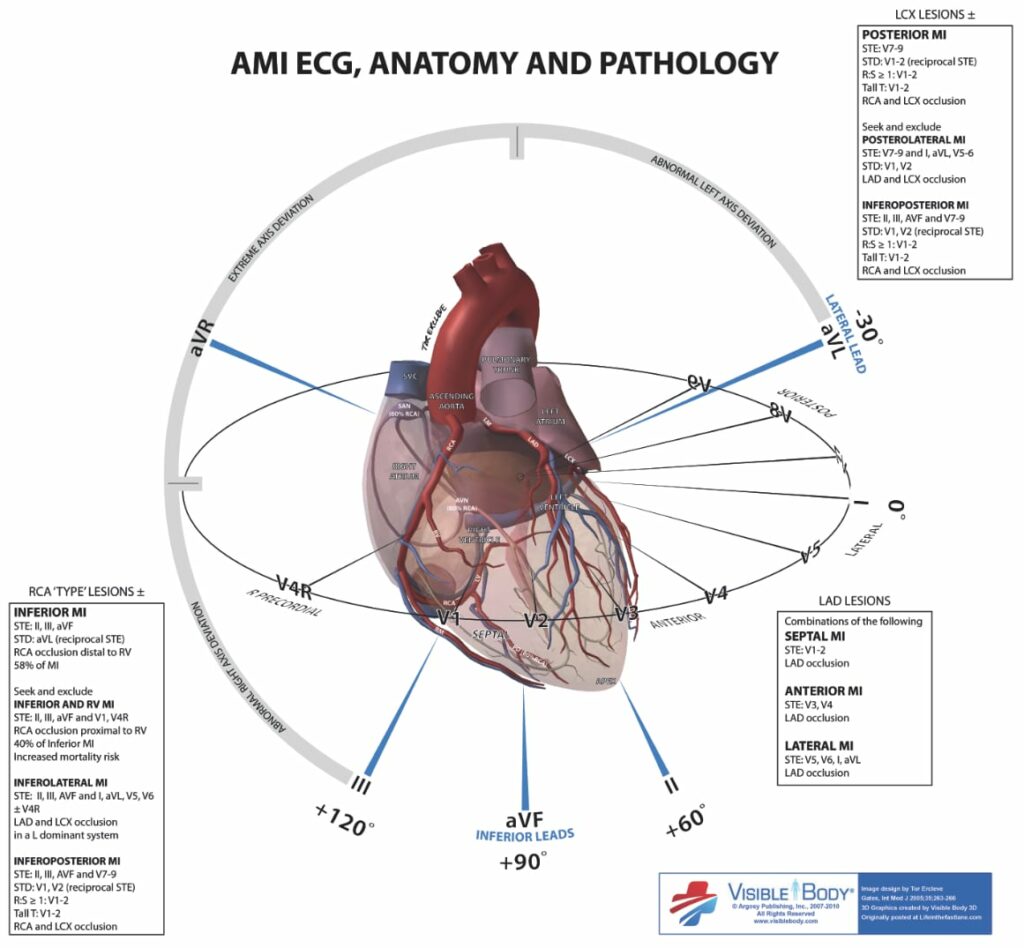 ---
Advanced Reading
Online
Textbooks
---
LITFL Further Reading
---