Spanish language FOAM – Free Open Access Meducation (#FOAMed) – Medical education for anyone, anywhere, anytime. The collaborative hashtag #FOAMed was first coined in June 2012 in a pub in Dublin, over a pint of Guinness during ICEM 2012.
Selection of updated resources primarily written in Spanish emanating from countries including Spain, Chile, Costa Rica, Argentina, and Latin America.
Monkey EM: Blog de Medicina De Urgencia desde Chile para el mundo. MonKeyEM se inició en contexto de la necesidad de transmitir conocimientos y de difundir nuestro amor y dedicación a la Medicina De Urgencia. Hemos iniciado este camino de la difusión de la evidencia de las distintas áreas de la Medicina De Urgencia para tratar de llegar no sólo a especialistas en el área, sino que también a todos los médicos que se dedican a esta hermosa profesión en los distintos rincones de nuestro país y además resto del mundo. [@MonKeyEM] [Facebook]
Urgencia UC: Emergency Medicine Residency Program de la Facultad de Medicina de la Pontificia Universidad Católica de Chile // Equipo organizador de @ConceptosUC. Formerly MDU Chile: run by Carlos Basaure with emergency reviews, clinical cases and presentations in Chile [@UrgenciaUC][YouTube]
ViaMedEM: Traemos tópicos interesantes en Medicina de Emergencias y los analizamos a la luz de pensamiento crítico. Somos #FOAMed, pero no se engañe, tomamos la información con seriedad y a la luz de la Práctica Basada en Evidencia. Wilfredo Gómez and Manrique Umana (Costa Rica).
Urgencias Bidasoa: Este blog pretende servir de ayuda en el proceso de aprendizaje de los MIR de MFyC del H. Bidasoa. El hospital Bidasoa está ubicado en Fuenterrabia-Hondarribi, colindante con Irún (frontera con Francia), a 23 Km de SanSebastián-Donosti. Author: Josu Abecia Valencia; Medico Adjunto del Servicio de urgencias del hospital Bidasoa
EMCORI: Somos un grupo de entusiastas de la medicina de emergencias, con la meta de proveer al personal de salud de toda Latinoamérica de un acceso gratuito, actualizado y de alta calidad en tópicos de medicina de urgencias, con el fin de mejorar la calidad en la atención y prestación de este servicio. Nicolás López. Especialista en medicina de emergencias. Osa, Costa Rica.
Humanizing Intensive Care – Transformando con H desde los cuidados intensivos a la Sanidad y a la Sociedad. La Humanización no es un negocio. Author: Gabriel Heras la Calle
REMI medicina intensiva – REMI es una publicación secundaria, escrita en castellano y gratuita, con resúmenes comentados de los mejores trabajos originales publicados en revistas médicas de todo el mundo y seleccionados por un equipo de intensivistas y otros profesionales en función de su relevancia y utilidad para la atención del paciente crítico. Author: Eduardo Palencia Herrejón.
MEDCRITURG: Una aproximación pragmática a la medicina crítica, de urgencias y emergencias. Página dirigida a profesionales médicos dedicados a la medicina de urgencias e intensiva, o que tengan interés en éstas áreas. Author: Wojciech Rojewski, adjunto de Urgencias del Hospital Universitari Sant Joan de Reus, Tarragona, España
SketchbookMD: Ilustraciones clínicas para la educación médica #FOAMed. Author: Augusto Saldaña, Médico de Urgencias y Familia Peruano, residente y trabajando en España. Profesora de inglés reformada y artista en desarrollo
My Emergency Medicine: Weblog (FOAM) con Temas de Medicina de Emergencia y relacionados. Author: Federico G. Capriles Urgenciologo (SEMES, ACEP, EuSEM) Hospital Universitario Sant Joan de Reus
Cosas del PAC: Creado con la intención de ser un nexo de unión y una forma de compartir conocimientos e información entre los sanitarios de los PAC de Gipuzkoa. Author: Marilis González
Blog de Medicina Intensiva: Blog personal como médico especialista en medicina intensiva y crítica, que pretende ser un foro para personal sanitario interesado en la medicina y la enfermería intensiva. Author: Luciano Santana Cabrera [Facebook]
Other FOAMed Blogs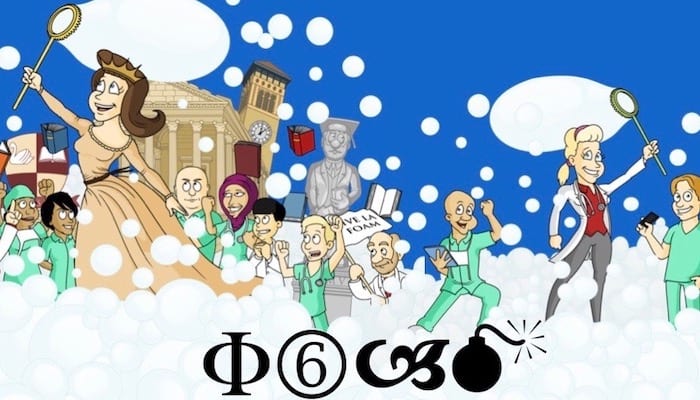 #FOAMed
Free Open Access Medical education