Description
The Chance fracture is a transverse fracture through a vertebral body and neural arch.
Also known as the seat belt fracture, it occurs at the thoracolumbar junction and is usually associated with motor vehicle accidents in which the injured passenger is wearing a seat belt
---
History
The original description of this injury (1948) was a purely osseous injury.
"When flexion of the spine exceeds normal limits something has to give way." GQ Chance.
Termed a seat-belt injury, this in jury occurs when there is flexion of the spine with the fulcrum of the force in the anterior abdominal wall, such as when one abruptly stops a vehicle with a lap-belt in place. This causes distraction of the posterior and middle, and possibly anterior, columns of the spine, creating an unstable injury.
A true Chance fracture consists of a horizontal splitting of the posterior elements and vertebral body; purely ligamentous and disc, and mixed soft tissue and osseous versions are now commonly lumped under the name Chance fracture.
These injuries typically occur at the thoracolumbar junction or in the upper lumbar spine. When the anterior ligaments are also injured, this injury may be a fracture-dislocation, carrying a higher incidence of neurological injury. With these fractures, one must always be alert to the high likelihood of injury to the bowel and other abdominal viscera.
The term "Chance's fracture" was reportedly first used by Nicoll in 1949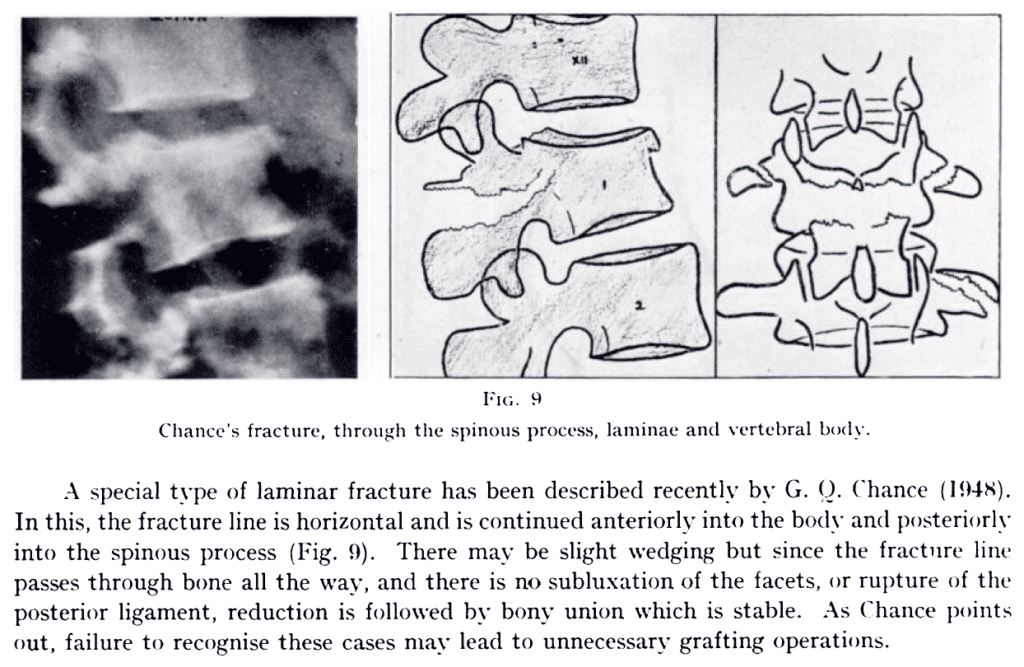 ---
Associated Persons
---
References
---