Emergency Medicine Web Resources
The time-poor ED physician, faced with an ever increasing patient load, is finding it difficult to keep up to date with the expansive proliferation of clinical knowledge and more worryingly the presumption of technological competence.
The concept of using a locally derived, living database of clinical and other teaching material connected to a user-friendly web-based interface, raises many exciting prospects.
When integrated with operational and logistic functions in the form of a department intranet, this takes on the form of an infinitely adaptable in-house educational tool.
It is true to say that there are myriad of Emergency Medicine Web Resources which continuously evolve to enhance the physicians experience of information presentation, contextual search and interactive sharing such as
Enhanced Internet Data Search – with semantic and ontological search
Enhanced Data presentation
Data Aggregation – Online Wiki Resources
Online Networking – Professional networks
However, the number of physicians that can ably integrate these wondrous resources and applications into their daily clinical routine….is disappointingly small. I believe there is still a role for locally hosted solutions to integrate educational and operational components both at a departmental and College/Specialty specific level
Operational requirements include hosting administrative information (e.g. staffing rosters or departmental memos) as well as hospital or department specific clinical guidelines, policies and protocols. Similarly, there is a growing need for a localization of educational resources such as country-specific Fellowship training programmes.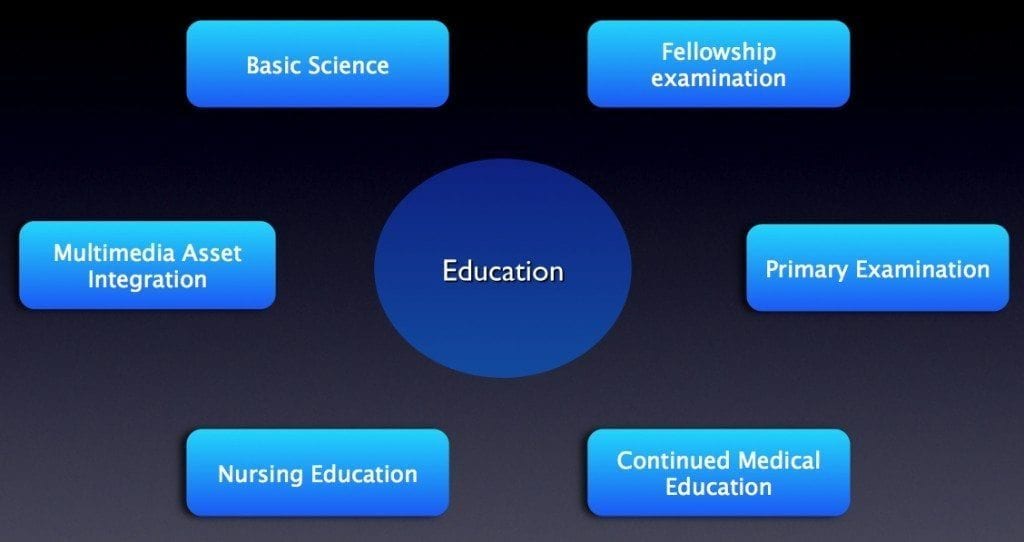 Using locally hosted solutions such as Hospital or state based intranets we are able to encapsulate the rapidly expanding amorphous mass of clinical cyber-babble and redirect a contextual flow (drip) of more pertinent information to the visual consumers. The Intranet feels 'safe' and 'comfortable' without being overwhelming – and is the technological equivalent of training wheels. Under the guise of providing operational support – we may be able to transform our erstwhile bookworms from static consumers to dynamic participants in the evolutionary development of eLearning and emergency medicine web resources…
Locally hosted education solutions include 'three-click' resolution of clinical problems with multi-media integration e.g. Clinical Examination or Radiological Interpretation…
The addition of specific FACEM primary and Fellowship Multiple Choice Questions (MCQ) as well as short Answer Questions (SAQ) will further broaden the educational opportunities. Hopefully a funding model for an Australia wide electronic resource for emergency medicine examination is not too far away…
BA MA (Oxon) MBChB (Edin) FACEM FFSEM. Associate Professor Curtin Medical School, Curtin University. Emergency physician, Sir Charles Gairdner Hospital.  Passion for rugby; medical history; medical education; and asynchronous learning #FOAMed evangelist. Co-founder and CTO of Life in the Fast lane | Eponyms | Books | Twitter |