Since 2009 we have reviewed and revised the Emergency Medicine and Critical Care (EMCC) blog/podcast database. It has been a great way to add new resources; marvel at the global collaboration and wealth of educational resources in the #FOAMed blogosphere and analyse the trends in the use of social media, and blogging platforms.
In this 2018 analysis we review the #FOAMed blogs, platforms and social media integration of Free Open Access Medical Education and compare growth with the 2012, 2014 and 2016 reviews.
Please let us know if we have missed you off the list, or details need updated
Overview
Review of prospectively collected data pertaining to Emergency Medicine and Critical Care (EMCC) blogs and podcasts providing Free Open Access Medical Education (FOAM) with no barrier to entry (e.g. readers not required to logon to site or pay to read/listen).
A total of 460 EMCC blogs, vlogs and podcasts were identified and reviewed in December 2018. Data was collected relating to platform; content; publication (onset, duration and current activity); country of origin; primary language; social media channel integration; RSS feed; and legal disclaimer. Comparison was then made with the previous census reviews of 2012, 2014 and 2016
Results
Current activity (viability)
The 460 EMCC blogs/vlogs/podcasts were reviewed and identified as either:
GOOD (216) Currently active with at least 1 post within last 6 months)
GOING (111) Previously active. At least 10 published posts, but zero posts/podcasts for the 6 months between June-December 2018
GONE (133) Inactive. Previously active (with at least 10 published posts) but zero posts/podcasts for greater than 12 months; or inaccessible; or permanently redirected; or incorporated into another EMCC website
---
Country of origin
EMCC blogs are now written in 16 different languages (up from 6 in 2014) and originate from 40 different countries (up from 24 in 2014).
Global reach increased from 224 (2014) to 227 countries in 2018. Below is an example of reach and country engagement with an English language based FOAM blog (LITFL) using the Google analytics data for 2018.
Scroll over the interactive map to reveal Geo-located visitors per calendar year.
---
---
Blogging Platform
WordPress remains the blogging platform of choice being used by 70% of EMCC bloggers (up from 44% in 2016). The majority of these blogs are self-hosted with wordpress.org (63% of wordpress blogs). It will be interesting to see how the arrival of Gutenberg in WordPress 5.0 will affect these platforms and users.
The number of Blogger users continues to decline. From a peak of 24% in 2014 the platform now accounts for 11% of active websites. Squarespace, Drupal, Joomla and Wix account for 6% of users
---
Social Media Engagement
Successful active blogs and podcasts had previously shown an increasing propensity to use social media to engage in online discussion and information dissemination.
Twitter continues to be the mainstay of social media interaction and information dissemination for blogs/podcasts. However the proportion of active EMCC sites with active Twitter accounts has fallen from 86% in 2016 to 80% in 2018
Facebook pages maintain a steady growth in popularity from 32% (2012) to 41% in 2018
Google+ use also increased from a low of 16% (2016) to 20% in 2018 with some active community G+ pages leading the way.
Media accounts such as YouTube/Vimeo held steady, up slightly from 12% (2012) to 15% in 2018.
Social Media Conversation #FOAMed
The FOAMed hashtag has become a useful means of disseminating media and medical education posts and advances in the twitter platform have made it easier to search, review, share and comment on posts/podcasts.
#FOAMed on Twitter is still the major source of referral and conversation in the online space. It's use has grown significantly and the number of active users (with #FOAMed in their twitter profile) has increased from 500 in 2014 to 1,800 in 2018
We previously used Symplur to analyse the use of the hashtag; the participants; and the global reach – however, this is sadly no longer a #FOAMed resource for large data collection.
In the interim here is a sample survey from EMTA (Emergency Medicine Trainee Association UK)
---
Growth rate and Attrition Rate
New blogs are in decline; niche blogs are being incorporated; and some old stalwarts have said goodbye…
A saturation point has been reached. The rate of attrition has overtaken the rate of growth for the first time since 2002.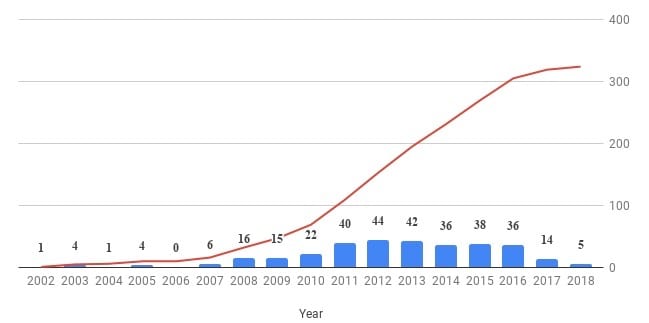 133 blogs/podcasts have been identified as 'deceased' since the commencement of data collection in 2009. There have been 30 recorded deaths since last review:
20 deaths were sudden with the blogs moving straight from Good (active) to Gone
10 have been palliated since 2016 review from Going to Gone
Of the 133 blogs that no longer exist:
68 point to alternate sites (mainly porn…)
48 still exist but the last published post >24 months
9 force a 301 redirect with larger site incorporation
8 have been marked as 'private'
Age Milestones
The average 'age' of the blog at the time of euthanasia is DOWN from 52 months (4.3 years) to 34 months (2.8 years)
The average 'age' of the currently active blogs/podcasts is UP from 62 (5.2 years) to 71 months (5.91 years)
The longest running blog (gruntdoc) is currently at 2013 months (16.92 years)
Interesting factoids:
Disclaimer: A legal disclaimer now exists on 91% of sites
Anonymity: There is better identification of authors with 97% of blogs and podcasts citing the full name, credentials, contact form and geographical location of blog authors. Particularly important since the arrival of the Google EAT protocol
---
Conclusions
Has the FOAM bubble burst? The rate of blog attrition has overtaken the rate of blog growth for the first time with 30 deaths and only 19 births since the 2016 review. Previous surveys have detailed the growth of active websites: 67 (2011); 130 (2012); 201 (2013); 275 (2016) and now 216 in 2018
In part this is because we have reached a natural saturation point. In part the bigger blogs have become established and incorporated enthusiastic authors from smaller blogs. There is only so much information, so much time in the day both to prepare the material and digest it…sometimes life just gets in the way.
Then there is the cost of FREE, and it is huge. This cost, both in dollars and in hours, is undeniably associated with some of the attrition.
Financial: The larger the reach; the greater the visitors; the more considerable the bandwidth – the more substantial the cost. LITFL has 1.5M visitors/month and 2TB bandwidth; in dollars that is $50,000USD/yr
Time: Blog maintenance, platform design/integration, writing, editing – all takes time. Some solo blogs have been incorporated into larger blogs or College/Hospital websites where the administrative and technical load can be spread.
However there is an increased global spread and reach with blogs being accessed regularly in over 220 countries. EMCC blogs continue to lead the way in the online open access medical education provision. There are myriad stories to be told; processes to be evaluated and discussed; and dogma to be lysed…
This saturation point was inevitable, with so many educational resources being shared freely and without reservation through FOAM. I don't think it is the end of the movement, but will certainly heralds a major shift in the landscape. Free information will still be produced and still disseminated with free social media platforms…but we may see a smaller number of significant stakeholders.
Resources
Some Discussion:
---
Emergency Medicine trainee. Interests in ophthalmology, critical care and clinical research.
Associate Professor Curtin Medical School, Curtin University. Emergency physician MA (Oxon) MBChB (Edin) FACEM FFSEM Sir Charles Gairdner Hospital.  Passion for rugby; medical history; medical education; and asynchronous learning #FOAMed evangelist. Co-founder and CTO of Life in the Fast lane | Eponyms | Books | Twitter |