Definition
Avulsion of the flexor digitorum profundus (FDP) tendon from the base of the distal phalanx.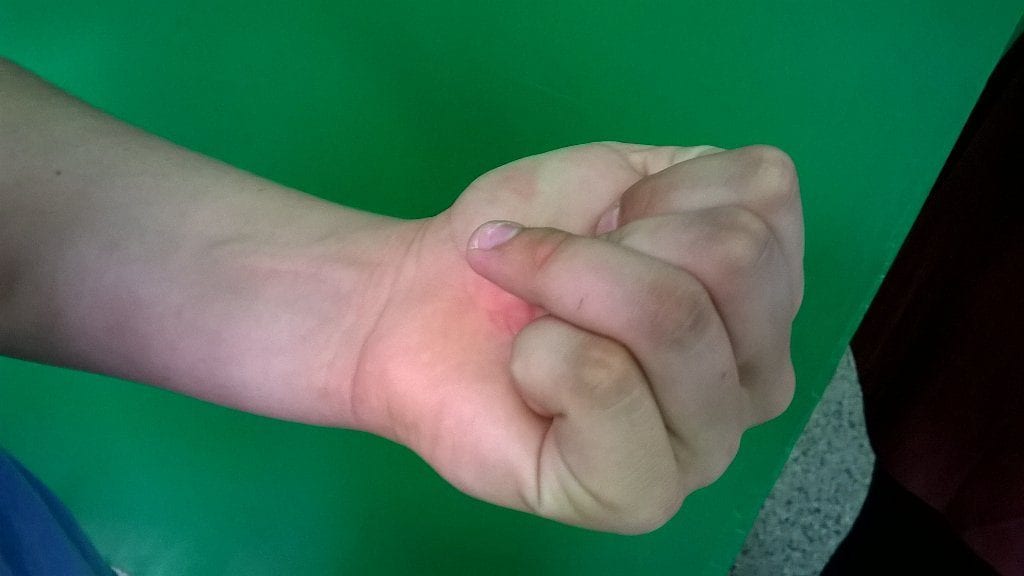 Mechanism
Sudden forcible extension of an actively flexed finger.
Classically occurs in sports such as soccer or rugby, where a player grabs another player's jersey as they pull away.
Anatomy
Most commonly occurs in the ring finger (?why).
The tendon avulses from its attachment to the distal phalanx and may retract proximally towards the PIP joint or even further into the palm.
Clinical Assessment
LOOK
Swollen finger distally.
Bruising over distal phalanx and DIP joint.
FEEL
Maximally tender at base of distal phalanx and DIP joint on volar surface.
May be tender all along the volar surface of the finger.
MOVE
Unable to actively flex DIP joint.
Flexion at PIP and MCP joints preserved.
Imaging
Finger x-ray to assess for avulsion fracture.
USS/MRI to assess the degree of tendon retraction.
Radiological Assessment
The x-ray may be normal or may show evidence of an avulsion fracture.
Look for an avulsion fracture arising from the FDP insertion site on the volar aspect of the base of the distal phalanx.
A fleck of bone often retracts proximally with the tendon and may be visualised volar to the PIP joint.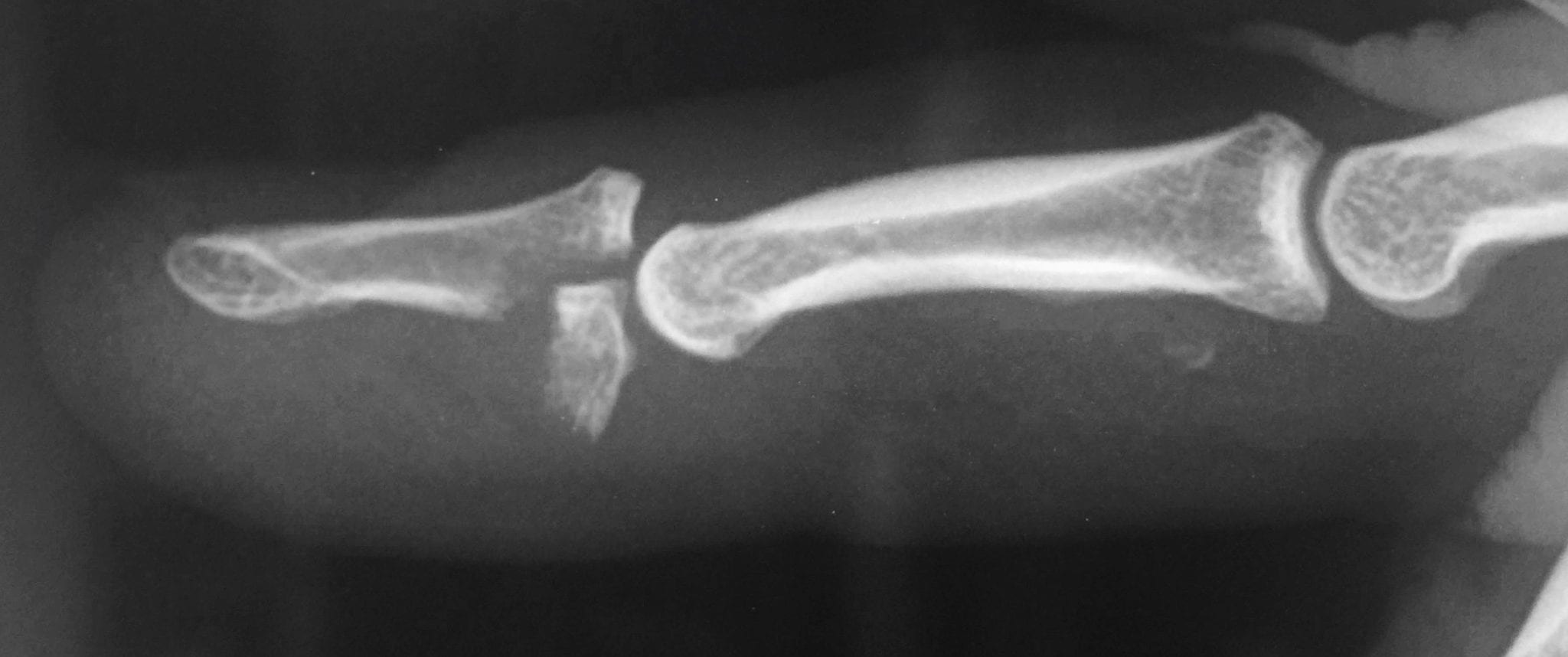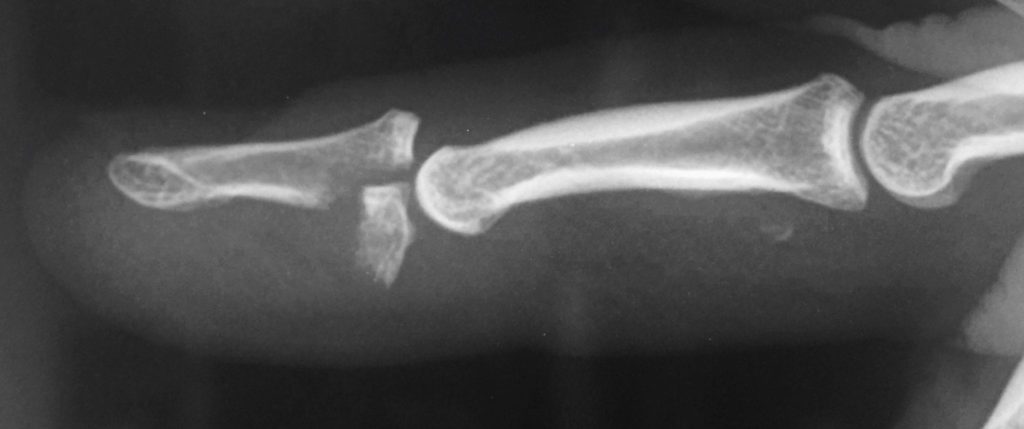 Further Radiology Cases

Case 1

This 30-year old male presented with pain, swelling and bruising in his distal ring finger after a game of rugby. He gave a history of a sudden "pop" and immediate pain in the finger after grabbing another player's jersey. On examination he was unable to actively flex his distal phalanx.

Image Interpretation and Clinical Outcome

His X-ray shows a large avulsion fracture at the FDP insertion site on the volar aspect of the base of the distal phalanx.
There also appears to be a smaller fleck of bone at the level of the PIP joint, suggesting that the FDP tendon has retracted proximally to this level.
USS confirmed tendon retraction and he was immobilised in a POSI splint and referred urgently to a hand surgeon, with open tendon repair performed a few days later.
Emergency Management
Analgesia
Splintage: Apply a POSI splint (position of safe immobilisation) and elevate the limb in a High Arm Sling.
VIDEO TUTORIAL | POSI splint; High Arm Sling

POSI splint (position of safe immobilisation) [Vimeo Video]
Triangular Bandage High and Broad Arm [Vimeo Video]

Lilian Wong and Matt Lutze demonstrate how to apply a POSI splint and High Arm Sling in these short videos from the Emergency Care Institute (with commentary by John Mackenzie).
Disposition
Refer urgently to a hand surgeon.
The patient will require an open tendon repair within 7-10 days.
These injuries carry a worse prognosis if not repaired within 7-10 days as the tendon contracts and becomes less viable.
Discharge Advice
Provide the patient with plaster care advice.
Ensure they are aware of the need for early surgical repair and hence the need to follow up promptly with the hand surgeon.
Pearls & Pitfalls
Examining specifically for loss of DIPJ flexion is critical to making this diagnosis.
Ensure you always isolate FDP and FDS when assessing the patient with a hand injury. Read how to do this here.
Partial FDP avulsion may present with pain on resisted DIPJ flexion but otherwise preserved FDP function. If uncertain whether a patient has an FDP injury, it is safer to immobilise them in POSI and refer to a hand surgeon.
Associated Injuries
References
Further Reading (LITFL Topics)
Authors
Lilian Wong (ED Physiotherapy Practitioner, Sydney)
Ed Burns (Emergency Physician, Sydney)
Matt Lutze (ED Nurse Practitioner, Sydney)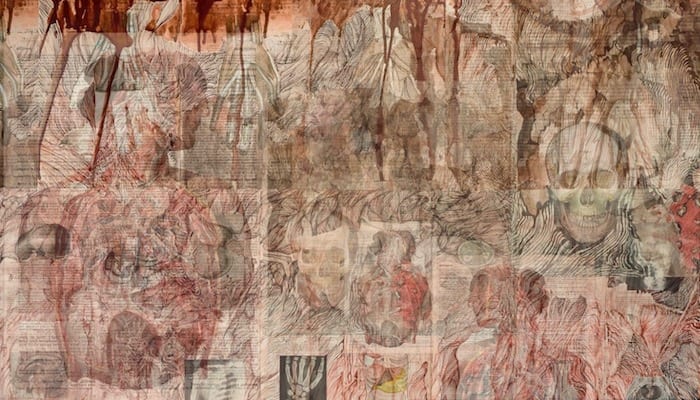 Emergency Physician in Prehospital and Retrieval Medicine in Sydney, Australia. He has a passion for ECG interpretation and medical education | ECG Library |