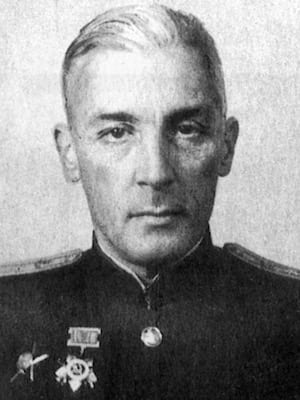 Dmitry Alekseyevich Arapov (Дмитрий Алексеевич Арапов) (1897 – 1984) was a Russian military surgeon.
Describing Arapov contracture as a reflex contraction of the right hip joint in acute appendicitis
The author of the monographs "Gas gangrene" (1940), "Inhalation anesthesia" (1949), more than a two hundred scientific works
Biography
Born 7 November 1897, Moscow, Russia
1929 – Emergency Physician
1949 – Doctor of Medical Sciences
1950 – Chief Surgeon of the USSR Navy
1953 – Corresponding Member of the USSR Academy of Medical Sciences
1959 – Honored Scientist of the Russian SFSR
Died June 14 1984, Moscow, Russia
Key Medical Attributions:
Arapov commented on the development of anaerobic infection he observed in conflict. He observed that 'anaerobic infection can develop when fragments of artillery shells, air bombs and hand grenades with extensive damage to tissues and contamination of their earth, fragments of ammunition, linen, etc., are injured by fragments'.
In the course of the Great Patriotic War, 490 wounded D. A. Arapov noted an anaerobic infection with fission injuries in 75.2% of cases, and for bullet – 22.5%. He observed a large number of complications of anaerobic infection when mines, grenades and fragments of aerial bombs were wounded.
Арапов Д. А. "Газовая гангрена", 1940 г.
In his 1949 monograph "Inhalational anesthesia" Arapov suggested that in order to prevent shock the use of nitrous oxide (gas anesthesia) on ambulances would be prudent.
Арапов Д. А. "Ингаляционный наркоз", 1949 г.
For several years in co-authorship, in his book "Tracheostomy as a treatment method for emergency conditions" he described the main contraindications and indications for tracheostomy at the prehospital stage.
Арапов Д. А., Исаков Ю. В. "Трахеостомия как лечебный метод при неотложных состояниях", 1964 г.
Medical Eponyms
Arapov contracture is a reflex contraction of the right hip joint in acute appendicitis. Pain induced reflex contraction of the right hip joint in acute appendicitis
Major Publications
Арапов Д. А. Газовая гангрена. – Москва ; Ленинград : Медгиз, 1940.
Арапов Д. А. Ингаляционный наркоз. – Москва : Медгиз, 1949.
Арапов Д. А., Исаков Ю. В. Трахеостомия как лечебный метод при неотложных состояниях. – Москва : Медицина, 1964.
Arapov D.A. Anaerobic wound infections. Medgiz, Moscow 1950.
Arapov D.A, Isakov Iu.V. Indications and contra-indications for tracheostomy in some types of respiratory disorders. Grudn. Khir. 1961 Nov-Dec;3:105-11. [PMID: 13862002]
Arapov D.A., Simonian K.S., Kaplan B.S. Paradoxes of acute appendicitis. Vestn. Khir. Im. II Grek. 1968 Nov;101(11):22-6. [PMID: 4304864]
Arapov D.A., Potemkin N.T., Tsarev N.I., Bratanchuk B.F., Pugachev A.F. Acute appendicitis. Voen. Med. Zh. 1973 Mar;3:33-6. [PMID: 4755980]
References
--- eponym
the person behind the name