Edward Thomas (Ted) Both (1908-1987) was an Australian engineer, known as the 'Edison of Australia'
Ted Both led a long prolific career and is responsible for the design and development of multiple inventions spanning the fields of medicine, military and industrial. Both is perhaps most well known for his hand in the development of the Both Respirator, a negative pressure ventilator, that saved the lives of many during the Polio epidemic in Australia. Indeed, the Both Respirator also found use across the oceans in Nuffield where its economical and simple design saw it outcompete the more expensive and heavier Drinker Respirator.
His other invention, the Both Electrocardiograph was the world's first direct writing instant diagnosis ECG which was popularised in Australia however unfortunately never saw worldwide uptake and today, is still an invention that is largely ignored in medical literature.
A quiet man, with an exhaustive capacity for work, Both was a true 'Edison' and outstanding pioneer of biomedical engineering who is sadly under-recognised in his own country. Whilst the Both company no longer exists, The Both label still persists in the handful of Polio survivors that continue to use his respirator in Australia and New Zealand
---
Biography
Born on April 26, 1908 at Caltowie, South Australia.
Attended Caltowie Public and Jamestown High schools and later becomes a technical assistant at the University of Adelaide at the age of 16yrs under the tutelage of physics professor Sir Kerr Grant
1932 – builds a prototype for a portable electrocardiograph; Sir Kerr Grant impressed with his skills, helps Both to set up a small medical production facility using a room in an old police barrack attached to the university
Ted is joined by his younger brother Donald Both and together they launch their own company Both Equipment Ltd. Their electrocardiograph enjoys popularity within the medical community up until the late 1950's where its use persists predominately in the country and areas without mains power.
1937 – The Both brothers are approached by the SA government to problem solve an alternative to the Drinker respirator for use in the Polio epidemic; the Drinker respirator available at the time was heavy and very expensive, costing about 2000 pounds to import from the US
The Both Respirator is designed and developed within the week; its simplicity and portability marks another successful product sold by the Both company and is a commercial success in Australia, it continues to be manufactured until the early 1960's
1937-1938 During Both's visit to England to sell his electrocardiograph, he overhears a BBC announcement requesting an iron lung for a young patient with Polio. Within 24hrs, Both assembles one of his respirators which quickly gains the approval of the London City Council. One is sent to the Nuffield department of Anaesthetics where it catches the attention of Lord Nuffield (shown to him by Robert Macintosh) who uses his Cowley factory to manufacture Both Respirators. A total of 1700 units are produced before the factory is diverted to the war effort (WWII)
1939 – Both returns to Australia where he builds an ultra-centrifuge to isolate viruses such as Polio; this is the first of its kind
1940 – designs and introduces a three-wheeled van, the first electric vehicle of its kind in Australia. It is devised as the ideal solution to a petrol shortage during WWII; the van ran on 16 6-V batteries and had a range of up to 50 mi before recharge was required. Production continued until the end of petrol rationing in 1949.
In the same year, Both is awarded an OBE by King George VI and offered a knighthood which he turns down
1941 – designs and introduces a novel communication system called 'The Visitel.' It bears similar resemblance to the telautograph invented by American Elisha Gray (unknown to Both at the time) and allows for discussions via text and/or pictures over long distances to occur. It is used by General Motors Holden between their Adelaide and Melbourne offices. Unfortunately, a secret 10-year designation on the device by the military, prevents its commercialisation and widespread use during the time and after it is released, Both loses interest in it
1947 – sets up a branch of the Both Business in Sydney and collaborates with Automatic Totalisators Co to develop scoreboards for sports. The most famous of these were the tennis board used at the Davis Cup competition in 1952 and the score board for the 1956 Olympic Games held in Melbourne; Both designs a simple switch mechanism that allows for letters and numbers to be selected and displayed on the board
1950s – Produces the Both Incubator for premature babies
1966 – sells his business to Drug Houses of Australia Pty Ltd (DHA); continues on in the DHA's Anax division as a design engineer until his retirement in 1974. The DHA company is later bought by Felton Grimwadee and Bickfords Pty Ltd and sees the Both label disappear
Dies November 18, 1987 in Mount Beauty Australia
---
Medical Eponyms
The Both Electrocardiograph
When Both injured his hand and consulted a doctor, during the conversation the doctor remarked a wish for a portable electrocardiograph; Both responded "I will try to make you one"
Thus, the idea for the portable Both Electrocardiograph was born. At the time, the electrocardiographs available relied on extremely heavy electromagnets to function which made them largely stationary units. They comprised also an optical component where a light beam was focused by condensers on a string galvanometer which cast a shadow on a moving strip of photographic paper. The final electrocardiogram took several minutes to process before the trace could be viewed.
The Both Electrocardiograph incorporated a permanent magnet with a moving coil suspended onto two parallel phosphor bronze strips. This stylus driver 'wrote' onto a smoked glass disc which was mounted on a clockwork gramophone motor rotated at 1/50th of the standard speed. A 50x optical microscope was used to view the minute trace which without electrical interference was clearer than what the original electrocardiograph could produce. This prototype was the beginning of Both Equipment Ltd, a company launched by Both and his brother Don and which became one of the company's most successful products throughout its existence.
Indeed, Both's design revolutionised the electrocardiograph; the machine could now produce real time recordings at the bedside, it could record up to 30 patient electrocardiographs at a time and its components were light weight which made it portable. The addition of an internal power supply allowed its use in the Australian country side and military where the typical power supply of a house used a 32V battery bank.
The yellow green body at the left is the permanent magnet in which the moving coil was suspended. The smoked disc, mounted on a clockwork gramophone motor (center) is in position for recording and viewing with a magnifier. Vacuum tubes for voltage amplification and driving of the oscillograph stylus can been seen on the right hand side. Batteries are stored on the bottom.
---
The Both Respirator
The Polio epidemic brought a stranglehold to South Australia in 1937 causing many fatalities in its wake. The Drinker respirator, a negative pressure ventilator developed by Drinker and Shaw in the US proved both a blessing for patient's afflicted with Polio and an economic conundrum – with a single unit costing 2000 Australian Pounds to import. The respirator was also incredibly heavy such that floors needed to be reinforced to support it and was complicated to use.
The Both respirator operated by the same principle of negative pressure ventilation and despite being constructed from plywood was still referred to as an 'iron lung.' The pump unit comprised of simple bellows powered by an electrical motor. This was connected via a hose pipe to the respirator which allowed the freedom to move the pump outside of the patient bedspace (i.e. outside a window) thus reducing the noise level. A portable version incorporated wheels, a 12-V motor and a bank of batteries which allowed patients needing constant respiratory support to be moved out of the hospital and to their homes.
The Both Respirator was cheaper, costing around 100 Australian Pounds, light weight and simple to use. It is thus not surprising that it enjoyed much success in Australia and later in the UK.
Both mechanical Ventilator in action (1939)
---
The Both Incubator
Commissioned by the Queen Victoria Hospital in Adelaide, the Both Incubator was Both's response to addressing premature infant mortality. The incubator was simple in design and use, easy to maintain and economical. It incorporated a 75-W incandescent globe as a heater which could be easily sourced from the local hardware shop should it need replacing.
A later more sophisticated model the 'Insulcot' followed and allowed for greater control over the environment as well as access to the infant. Portable units were made to facilitate transport of premature babies between hospitals and in situations where there was no mains power.
---
Key Medical Contributions
The Electric Vehicle
Was a battery powered three-wheeled van comprising a single front wheel, a reworked car generator as a motor and a steering wheel; it became a popular mode of transport during WWII and provided fast and efficient delivery of essential goods particularly for local deliveries. Its very limited range of 50 mi saw it fall out of favour and production when the petrol rationing ended in 1949.
The Both Equipment Ltd. also designed an electric scooter during that period, but it was never put into production
---
The Visitel Machine
Was more or less the Australian version of a telegraph and allowed for long distance communication to occur by means of electrically encoding the position of a pen on an xy plane. This became the forerunner to the facsimile.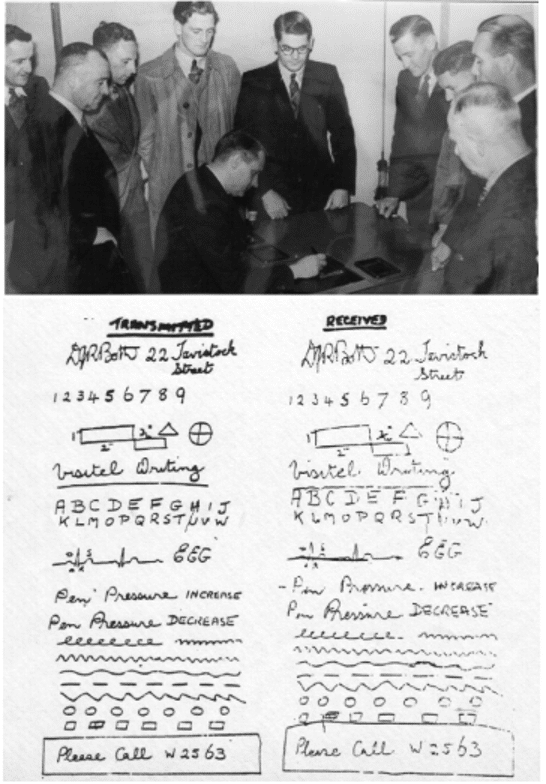 ---
Both's inventions numbered in the 100's and covered across the fields of medicine, industrial and military. Some of these inventions included (and by no means an exhaustive list):
Medical: electroencephalographs, X-ray screening units, defibrillators, diathermy units, transfusion pumps, nerve stimulators, pen recorder for scientists to accurately record measurements
Industrial: metal detector, welding testing equipment, automotive test equipment
Military: electrometer and electrocrack detetctor, radio transmitter, electric cloth cutter for army uniforms, a device to record the rate of machine gun fire
---
Controversies
Although dubbed the 'Edison of Australia', Both never received adequate recognition for his contributions to medicine and society by the Australian Government. His contribution to electrocardiography is also largely ignored in medical literature. Ironically, commendation for his efforts were recognised outside his country where he was granted an OBE by King George VI for his work on the respirator and even offered a knighthood, which he declined
---
References
Biography
Eponymous terms
---
Cite this article as:
Ciselle Meier and Mike Cadogan, "Edward Both," In:
LITFL - Life in the FastLane
, Accessed on November 29, 2022,
https://litfl.com/edward-both/
.
---
eponym
the person behind the name
Associate Professor Curtin Medical School, Curtin University. Emergency physician MA (Oxon) MBChB (Edin) FACEM FFSEM Sir Charles Gairdner Hospital.  Passion for rugby; medical history; medical education; and asynchronous learning #FOAMed evangelist. Co-founder and CTO of Life in the Fast lane | Eponyms | Books | Twitter |