Forrest Morton Bird (1921 – 2015) was an American aviator, inventor, biomedical engineer and medical doctor
Bird was a leading figure in modern mechanical ventilation through his Bird Mark series of ventilators. Birds' vast knowledge of fluid dynamics and his experience in aeronautical studies during WW2 initially lead him to develop positive pressure oxygen masks and anti-G suits for military pilots.
A growing interest in respiratory physiology and a mishap during an anti-G suit test that caused him to suffer ocular haemorrhages, saw him pursue a career in medicine and go on to design his first rudimentary ventilator in 1947; a forerunner to a series of ventilators that bear his name – the Bird Mark. His most famous was the 'BabyBird' pediatric ventilator credited for reducing infant mortality and saving millions of lives. Bird's avid research in pulmonary medicine led him to develop the technique for high frequency ventilation and generations of ventilators that followed its success.
Inducted into the National Inventors Hall of Fame in 1995, Bird was also the recipient of multiple awards throughout his career including the Lifetime Scientific Achievement Award (1985, 2005), the Presidential Citizens Medal (2008), the National Medal of Technology and Innovation (2009) and the Lindbergh Foundation Annual Award (2012). He held more than 200 patents for his inventions and continued to fly planes well into his 90's. Birds legacy continues in the company he founded and within the clinical setting where many of his ventilators are in use.
---
Biography
Bird modified the regulators and develops positive pressure oxygen face masks which now allow crew to reach altitudes of 35,000 ft (instead of 28,000 ft). In testing his invention, Bird remarked:
We would start out at 10,000 feet and write our names on paper, then up to increments of 5,000 feet then back to 10,000 feet. If we were hypoxic, our writing would become increasingly less legible. Soon, we were going to 35,000 feet, with perfectly legible handwriting, which proved we were not hypoxic

Airport Journal, 2003
He also designs and develops an anti-G suit system to address the problem of black outs in jet fighters
I developed a foot-to-chest suit having three chambers, one for the calves of the legs, the next for the thighs and the other for the stomach area…I developed a magnetically controlled regulator that would respond to a calibrated g load. As the valve opened, it would progressively pressurize the suit with compressed nitrogen…which effectively prevented blood from draining away from the cerebral circulations. Thus, a 4g load could be reduced to a 2g load….became the forerunner of anti-g suit systems

Airport Journal, 2003
Becomes increasingly interested in human physiology and enters medical school after suffering bilateral ocular haemorrhages during a g suit test
---
Medical Eponyms
The Bird Mark Series and the BabyBird
The first highly reliable, low-cost, mass-produced medical respirator in the world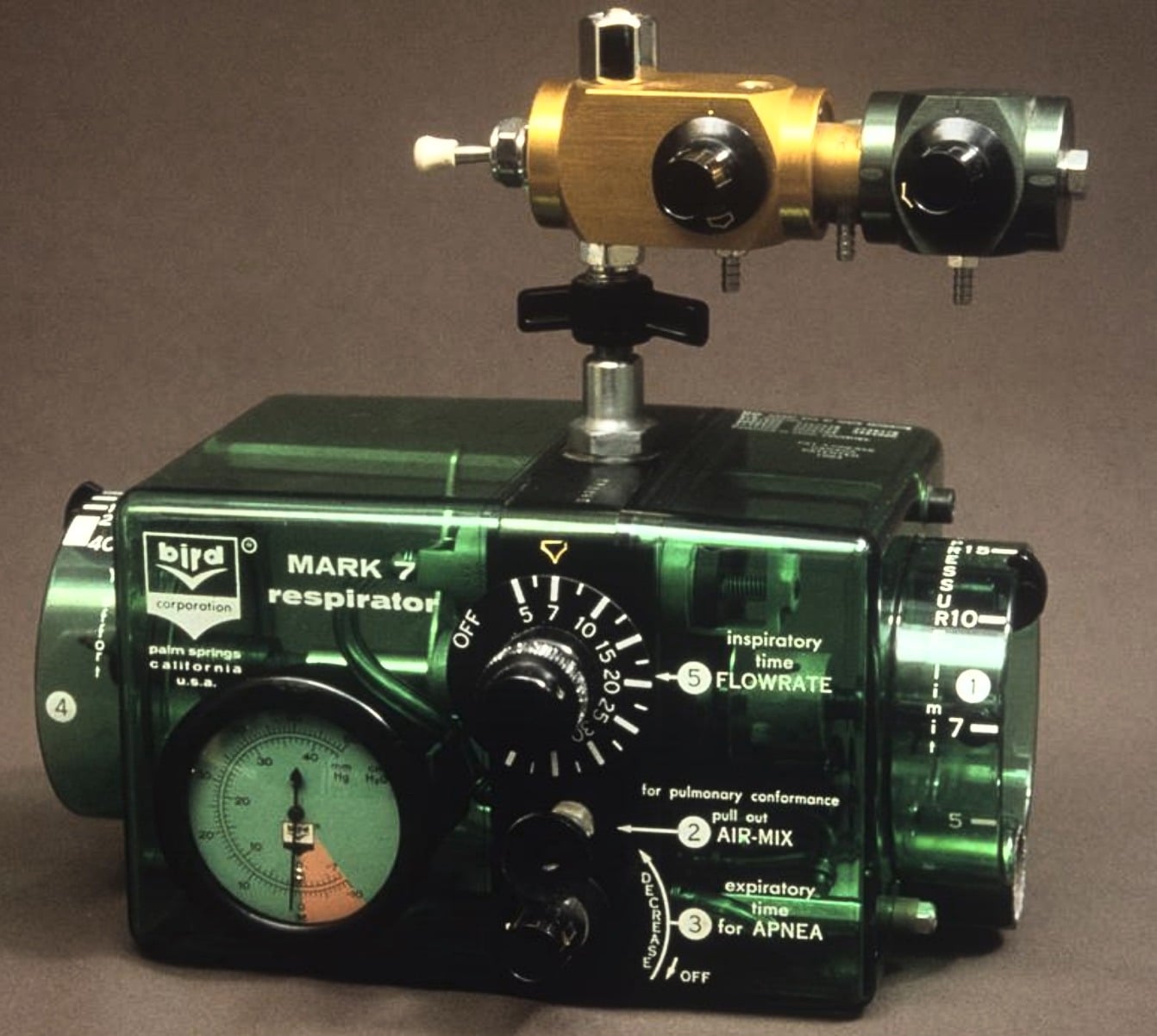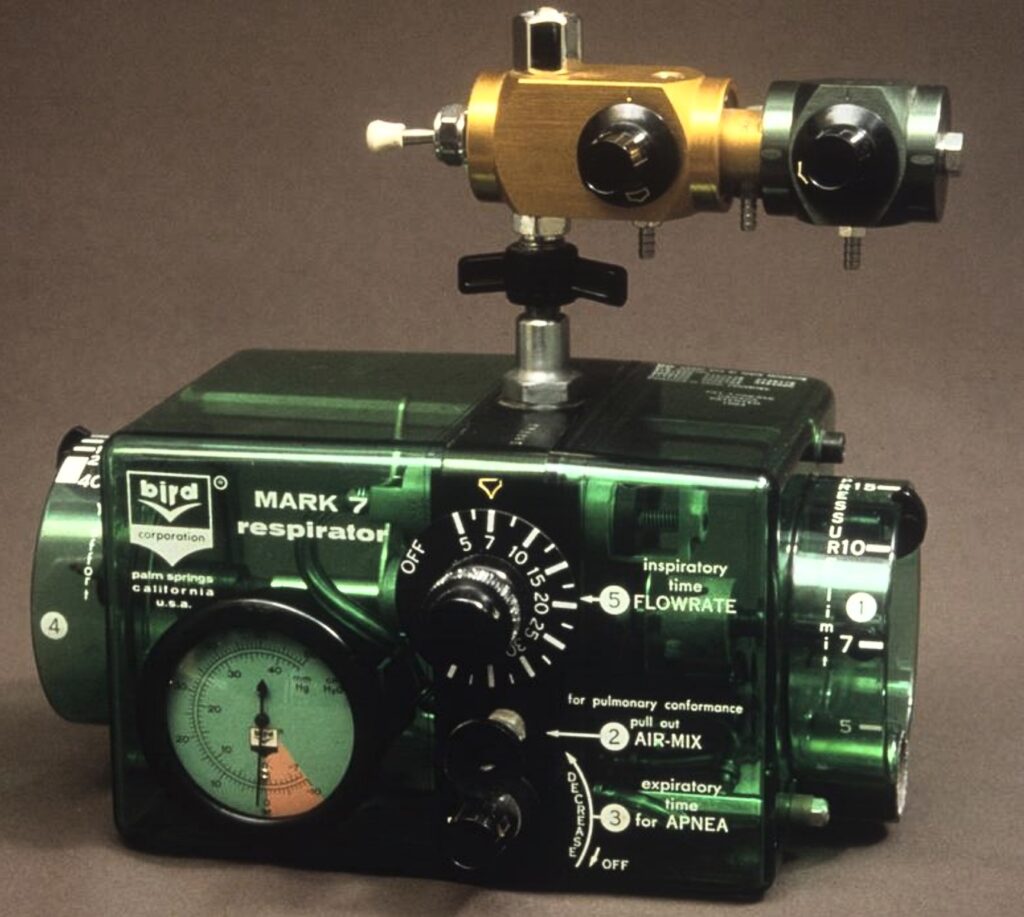 The initial prototype and forerunner to the Bird Mark 7 was an adaptation of his aeronautic inventions – the magnetic clutch of an anti-g suit regulator, the positive pressure regulator from his oxygen face masks and the addition of strawberry shortcake tins which he used to develop his first prototype ventilator called the Bird Residual Breather. It underwent six prototype stages before the final device went into commercial production in 1957.
The Bird Mark 7 is a non-rebreathing ventilator powered by oxygen or compressed air. Inspiration can be patient triggered or automatically cycled whereas expiration is pressure cycled. Inspiratory pressures range from 5 to 60cm H2O. Gas flow is controlled by a sliding ceramic valve which relies on the position of plates and magnets to cause movement.
The Bird Mark 8 followed and allowed for negative pressure during expiration. The Mark 9 saw an increase in inspiratory pressures and flows to 260cmH2O and was famously used to ventilate an elephant by the San Diego Zoo. The Mark 10 was fitted with a leak compensating system and the Mark 17 with a volume cycling option. The Mark 4 was not a ventilator in itself but an adjunct to the Mark 7, 8, and 10 and allowed for the delivery of anaesthetic agents. Bird Mark 4A followed and was a free standing anaesthetic ventilator. The Mark 14 was conceived during Bird's experiences with casualty evacuation during the Vietnam War and was adapted for intensive care air transportation. He also had a model installed in his own Lear jet.
BabyBird was developed in 1971 and is a time cycled intermittent ventilator. It was incredibly successful and saw the early infant mortality rate reduce from 70% to less than 10% worldwide.
---
Bird Intrapulmonary Percussive Ventilation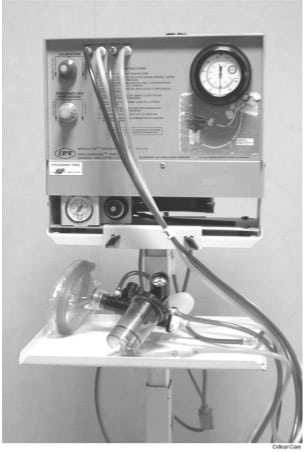 Describes a ventilator technique of high frequency ventilation using small bursts of high gas flow into the lungs. Pressures delivered are within the range of 5 to 35cmH2O and powered by compressed gas which drives a phasitron (sliding venturi) to generate oscillations in the range of 80 to 650 cycles per minute. These oscillations 'vibrate' the airway walls which are expanded by the high frequency gas pulses delivered during inspiration.
A constant airway pressure is able to be maintained with this technique and enhances intra-bronchial secretion mobilization. IPV was used to treat patients with chronic bronchitis and airways diseases characterised by partial or completely obstructed bronchioles. It was designed to recruit bronchioles and their dependent alveoli in a lung protective fashion compared to volume-pressure mechanical ventilation which could cause hyperinflational barotrauma. Bird's IPV device was a self-contained air compressor which allowed patients to take IPV treatments in the home. This saw a reduction in hospital presentations with acute respiratory infections.
---
Bird Phasitron
The Phasitron is an expiratory/inspiratory valve located at the end of the endotracheal tube and acts as a mechanical/physiological interface. It contains a sliding venturi tube-jet assembly where high pressure gas generated by an oscillator cartridge is delivered at subtidal volumes at a high frequency into the jet inlet.
During inspiration, forward movement of the sliding venturi allows pulsed gases to fill the patients' lungs. Humidified and blended gases are entrained through the entrainment port and delivered to the patient through the now open inspiratory port. Gas flows are large and the expiratory port is closed. As PIP increases, flow reduces but jet pulses continue to occur until the set time is reached and only then does inspiration end. With the fall in pressure, the venturi slides back and the expiratory port opens. During expiration, a counter-flow of gas ensures a set PEEP level is maintained in the airway.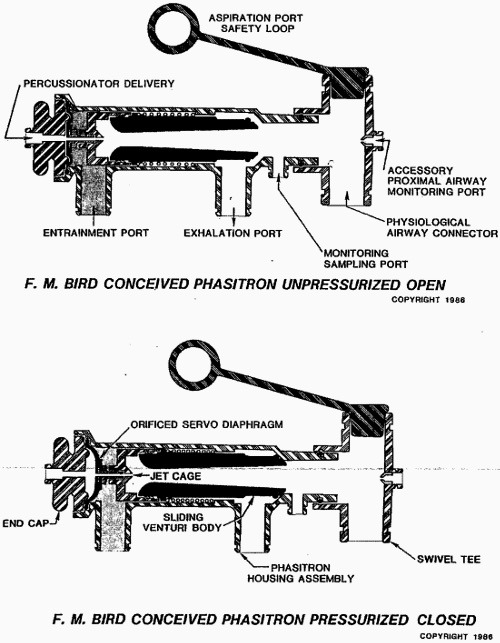 ---
References
Biography
Eponymous terms
---
Cite this article as:
Ciselle Meier and Mike Cadogan, "Forrest Bird," In:
LITFL - Life in the FastLane
, Accessed on December 7, 2022,
https://litfl.com/forrest-bird/
.
---
eponym
the person behind the name
Associate Professor Curtin Medical School, Curtin University. Emergency physician MA (Oxon) MBChB (Edin) FACEM FFSEM Sir Charles Gairdner Hospital.  Passion for rugby; medical history; medical education; and asynchronous learning #FOAMed evangelist. Co-founder and CTO of Life in the Fast lane | Eponyms | Books | Twitter |