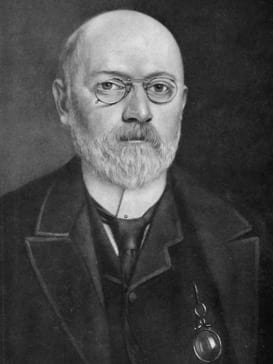 Graham Steell (1851- 1942) was a Scottish physician and cardiologist.
Eponymously associated with the Graham Steell murmur (1888) –a high pitched early diastolic murmur of pulmonary incompetence caused by pulmonary hypertension. Published extensive research and textbooks on fevers and cardiology
First to describe the association of oedema and peripheral neuropathy in chronic beer drinkers and in patients with beri-beri, which was later identified as a result of thiamine deficiency. Steell also observed the association between pericarditis and angina pectoris, which was made before coronary occlusion was known
Best remembered for his excellence in correlating clinical signs and physiology, passionate bedside teaching, illegible notes, and brevity of speech.
---
Biography
---
Medical Eponyms
---
Notable Quotables
In regards to the emergence of many new technologies in medicine:
Clinical medicine seems to me at the present moment to be in danger of losing something of its old charm, and in the future of losing much more

In relation to oedema:
Capricious distribution of dropsy is especially apt to occur in cases of the cardiac muscle-failure of beer-drinkers and of the disease known as beri-beri, of both of which diseases, it is curious to note,peripheral neuritis is a clinical feature. . . Curious special localizations of oedema met with, in cases of the kind, have been the scrotum, and together the upper trunk, upper extremities, and scalp and neck, so that the oedema simulates that resulting from mediastinal tumour
This type of heart failure is currently understood to be due to thiamine deficiency
---
Major Publications
---
References
--- eponym
the person behind the name