Henning Moritz Ruben (1914 – 2004) was a Danish anaesthetist, dentist, inventor, athlete and entertainer
Ruben was a man of many talents: Professor of anaesthesia at the University of Copenhagen, by day… – and by night – …a member of the Danish fencing team; a professional dancer; magician; dentist; and inventor
His career in anaesthesia was aided by his talent as a magician where a theatre show led to Ruben introducing himself to anaesthetists at a Swedish hospital; this set the stage for a long prosperous career in anaesthesia!
Henning M. Ruben was the innovator behind the Ruben valve and AMBU bag, a staple today in ambulances, emergency rooms and patient rooms worldwide.
In 1959, Ruben was the first to describe (with James Elan) the head tilt method of securing a clear airway during resuscitation. Other inventions include a constant-rate syringe pump; a portable foot suction device; and AMBU man – one of the first manikins for airway clearance and expired air ventilation.
By 1982 and with over a million Ruben valves produced worldwide, Ruben was a household name. The valve incorporation into the AMBU bag saw his invention become recognised as the 'most significant medical advance in anaesthesiology of the last 25 years.' Indeed, it revolutionised manual resuscitation by providing a means to ventilate patients without oxygen or a battery. Six decades later, Ruben's invention still remains as critical to resuscitation as it did when it was first invented.
---
Biography
Born on July 20, 1914 in Copenhagen, Denmark
1938 – initially studies dentistry at the Royal Dental College in Copenhagen
1939 – represented Denmark in fencing, winning a Bronze Medal in the European Championships in in Monaco; tours Denmark as a professional dancer; becomes a member of the Danish Magic Circle as a talented illusionist and thought reader
1943-1946 studies medicine at the University of Copenhagen however doesn't graduate until 1946 after being forced to flee Denmark during the Nazi occupation. In this two year period, he lives in Sweden working as a dentist and magician
1948 – returns to Sweden after graduating medicine and begins work in neuroanaesthesia at Serafimerlasarattet in Sweden; he gains this position after performing as a magician in a Stockholm Concert Hall and introducing himself to anaesthetic leaders at Sabbatsberg and St Ericks Hospital
1949 – appointed as an anaesthetist at the Gentofte Hospital and Finsen Institute in Copenhagen
1951 – completes a 6 month secondment in the Anaesthetic Department, University of Iowa where he works together with renown anaesthesiologist Lucien E Morris (1914-2011); meets and collaborates with James Otis Elam (1918-1995), this marks the start of a career in resuscitation
1953 – designs and develops the first electrically driven constant-rate syringe pump; designs and develops a lightweight foot operated sucker. Meets Holger Hesse a German engineer and founder of company Testa-Laboratorium which would later build and market Rubens inventions, in particular the AMBU bag and Ambu Man
1955 – develops the 'Ruben Valve' after misinterpreting a drawing of an American non-rebreathing valve shown in an Anaesthetic Journal; Professor of anaesthesia at the University of Copenhagen
1956 – designs and develops a manual resuscitation device – the AMBU bag; the original model is constructed from four bicycle wheel spokes manipulated in an anaesthesia bag.
1957 –resuscitation becomes mandatory across many schools in Scandinavia; in response to this, Ruben designs and develops manikins on which people could train in the correct use of the AMBU bag.
1958 – Introduces the novel idea of occluding the oesophagus with a blocked inflated tracheal tube to prevent gastric insufflation during ventilation
1959 – publishes a landmark paper titled 'Rescue breathing. A modification' in The Lancet which introduces the 'head tilt' method for opening an airway.
1960 – Ruben publishes further 'proof' of the head tilt method in resuscitation using X-rays in anaesthetised patients
1963-1965 chairman of the Danish Society of Anaesthesiologists
1964 – the American Medical Association (AMA) declares the AMBU bag to be one of the most significant medical advances in Anaesthesia over the last 25 years
1973 – Knight of the Order of Danneborg
1986 – the success of the Ambu brand sees the company Testa-Laboratorium change its name to Ambu International or simply AMBU as it is known today.
Internationally recognised pioneer in Anaesthetics: Honorary Member of the Danish Association of Anaesthesiology (1990); European Resuscitation Council (1994); and European Society of Intensive Care Medicine (1997)
Died on December 4, 2004 in Copenhagen, Denmark
---
Medical Eponyms
Ruben Valve [Ruben unidirectional valve]
My valve was introduced long ago – before many of today's anesthesiologists were born. That may be the reason for the funny reactions I have experienced when meeting younger colleagues. Asked whether the "Ruben" of the valve was my father, and admitting to my own paternity, I several times got the reaction: "I thought you were dead." Once a confused anesthetist even addressed me as "Dr. Valve"

Ruben 1985
The concept for the non-rebreathing valve, bearing his name the 'Ruben valve' found its origins in an American Anaesthetic Journal where Ruben attempted to build a valve from a drawing
In 1948 the American journal Anesthesiology showed a diagram of the Stephen-Slater nonrebreathing valve. Unable to acquire it quickly I tried to make a copy of it. I misinterpreted the drawing, so by chance I introduced changes in the design, which resulted in my very first anesthesia valve. I showed that with it one could also introduce what now is called positive end-expiratory pressure (PEEP)(1950).
By collaborating with a watchmaker, Ruben was able to develop his own valve. This incorporated two springs made from watch balances and rubies which supported the mobile shaft. Later editions of the valve substituted the springs and valve discs with silicone membranes (known as E valves).
I devised another valve in which the expiratory part was automatically closed when the bag was compressed (1952). It contained two springs, made from watch balances and rubies, which supported its moving shaft.
Functionally, the Ruben Valve works by mechanism of a bobbin which moves against a spring to act as a unidirectional valve. During inspiration or when the bag is squeezed, the spring loaded bobbin occludes the expiratory limb allowing gas flow to the patient and on expiration, closes the inspiratory limb so that gas can be vented out. There is low resistance and minimal dead space with this system.
The resuscitation version of the Rubens valve has no expiratory outlet so that during spontaneous respiration, the patient is able to breathe in atmospheric air.
This valve became an important component of the Air Mask Bag Unit (AMBU) self-inflating bag developed in 1956, inspired by an oxygen supply crisis in Denmark
---
Key Medical Contributions
The syringe driver (1953)
Ruben designs the first electrically driven constant-rate syringe pump, a rudimentary version of the 'syringe driver'. Two steel springs push the plunger of the syringe which is regulated by an alarm clock and pulley system; the invention is described and published in Acta Pharmacology and Toxicology
The spring provides the motive force, which is transmitted to the plunger of the syringe by a T-shaped bar. An alarm-clock mechanism controls this force by allowing only a limited activity per unit of time…brought about by using the rotation of the winder shaft which has a constant angular velocity and a pulley fitted to it. The radius of the pulley is adjusted so that a point on the circumference moves the distance that the syringe plunger is required…the reliability of the infusion system depends on the accuracy of the clock

Ruben 1953

---
Air Mask Bag Unit (AMBU) self-inflating bag (1956)
A strike by lorry drivers in Denmark in 1954, caused the oxygen supplies in Danish hospitals to run dangerously low. This prompted Ruben, to conceive the idea of the self inflating bag designed to provide manual artificial ventilation without compressed gases.
Ruben had a bicycle mechanic weld together the ends of four bicycle spokes. These were fed into a rubber anaesthetic reservoir bag and with the aid of a piece of string pulled them into an oval shape. Ruben found that if he compressed the bag, on release it would regain its shape drawing in air.
The device worked in conjunction with an inlet valve and the Ruben unidirectional valve.
The prototype was refined, using foam rubber instead of bicycle spokes, and produced by the Danish Company Testa Laboratorium, marketed as the Ambu Resuscitator.
I went to my bicycle mechanic, had him weId four bicycle spokes together, then manipulated the joined spokes into an anaesthesia bag. With the aid of an attached string, I obtained a globe-shaped frame, which kept the bag expanded. When manual compression of the bag was interrupted, their reexpansion made the bag self filling. It was followed by different metal frame constructions, filling the bag entirely with lumps of foam rubber – finally ending up by lining the bag with foam rubber, thereby leaving the center of the bag free. With it my nonrebreathing valve was used as an inflating valve, and an air inlet valve was put onto its tail. And that was it…

Ruben 1985
---
Ambu Man (1957)
In 1957 resuscitation became mandatory across many schools in Scandinavia; in response to this, Ruben designs and develops manikins on which people could train in the correct use of the AMBU bag.
Ruben went on to demonstrate its use at the International NATO and Swedish Anaesthesiology Association meetings in 1958. Demand for these manikins – "Ambu Man' – rises over the next few years and later evolves to allow for use in cardiac massage training
…I constructed the first manikin to make it possible to train people in the proper use of the resuscitator. Apart from imitating facial anatomy, I incorporated an airway mechanism which only allowed lung inflation when forward movement of the jaw and backward tilt of the head was accomplished

…a painter who was good at modelling, helped me to make its plaster head. In making the airway mechanism I was assisted by the bicycle mechanic who had helped me with my valves, as well as by the watch maker.

Ruben 1985
---
Head Tilt in resuscitation (1959)
In 1959, Ruben published the landmark paper 'Rescue breathing. A modification' introducing the 'head tilt' method to opening the airway.
The following year, Ruben publishes further 'proof' of the head tilt method in resuscitation using X-rays in anaesthetised patients
Of the 12 anaesthetised patients with the head flexed, at the level of the tongue complete obstruction was found in 8 cases and partial obstruction in 2 cases. With the head in the normal position complete obstruction was found in 4 of 12 cases and partial obstruction in a further 4. With the head (…) tilted back a patent air-passage was found in every instance

Ruben 1960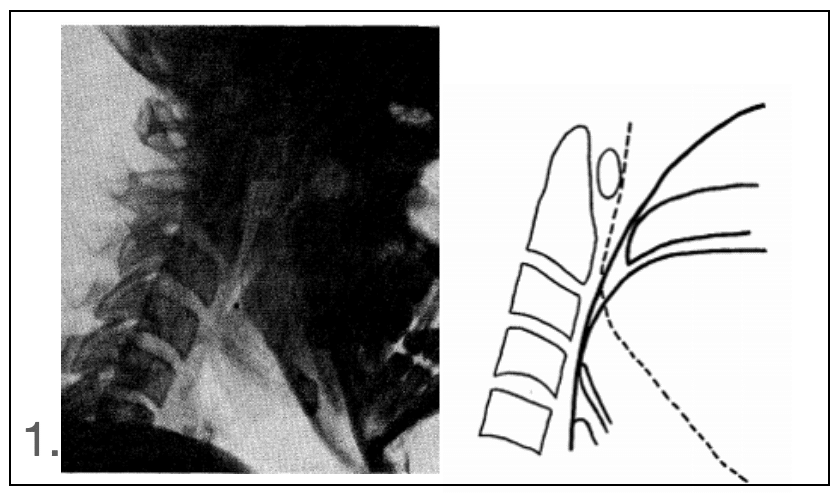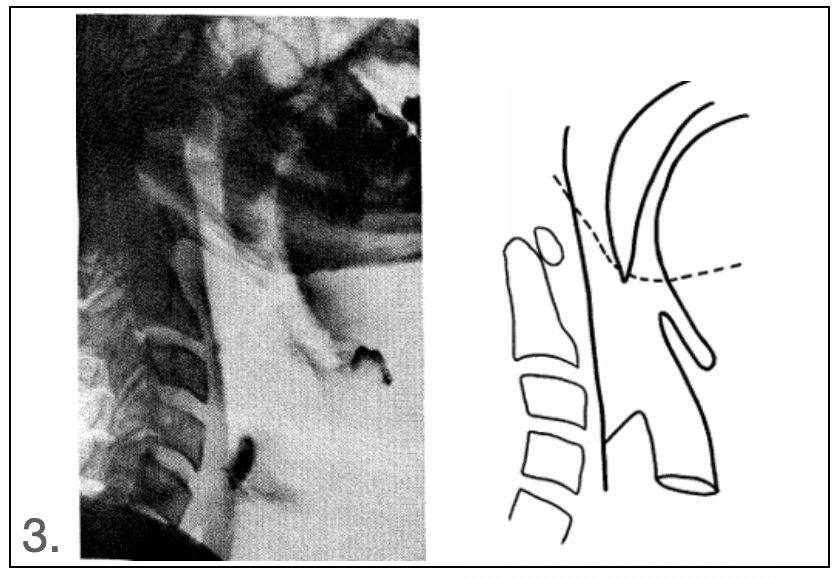 Ruben also advocated for nasal-mouth resuscitation instead of mouth-to-mouth resuscitation citing that the latter method had higher risk for gastric inflation; this becomes the norm for practice in Denmark and Central Europe over the next few decades.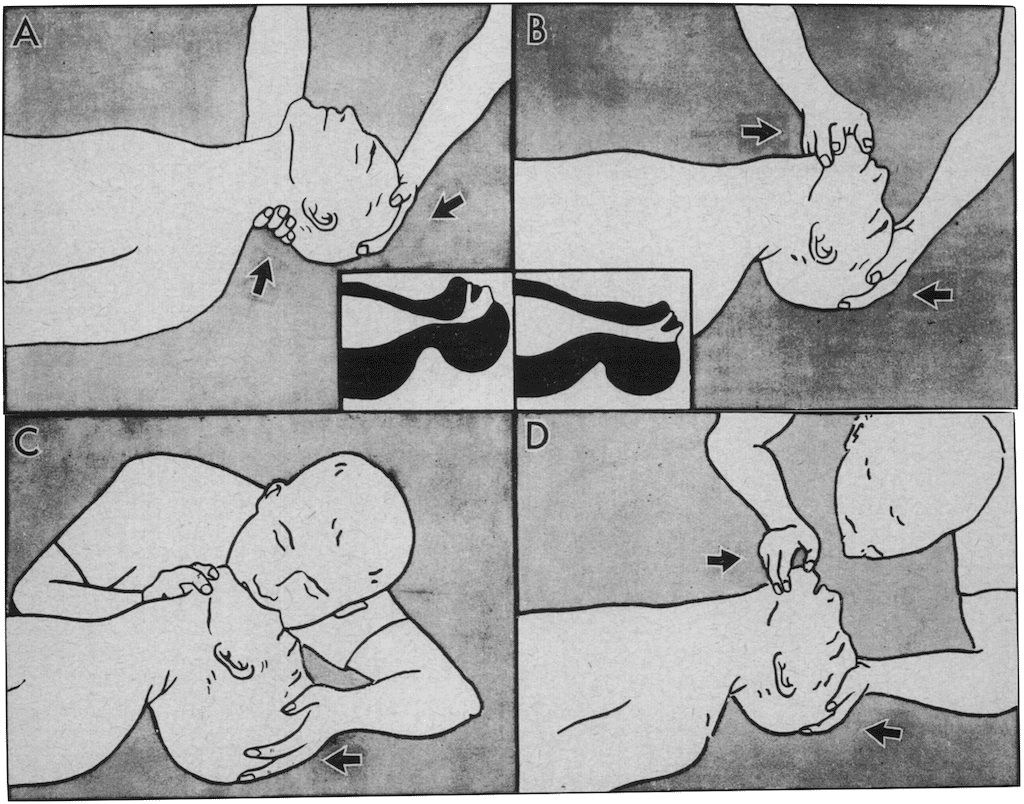 ---
Major Publications
Ruben H. Traek fra den nyere anaesthesiologie. Ugeskrift for læger 1948; 110: 849-853
Ruben H. Simple and accurate infusion mechanism for syringes. Acta Pharmacol Toxicol (Copenh). 1953; 9(3): 199-200.
Ruben H. Anaesthesiventil med mangesidig anvendelse [Value for multiple use in anesthesia]. Nord Med. 1953 Sep 3;50(36):1242-3.
Ruben H, Mohelsky HM. A simple automatic syringe. Anaesthesia. 1954 Jan;9(1):38-9.
Ruben H. Ny anaesthesiventil med udvi det anvendelsesmulighed [New ventilator for anesthesia and other use]. Ugeskr Laeger. 1954 Feb 25;116(8):297-300
Ruben H. Nyt apparat til kunstigt åndedraet [A new apparatus for artificial respiration]. Ugeskr Laeger. 1957 Jan 3;119(1):14-6.
Ruben A, Elam JO, Ruben H. Rescue breathing. A modification. Lancet 1959; 274(7092): 69 [Head-tilt method]
Elam JO, Greene DG, Schneider MA, Ruben HM, Gordon AS, Hustead RF, Benson DW, Clements JA, Ruben A. Head-tilt method of oral resuscitation. J Am Med Assoc. 1960 Feb 20;172:812-5.
Ruben H, Bentzen N, Saev SK. X-ray study of passage of air through the pharynx in anaesthetised patients. Lancet. 1960 Apr 16;1(7129):849-52
Ruben H, Ruben A, Elam JO, Benveniste D. [Artificial respiration. Improving laymen's ability in the performance of artificial respiration without apparatus]. Ugeskr Laeger. 1960 Feb 18;122:215-9.
Ruben H, Dam W, Hesse H. [A model for training in artificial respiration and external heart massage]. Ugeskr Laeger. 1961 May 26;123:719-22.
Ruben H, Knudsen J. Henning Ruben on his 60th birthday : biography, bibliography and a selection of publications, 1948-1973. Copenhagen; 1974
Ruben H. Anesthesia and Resuscitation Equipment I Happened to be Involved With. In: Rupreht J, van Lieburg MJ, Lee JA, Erdmann W. (eds) Anaesthesia. Springer, Berlin, Heidelberg 1985: 65-68
---
References
Biography
Eponymous terms
---
Cite this article as:
Ciselle Meier and David Raw, "Henning Ruben," In:
LITFL - Life in the FastLane
, Accessed on March 29, 2023,
https://litfl.com/henning-ruben/
.
---
eponym
the person behind the name