James Adolf Israël (1848 – 1926) was a German surgeon
Israel was a pioneer in modern urologic and renal surgery but also made contributions to plastic and oral-maxillofacial surgery. Co-founder of the journal Folia Urologica and publishing over 170 articles.
Israel is credited with the first description of the bacterial genus Actinomyces in humans and his name commemorated in medicine for describing Actinomyces israelii between 1878 and 1882
In 1877 Israel was the second author (after Nicoladoni in 1875) to describe the effect most commonly termed Branham sign (1890)
---
Biography
Born on February 2, 1848
1870 – MD, Friedrich-Wilhelms-Universität in Berlin; studied under Ludwig Traube (1818-1876). Before taking final exams he enlisted as a military physician in the Franco-Prussian war (1870-1871); awarded the Eiserne Kreuz [Iron Cross]
1871 – further medical studies in Vienna
1872 – assistant physician at the hospital for the Jewish Community in Berlin studying under Bernhard von Langenbeck (1810-1887)
1874 – visited Joseph Lister (1827-1912) in Edinburgh to learn of the newly introduced system of antisepsis
1875 – deputy physician-in-chief of the surgical department of the Jewish hospital, Berlin
1894 – professor of surgery of the Jewish Hospital
1907 – Co-founder of Folia Urologica (1907-1918; later Zeitschrift für urologische Chirurgie)
Died on February 2, 1926 aged 78
---
Medical Eponyms
Actinomyces israelii
Actinomyces israelii is a species of Gram-positive rod bacteria known to live on and within humans. A. israelii is an opportunistic pathogen and a cause of actinomycosis.
1877, pathologist Otto Bollinger (1843-1909) discovered and described Actinomyces bovis in cattle. Later in the same year Israel isolated Actinomyces in humans and initially classified it as a fungal in origin
David Henricks Bergey (1860-1937) in the 5th edition of Bergey's Manual of Determinative Bacteriology (published 1939: 926), classified Actinomyces into bacteria.
---
Compression of the arterial supply to an arteriovenous fistula causes a decrease in pulse and increase in blood pressure if there is a significant circulation through the fistula.
In 1877, Israël published his paper on Angiectasie im Stromgebiete der A. tibilais antica. Beobachtung einiger bemerkenswerther Phaenomene nach Unterbindung der A. femoralis, the observation of some remarkable phenomena after ligation of the femoral artery in a case of tibial arterial AV malformation. In particular, on March 16th, after ligation of the femoral artery the pulse dropped from 108 to 42 bpm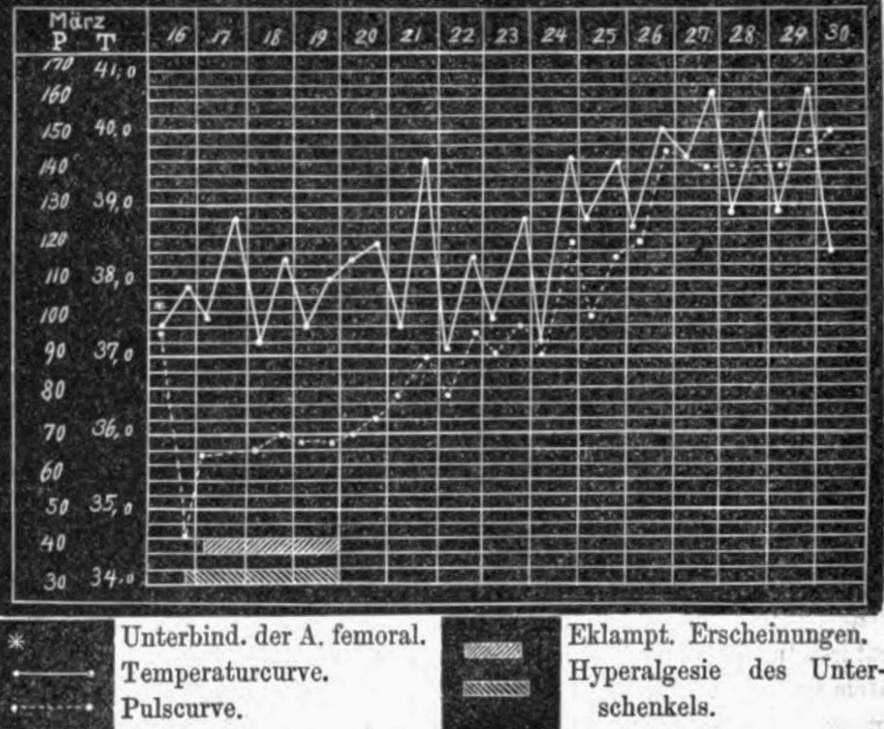 Es wird aus dem Folgenden hervorgehen, dass die Unterbindung der Femoralis eine Ueberfüllung der Herzhöhlen begünstigen musste. Denn der Effect der Unterbindung bestand, wie dargethan werden wird, 1) in stärkerer Füllung des Gefässystems, 2) in Steigerung der arteriellen Spannung, 3) in bedeutender Pulsverlangsamung.
From the following we observe that the femoral vessel acts as a reservoir for the heart chambers. The effect of this synergy results in 1. enhanced vascular filing 2. increased arterial blood pressure 3. marked bradycardia…
---
Major Publications
---
References
Biography
---
eponym
the person behind the name
Associate Professor Curtin Medical School, Curtin University. Emergency physician MA (Oxon) MBChB (Edin) FACEM FFSEM Sir Charles Gairdner Hospital.  Passion for rugby; medical history; medical education; and asynchronous learning #FOAMed evangelist. Co-founder and CTO of Life in the Fast lane | Eponyms | Books | Twitter |