---
Biography
Born 17 May 1861 in Arrens, France
Graduated medicine, University of Paris
1890-1941 Surgeon at the Hôpital Rotschild in Berck-sur-Mer
Died 1 March 1944
---
Medical Eponyms
Calot's Triangle (cystohepatic triangle) (1890)
Anatomical landmark of special value in cholecystectomy. First described by Calot as an "isosceles" triangle in his doctoral thesis in 1890.
Le triangle n'est pas exactement equilateral, mais plutôt isocèle, les deux côtés supérieur et inférieur, représentés par I'artère et le conduit cystique, étant seuls égaux, et un peu plus longs que la partie du canal hépatique qui entre dans la constitution du triangle. L'artère hépatique est située en avant et en dedans du canal hépatique. La branche droite de I'artère, la plus volumineuse, entre assez souvent (1/3 des cas) dans la formation du bord supérieur du triangle, pour une longueur de trois a 4mm millimetres; elle rampe ensuite au-dessus de I'artère cystique, en suivant dans la première partie du trajet une disposition presque parallèle a celle-ci, disposition qui est indiquée sur le dessin.

Calot 1890
The triangle is not exactly equilateral, but rather isosceles, the two upper and lower sides, represented by the artery and the cystic duct, being only equal, and a little longer than the part of the hepatic duct which enters into the constitution of the triangle. The hepatic artery is located in front of and inside the hepatic duct. The right branch of the artery, the most voluminous, enters quite often (1/3 of the cases) in the formation of the upper edge of the triangle, for a length of three to 4mm millimeters; it then crawls above the cystic artery, following in the first part of the path an arrangement almost parallel to it, arrangement which is indicated on the drawing.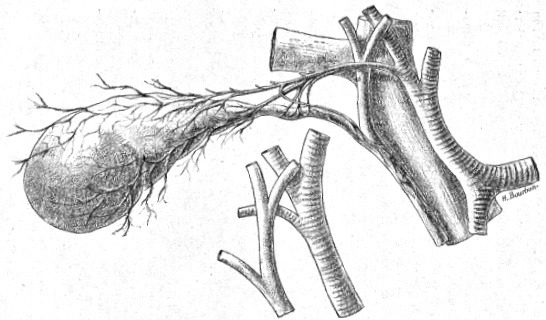 Boundaries
Also known as the cystohepatic triangle, the modern boundary definitions of Calot's triangle vary from the original description and contains three sides:
Common hepatic duct
Cystic duct
Visceral (inferior) surface of the liver
Content of Calot's triangle
Right hepatic artery: formed by the bifurcation of the common hepatic artery into right and left branches.
Cystic artery: typically arises from the right hepatic artery and traverses the triangle to supply the gall bladder.
Cystic node: drains lymphatic channels from the gallbladder
Clinical significance in cholecystectomy
The cystic artery arises from the right hepatic artery in Calot's triangle in 75% of the population
Variations in the origin and course of the cystic artery occur in 25% of people
---
Major Publications
---
References
Biography
Eponymous terms
---
eponym
the person behind the name
Associate Professor Curtin Medical School, Curtin University. Emergency physician MA (Oxon) MBChB (Edin) FACEM FFSEM Sir Charles Gairdner Hospital.  Passion for rugby; medical history; medical education; and asynchronous learning #FOAMed evangelist. Co-founder and CTO of Life in the Fast lane | Eponyms | Books | Twitter |