Jellybean 109 with Dr Daniel Schubert
Jellybean 109 with @DucSchub about love and death in the favela, about despair and hope from an unexpected source. From you. From FOAMed
This one is entirely in English. (Well almost.) Rio! What does that word make you think? Carnaval, football, Samba and sun or favelas, poverty, gangs and tragedy.
This one is a snapshot of Rio. Spanning the best and worst of a system under severe pressure. Seen from the point of view of one young doctor, one human being, one hard working and positive person that might just remind you of someone you know or someone you used to be.
Daniel is a fan of FOAMed and has managed to lead a Brazilian incursion into three SMACC's. In Dublin it was Flavia Machado and Daniel, in Berlin there were 4 and in Sydney there were 8. This is a very different podcast to last week but it should be seen as a partner to Jellybean 108.
Daniel tells the story of his working life in Rio in the aftermath of the olympics, when the money had run out, the staff were not getting paid and his entire teaching hospital was very nearly closed. His department in a large public hospital, out in the Favelas, was basically out of money, out of staff, out of everything. Except Daniel. They had Daniel.
---
This is a great snapshot of one of the most fascinating places in the medical world not just because Rio is Rio but because Emergency Medicine is so young there.
Here are three Brazilian Instagram feeds that we recommend;
@_breakem
@sobrevivendonashorasvagas
@emergenciarules
And a big shout out to Manrique Umana McDermott.
@umanamd is the Costa Rican King of #FOAMed on both Instagram and Twitter.
I told Daniel I was putting this podcast out and he told me he would probably miss it. He is volunteering in a remote medical mission way, way up the Amazon. He was about to get on the boat. This boat: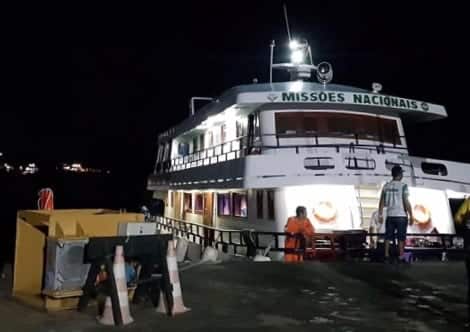 ---
Want links?
For a larger collection of the #FOAMed resources in Português (aka #FOAMedBRA or #LusoFOAM) see the show notes for Jellybean 108 "The Carnival Podcast"
The little audio clips at the beginning and the end are topical. The actor and singer Seu Jorge is a Brazilian legend. Having shot to international recognition in the 2002 movie "City of God/Cidade de Deus" he has become a huge figure in Samba. This track is a cover of the Bowie classic "Oh! You pretty things" as performed for the wonderful Wes Anderson film "The Life Aquatic". Both movies are recommended as is the associated album "The Life Aquatic, The studio sessions featuring Seu Jorge".
While you are at it check out the 1959 classic Palm D'Or winning "Black Orpheus".
---
Tune in next week.
The Jellybean Podcast is a funny little thing. We advocate and collaborate. In the coming months there will be a load of new interviews. A very mixed bag of different subjects and different voices from different events and different backgrounds. We kind of need people to subscribe to be able to keep going.
Look out for a series co-hosted with www.feminem.org and two with www.nowem.org . We have a collection of rising international leaders in emergency medicine from the Pacific, Africa and South America. We are very proud to be sharing #SMACCreach interviews with BadEM and African Journal of Emergency Medicine focused on the rapidly developing emergency medicine discipline in countries across Africa. There are a bunch of interviews with young nurses, doctors and paramedics just getting going in education. (#NewWaveFOAM).

And there are a few surprises too.
Diversity. Variety. Inclusiveness. These podcasts are for the enquiring mind with eclectic interests. I have often said that I would like to interview pretty much everyone that listens to this podcast.
Talk to us, we will listen.
---