**A-lines = Long path reverberation artefact
Reverberation Artefact Refresh


An ultrasound machine assumes a single pulse of ultrasound enters the tissues, is reflected off a structure, and returns directly to the transducer for interpretation. When this does not occur ultrasound artefacts are created.

Not infrequently an ultrasound pulse encounters two parallel reflective surfaces lying perpendicular to its path. Some of the pulse becomes caught between the two surfaces, bouncing forwards and backwards before returning in increments, between each reverberation, to the transducer. This reverberation causes a repetitive artefact on the ultrasound image.

The appearance of the reverberation artefact depends on:

The size of the two reflective surfaces
The distance between the two reflective surfaces (long vs short path reverberation artefacts)
And how much ultrasound energy is lost – dissipated or attenuated, between each re-reflection.
Long path reverberation artefact
When appearing deep to the pleural line these are known as A-lines.
The ultrasound appearance of this artefact is repetitive, horizontal, echogenic lines deep to the second of two large reflective surfaces, between which the ultrasound energy is reverberating. Most commonly this artefact appears deep to a flat surface behind which is an gas collection, typically a pneumothorax, free gas in the abdomen, or gas within a loop of bowel.
How long path reverberation artefact is formed (A-lines)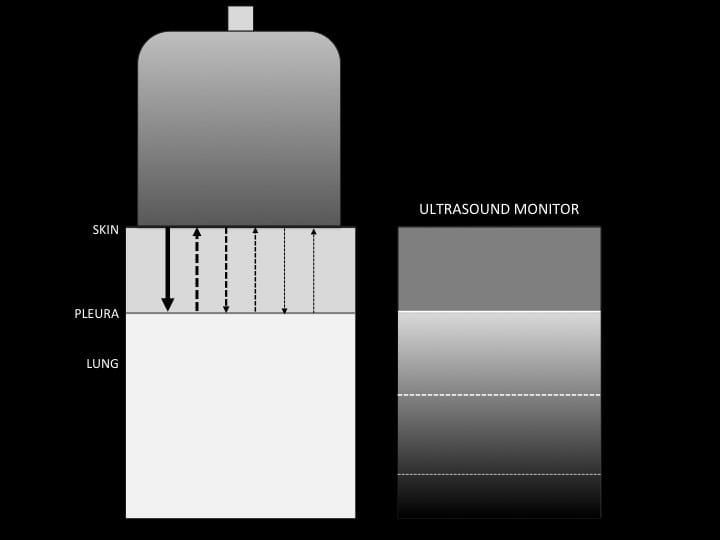 The ultrasound beam hits the highly reflective pleural surface and is reflected back to the transducer. The first return results in a true image of the pleural surface on the monitor. The beam however reflects back again off the transducer face and the cycle repeats.
Subsequent horizontal lines are weaker and are artefacts. Their clarity depends on how good a reflective surface is encountered by the ultrasound beam.
A-lines – Pneumothorax and Lung Point
---
Alternate mechanism of long path reverberation artefact formation
---
Another example of A-lines
---
Long path reverberation artefact in bowel
---
Long path reverberation artefacts: Summary
---
Further Reading