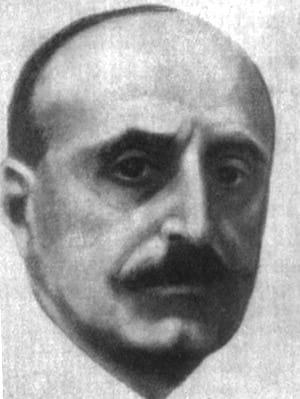 Mario Bertolotti (1876-1957) was an Italian radiologist.
Bertolotti trained as a neurologist, and went on to become a full professor of radiology later in life. His monograph Roentgen Craniology Lessons (1920); studies on pneumoencephalography (1934) and internal frontal endocraniosis were widely respected and he is considered the founder of Italian neuroradiology
Bertolotti, best known for his work concerning the articulation between the L5 transverse processes and sacrum, which he described in a 1917 article
---
Biography
Born 1876
1901 – MD, University of Torino
Director of the Institute of Medical Radiology of the Maggiore Hospital, Turin
1948 – Chairman of the Society of Neuro-Radio-Surgery. The society subsequently became devoted to neurosurgery, giving birth to the Italian Society of Neurosurgery
Died 1957
---
Medical Eponyms
Bertolotti syndrome (1917)
Sacralisation of the lower lumbar vertebrae. Partial or complete fusion of the transverse process of the L5 vertebra to the sacrum. Associated with scoliosis and symptoms of low back pain and sciatica. It can be unilateral or bilateral.
Bertolotti Syndrome is an atypical cause of low back pain or buttock pain caused by a transitional lumbar vertebrae with a large, "spatulated" transverse process that either fuses with the sacrum (sacral ala) or ilium, or forms a pseudo-articulation at that location (Seen on a lumbar spine AP X-ray).
This is a congenital abnormality, but doesn't usually become symptomatic until a patient's 20's or 30's.
---
Major Publications
Bertolotti M. Polydactyly arrested in development of members and concomitant hypophysis dystrophy. J. Acad. Med. Torrino. 1914; 6 [Bardet-Biedl Syndrome]
Bertolotti M. Contributo alla conoscenza dei vizi differenzazione regionale del rachide con speciale riguardo all assimilazione sacrale della V. lombare. La Radiologia Medica 1917; 4: 113-144 [Contribution to the knowledge of the vices of regional differentiation of the spine with special regard to the assimilation of the fifth lumbar vertebrae into the sacrum] [Bertolotti syndrome]
Bertolotti M. Le anomalie congenite del rachide cervicale. Chir Organi Mov 4:395, 1920 [Congenital anomalies of the cervical spine] [Klippel-Feil syndrome]
Mattirolo G, Bertolotti M. [On a rare malformation of the cephalic end of the vertebral column.] Gior R Accad Med Torino 83:3, 1920
Bertolotti M. Les syndromes lombo-ischialgiques d'origine vertébrale. Revue neurologique, Paris, 1922, 29: 112-1125.
Bertolotti M. Lezioni di craniologia Röntgen. Torino, 1929.
Bertolotti M. I moderni metodi d'indagine radiologia del nevrasse: la pneumoencefalografia. Relazione al II Congresso della Societa' Italiana Radio-Neuro-Chirurgica, Milano, 1934. Rivista Oto-Neuro-Oftalmologica e Radio-Neuro-Chirurgica 1934;11:349 – 462
---
References
---
[cite]
---
BA MA (Oxon) MBChB (Edin) FACEM FFSEM. Associate Professor Curtin Medical School, Curtin University. Emergency physician, Sir Charles Gairdner Hospital.  Passion for rugby; medical history; medical education; and asynchronous learning #FOAMed evangelist. Co-founder and CTO of Life in the Fast lane | Eponyms | Books | Twitter |