Nancy Burton Esterly (1935 – 2017) was an American pediatric dermatologist.
Esterly authored or contributed to over 350 publications. She also had global impact on her profession as the Editor-in-Chief on the 'Journal of Pediatric Dermatology' for over 23 years. She was known as a valued mentor, particularly to women. Throughout her career she was the recipient of many awards for excellence.
Eponymously remembered for description of Stiff Skin Syndrome (Esterly-McKusick syndrome) in 1971
The "mother" of Pediatric Dermatology; a founder of the Society for Pediatric Dermatology; the first "full-time" academic pediatric dermatologist; the first editor of the journal Pediatric Dermatology; an advocate for women in medicine; a legendary mentor who influenced the careers of hundreds of physicians; a natural teacher; a superb clinician; a woman ahead of her time who pushed the boundaries for others who came after her.

Spraker 2018
---
Biography
Born Nancy Burton 14 April 1835 in Mt Vernon, New York
1956 – Bachelor's degree in zoology from Smith College
1957 – Married John Esterly
1960 – MD, Johns Hopkins University Medical School
1960-1963 Pediatric internship and residency at Johns Hopkins. Working with neonatologist Mary Ellen Avery and geneticist Victor McCusick, who developed the Online Mendelian Inheritance in Man (OMIM) system for the diagnosis of genetic diseases
1964 – 1967 Dermatology resident at John Hopkins at a new dermatology program; she was the second resident in the program. Esterly became dual boarded in Pediatrics and Dermatology, and her husband John was dual boarded in Obstetrics/Gynecology and Pathology. They were a "power couple".
1968 – Her husband John Esterly accepted a tenured position in pathology at the University of Chicago. Initially worked as a Pediatrician at La Rabida Children's Home and Clinic, a University of Chicago affiliate. Nancy became a full time assistant Professor of Pediatrics at the University of Chicago
1973 -1978 Director of the Division of Dermatology, Department of Pediatrics at Michael Reese
1978 – 1987 Pediatric Dermatologist at Children's Memorial Hospital in Chicago. Professor of Pediatrics and Dermatology and Head of Division of Dermatology at the North Western University
Died 8 October 2017 in Atlanta
---
Medical Eponyms
Esterly-McKusick syndrome (1971)
Stiff skin syndrome is a rare scleroderma-like disorder that presents in infancy or early childhood with rock-hard skin (sometimes uneven induration of the skin), limited joint mobility, and mild hypertrichosis in the absence of visceral or muscle involvement, immunologic abnormalities, or vascular hyperreactivity.
Four patients are described with localized areas of stony-hard skin, mild hirsutism, and limitation of joint mobility. In three of these individuals the disorder was congenital and, in the fourth, it was first noticed in early childhood. No other abnormalities have been observed on repeated physical examination. Biopsies of affected skin show abnormal amounts of hyaluronidase-digestible acid mucopolysaccharide in the dermis. Fibroblast cultures from one individual demonstrated marked increase in intracellular metachromatic material. None of the patients had increased excretion of mucopolysaccharide in the urine.

The occurrence of this disorder in a mother and two children suggests an autosomal dominant mode of inheritance. It is postulated that these patients manifest a connective tissue disorder possibly resulting from an abnormality of mucopolysaccharide metabolism.

Esterly, McKusick 1972
Originally described in 1971 by Esterly and Victor Almon McKusick (1921-2008). In 1984, Jablonska et al further characterized this condition as a generalized, non-inflammatory fascial disorder and proposed the name "congenital fascial dystrophy." Liu et al reviewed the literature and the 37 published case presentations since the original 1971 description.
The diagnosis is supported by histopathologic findings consisting of either fascial sclerosis or an increased fibroblast cellularity with thickened, sclerotic, usually horizontally oriented collagen bundles in the deep reticular dermis and/or subcutaneous septa with no inflammation or distortion of adnexa and no increased spaces between the bundles. The findings of increased mucin with increased fibroblast cellularity are suggestive but not diagnostic of stiff skin syndrome.
---
Major Publications
---
References
Biography
Eponyms
---
eponym
the person behind the name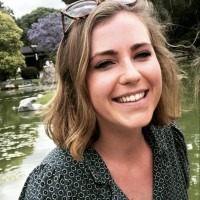 Graduated from Southampton Medical School in 2017 with BMBS. Working in Sir Charles Gairdner Hospital Emergency Department in Perth, Australia.
Associate Professor Curtin Medical School, Curtin University. Emergency physician MA (Oxon) MBChB (Edin) FACEM FFSEM Sir Charles Gairdner Hospital.  Passion for rugby; medical history; medical education; and asynchronous learning #FOAMed evangelist. Co-founder and CTO of Life in the Fast lane | Eponyms | Books | Twitter |