Network Five: Critical Care
Network Five: Episode 21 – Critical Care
Guest Experts – Dr Alex Yartsev (intensivist at Westmead Hospital, founder of Deranged Physiology), Dr Mark Salter (emergency physician at Westmead Hospital and clinical toxicologist), Sydney – Australia.
Part 1
In this segment, we discuss blood pressure management in cardiogenic shock. The interlude will be presented by Dr Mark Salter.
Ameloot K, Jakkula P, Hästbacka J, Reinikainen M, Pettilä V, Loisa P, Tiainen M, Bendel S, Birkelund T, Belmans A, Palmers PJ, Bogaerts E, Lemmens R, De Deyne C, Ferdinande B, Dupont M, Janssens S, Dens J, Skrifvars MB. Optimum Blood Pressure in Patients With Shock After Acute Myocardial Infarction and Cardiac Arrest. J Am Coll Cardiol. 2020 Aug 18;76(7):812-824.
---
Part 2
In this episode, we discuss intravenous fluid therapy (and some of its pitfalls) in patients with suspected sepsis. The interlude will be presented by intensivist Dr Alex Yartsev.
Kabil G, Liang S, Delaney A, Macdonald S, Thompson K, Saavedra A, Suster C, Moscova M, McNally S, Frost S, Hatcher D, Shetty A. Association between intravenous fluid resuscitation and outcome among patients with suspected infection and sepsis: A retrospective cohort study. Emerg Med Australas. 2022 Jun;34(3):361-369.
---
Part 3
In this episode, we discuss lung-protective ventilation strategies for Acute Respiratory Distress Syndrome (ARDS).
---
Please send us an email to let us know what you thought. You can contact us at [email protected].
---
Network Five
Emergency Medicine Journal Club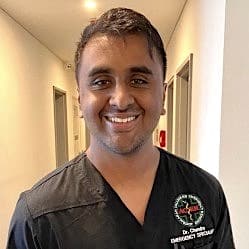 FACEM in Westmead and Nepean Hospitals in Sydney, Australia. Lead on Network Five Emergency Medicine Journal Club. I have a special interest in medical education, research and simulation.