Network Five: Emergency Medicine Case Series
Panel: Pramod Chandru and Shreyas Iyer.
Case Summary:
61-year-old male presenting with 2 distinct episodes of shortness of breath, chest pain, and associated presyncope.
Asymptomatic by the time of arrival to the emergency department.
ECG and observations at triage were unremarkable.
No recent travel or recent major surgeries.
Initial troponin and serial troponin were 80ng/L.
D-dimer was ordered given static troponin and the nature of symptoms: 0.58.
Although this D-dimer was negative when age-adjusted, a V/Q scan was pursued as the patient was not felt to fit a 'low risk' pre-test probability for PE (IV contrast shortage dictated V/Q over CTPA).
Bilateral segmental pulmonary PE identified on V/Q scan with mild right heart strain evident on subsequent CTPA and TTE.
Key Discussion Points:
If a case does not follow the usual 'pattern' of your initial diagnosis, consider alternate aetiologies.
There are many tools available for risk-stratifying PE including PERC, age-adjusted D-dimer, and the YEARS diagnostic pathway. However, the way in which to appropriately utilize these tools is nuanced.
A paper published in JAMA in December 2021 demonstrates some ways in which these tools can be used together (see first reference below).
The PESI score (even prior to definitive diagnosis) can be useful to risk stratify patients with possible PE and help determine their disposition.
Take-Home Points:
Pre-test probability is incredibly important, particularly in entities such as PE where only highly invasive imaging modalities are diagnostic.
Having a structured approach to protect yourself from your own mistakes is extremely important (such as a hypothesis and hypothesis testing approach).
References & Background Reading:
Please send us an email to let us know what you thought. You can contact us at [email protected].
---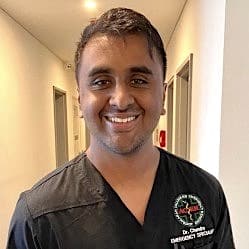 FACEM in Westmead and Nepean Hospitals in Sydney, Australia. Lead on Network Five Emergency Medicine Journal Club. I have a special interest in medical education, research and simulation.