Network Five: General Surgery
Network Five: Episode 10 – General Surgery
Participants: Dr Michael Haddock (ED consultant), Dr Sergei Tsakanov (general surgical Fellow), Edgardo Solis (general surgical registrar), Shreyas Iyer, Samoda Wilegoda Mudalige, Kit Rowe, Caroline Tyers, Harry Hong and Yelise Foon.
Part 1
In this episode we explore the potential treatment options for uncomplicated diverticulitis. The guest experts are Dr Sergei Tsakanov (general surgical Fellow at Auburn District Hospital) and Dr Michael Haddock (ED consultant at Westmead Hospital).
Take-Home Points:
There may be a role for treating uncomplicated acute diverticulitis without antibiotics, although this is not the standard of practice in Australia yet.
If these patients are treated without antibiotics, there would need to be an adequate follow-up plan (to account for patients potentially deteriorating and developing a complication of diverticulitis).
This is a growing area of research; with practices varying between institutions.
---
Part 2
In this second part of the series on General Surgery, we discuss the implications of having COVID-19 infection in the peri-operative period. The interlude segment will be presented by Dr Sergei Tsakanov where he introduces 'Virtual Ward Rounds', an excellent educational tool for medical students!
Take-Home Points:
This data suggests that a diagnosis of peri-operative COVID-19 carries significant risk for higher rates of mortality and pulmonary complications.
This supports current practice within Australia where elective surgeries are not taking place.
However, as this pandemic continues to evolve and potentially becomes a part of the 'new normal', guidelines surrounding both emergency and elective surgery will need to be further developed and finessed.
---
Part 3
In this third and final segment of the series on general surgery, we explore the potential treatment options for uncomplicated appendicitis and if appendectomy can be avoided altogether.
Take-Home Points:
Acute uncomplicated appendicitis may be considered for treatment with IV antibiotics alone, although an appendicolith would still exclude a patient from this at this stage in most cases.
10% of patients treated with IV antibiotics alone will fail in the initial treatment phase and may represent to the emergency department during their antibiotic course.
Thus, the emergency department may start to see a new cohort of patients; rather than 'post-operative complications', we may start to see 'post-non-operative complications' (such as recurrence, intra-abdominal abscess, or those from antibiotics themselves).
7/10 of patients will be able to avoid an operation with antibiotics in acute uncomplicated appendicitis.
However, long-term data (over the course of more than 5 years) is still required to characterize this issue further.
---
These episodes were produced with help of HETI's Emergency Medicine Training Network 5. Please send us an email to let us know what you thought. You can contact us at [email protected]
---
Network Five
Emergency Medicine Journal Club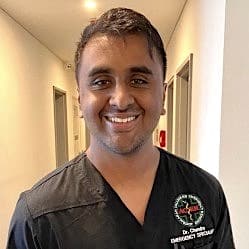 FACEM in Westmead and Nepean Hospitals in Sydney, Australia. Lead on Network Five Emergency Medicine Journal Club. I have a special interest in medical education, research and simulation.