Network Five: Orthopaedics
Network Five: Episode 22
Guest Expert – Professor Herwig Drobetz (orthopaedic trauma surgeon), Lismore – Australia.
Part 1
In this segment, we discuss knee dislocations and different ways to assess vascular injury.
---
Part 2
In this episode, we discuss distal radius fractures and longterm outcomes of closed reduction compared to surgical intervention.
Lawson A, Naylor J, Buchbinder R, Ivers R, Balogh Z, Smith P, Mittal R, Xuan W, Howard K, Vafa A, Yates P, Rieger B, Smith G, Elkinson I, Kim W, Sungaran J, Latendresse K, Wong J, Viswanathan S, Landale K, Drobetz H, Tran P, Page R, Hau R, Mulford J, Incoll I, Kale M, Schick B, Higgs A, Oppy A, Perriman D, Harris I. A Combined Randomised and Observational Study of Surgery for Fractures In the distal Radius in the Elderly (CROSSFIRE): a statistical analyses plan. Trials. 2020 Jul 15;21(1):651.
---
Part 3
In this episode, we talk about pelvic fractures and pelvic binders!
---
Please send us an email to let us know what you thought. You can contact us at [email protected].
---
Network Five
Emergency Medicine Journal Club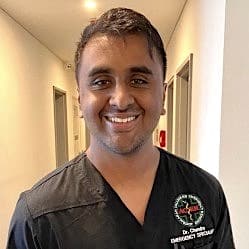 FACEM in Westmead and Nepean Hospitals in Sydney, Australia. Lead on Network Five Emergency Medicine Journal Club. I have a special interest in medical education, research and simulation.