aka Ruling the Resus Room 005
We recently featured a surprising FEAST video on what could turn out to be the emergency medicine/ critical care 'Trial of the Year'… That's right, the FEAST Trial:
Maitland K, et al and the FEAST Trial Group. Mortality after Fluid Bolus in African Children with Severe Infection. N Engl J Med. 2011 Jun 30;364(26):2483-95 PMID: 21615299. [FULLTEXT]
Here's a quick Q&A rundown on this much talked about study so that you can keep up with the kool kids…
---
Questions
Q1. What was the objective of the FEAST Trial?
Answer and interpretation

FEAST stands for "Fluid Expansion As Supportive Therapy"

The trial studied children (ages: 60 days to 12 years) with shock, and whether there was a mortality difference between resuscitation with bolus fluids compared to the use of maintenance fluids only.

There were 2 strata to the trial, those with severe shock (stratum B, N=29) and those without severe shock (stratum A, N=3141). The median age was 24 months (interquartile range 13-38 months). Clearly, the power of the study came from stratum A.
---
Q2. What were the treatment arms in the FEAST study?
Answer and interpretation

Within stratum A, there were 3 arms, where each child was randomised to either:

Bolus 0.9% Saline (20ml/kg over one hour)

OR

Bolus 5% Albumin (20ml/kg over one hour)

OR

Maintenance fluids (2.5—4ml/kg/hour)

(Note: the bolus amount increased following a study amendment, see below.)
---
Q3. What patients were included?
Answer and interpretation

Inclusion criteria were:

AND

Impaired consciousness or respiratory distress

AND

Impaired perfusion
(including capillary refill time, tachycardia, thready radial pulse or lower limb temperature gradient)
---
Q4. What patients were excluded?
Answer and interpretation

The following patients were excluded:

Severe Malnutrition
Gastroenteritis
Non –infectious shock (trauma, burns, surgery)
---
Q5. What were the outcome measures?
Answer and interpretation

The primary outcome measure was 48 hour mortality.

Secondary outcome measures were:

4 week mortality
neurological outcome at 4 and 24 weeks
hypotensive shock within 48 hours of randomization
adverse events related to fluid boluses (pulmonary oedema, brain oedema, and allergic reaction)
---
Q6. What clinical features were present in the study patients?
Answer and interpretation

Respiratory distress – 83%
Prostration – 62%
Metabolic –

Mod-severe acidosis (base deficit >= 8mmol/L) – 51%
Severe acidosis (pH < 7.20) – 10%
Lactate > 5mmol/L – 39%
Hyperkalaemia (K+ > 6.5 mmol/L) – 10%

Severe Anaemia (Hb < 5g/dL) – 32%
Diagnosis
---
Q7. What were the results?
Answer and interpretation

Primary Outcome – 48 hour mortality:

Maintenance fluids conferred a 3.3% survival benefit over EITHER bolus albumin OR bolus saline. (p=0.01)
The mortality at 48 hours was 7.3% for those who were given no bolus, vs 10.5% for either bolus fluids.
There was no difference in outcome between albumin and saline.
Most deaths (87%) occurred within the first 24 hours.

The trial was stopped early due to the results of the interim analysis, when 2995 patients had been analysed.

Secondary endpoints:

There was no difference in secondary endpoints, apart from mortality.
There was a non-significant trend towards pulmonary oedema in the albumin bolus group.
They could not identify any sub-group in which bolus fluids were helpful.
---
Q8. What happened to the children in Stratum B?
Answer and interpretation

There were 29 children. These children were randomised to 5% albumin boluses or 0.9% saline boluses. The mortality rate in each of these arms was 56 and 69%, which was not statistically significant.

There was no "control" or "maintenance fluids only" arm.

Somewhat unfortunately (in light of the study results), it felt that in the "Severely Shocked", it was unethical not to give fluid boluses. In light of the study findings, one wonders what the outcome might have been if these children were given maintenance fluids instead…
---
Q9. What are the problems with this study?
Answer and interpretation

The study protocol (by increasing the fluid bolus amounts from 20ml/kg to 40ml/kg) was changed 18 months into the 24 month trial. However, analysis showed no significant difference before or after the protocol change. The initial study protocol used a low bolus (20ml/kg) due to concerns about the risk of pulmonary oedema without respiratory (i.e. intensive care) support immediately available.

Enrollment and stratification depended on recognition and interpretation of clinical signs, although relatively objective signs were used.
---
Q10. What are the explanations for the apparently paradoxical findings of this study?
Answer and interpretation

CLEARLY we don't understand pathophysiology as well as we think we do!

The authors offer the following explanations…

"the vasoconstrictor response in shock confers protection by reducing perfusion to non-vital tissues, and rapid reversal with fluid resuscitation is deleterious."

But deleterious in what way?

Also:

"fluid boluses might act… through reperfusion injury, effects on pulmonary compliance, myocardial function, or intracranial pressure."

These theories were echoed by Professor John Myburgh (President of CICM) in an editorial in the same NEJM edition. Another possibility is that the patients develop worsening acidosis due to the chloride load (hyperchloraemic metabolic acidosis)
---
Q11. Can these results be applied to medicine in the 'developed' world?
Answer and interpretation

As discussed in Q10, the results go against our current teaching and understanding of sepsis, so in that respect, these results should give us a lot more to talk about. Interestingly, current paediatric shock guidelines recommend up to 60ml/kg bolus of isotonic fluids, within 15 minutes of diagnosis. Maybe this recommendation needs to be altered in view of the study?

There are significant differences in the conditions encountered in this study compared to our own conditions (in urban Australia). This study was done in areas where there were no intensive care units, no assisted ventilation, no central lines and no inotropes. Most children in the 'developed' world with septic shock would get a central line and intensive care support IF they ever became that sick in the first place.

Also, more than half of patients enrolled had malaria, and 4% had HIV, while no diagnosis was provided for the rest of the patients. Thus the disease spectrum is quite different from what we see in Australasia.

However, 'third-world' conditions are still encountered in the 'developed' world. From personal experience, I know that in areas of central Australia (e.g. surrounding Alice Springs) 'third-world' disease states are (sadly) not uncommon in patients from remote Aboriginal communities. The results of this study may be applicable to such settings.
---
A few final words…

Fluid balance in the ICU are everlasting controversies. I work in an intensive care unit which prides itself on being a "dry" unit — and I'm not just talking about humour. Sepsis and septic shock are a significant part of our caseload. Deciding when or if to give frusemide can be an agonising decision. However, one of the senior intensivists has offered this advice, "Before I give frusemide, I check the creatinine. If the creatinine is less than 1 million, then yes, I give frusemide."
---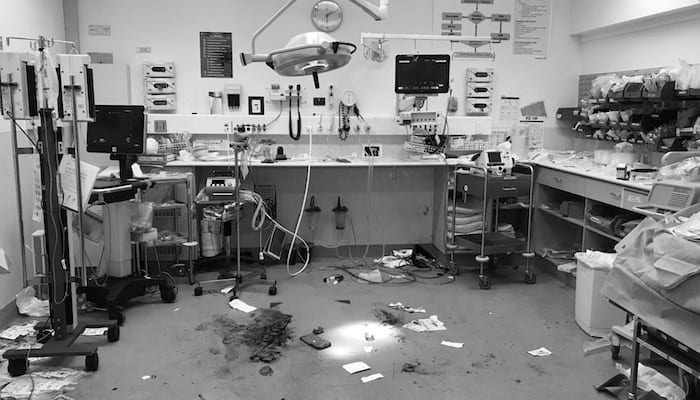 Specialist Intensive Care Physician working at the Austin Hospital, Melbourne. Interests: Shoulder Dislocations, Pain Management, End-of-life care, Organ Donation and ECGs | Linkedin |