Peter Beighton OMB, MD PhD, FRCP
Peter trained as a specialist physician in the UK, developed an interest in Medical Genetics and was appointed as Professor of Medical Genetics, University of Cape Town, South Africa (1972 – 2000) with Emeritus status thereafter.
Author of 12 books and 440 journal publications. To date, fourteen of Professor Beighton's postgraduate students have been awarded Doctorates; nine of these persons have gained Full or Associate Professorial status.
Eponymously affiliated with the Beighton Score (1971)
---
Biography
Born June 28, 1934 in Bolton England
1957 – Graduated medicine St Mary's Hospital Medical School, University of London; MB BS, MRCS, LRCP
1957-1960 Medical internships in London, UK
1960-1962 Captain in the R.A.M.C., Parachute Regiment, UK, United Nations, Congo  
1963-1965 WHO International Medical Expedition to Easter Island, South Pacific 
1965-1968 Residency in Internal Medicine, St. Thomas's Hospital, London 
1967 – Fulbright Research Fellowship, University of Maryland
1968-1969  Research Fellow in Medical Genetics, Johns Hopkins Hospital 
1970 – Married Greta Janet Winch
1972-1979  First Professor of Human Genetics, University of Cape Town 
1979 – Oppenheimer Fellowship, University of Cambridge
1982-1998  Director of the MRC Unit for Medical Genetics, University of Cape Town 
1994 – Fellowship of the University of Cape Town 
2002 – Order of Mapungubwe, bronze; awarded for outstanding achievements in medical genetics.
2007 – Professor Extraordinarius, Faculty of Dentistry, University of the Western Cape 
2011 – Senior Scholar, University of Cape Town 
Awards: British Orthopaedic Association, Robert Jones Gold Medal (1975); Smith and Nephew Literary Award (1977, 1979, 1986); South Africa Orthopaedic Association, President's Medallion (1978); South African Medical Research Council, Silver Medal (1997); Ehlers-Danlos Foundation, USA International research award (1999)
---
Medical Eponyms
The Beighton Score is a simple, numerical index which is used to express the range and severity of joint movements in normal and affected persons.
1967-1968 Peter Beighton undertook a survey of 100 persons and families with the Ehlers-Danlos Syndrome at St Thomas' Hospital, London. Affected families were seen in their homes throughout southern England and PB was accompanied and assisted on this Doctoral project by a nursing sister, Greta Winch. The patients' join movements were assessed using the method and the 5-point scale proposed by Carter and Wilkinson, 1964.
1970 – Peter and Greta Beighton (now married) travelled to South Africa to undertake an epidemiological investigation of bone and joint disorders, based at the University of the Witwatersrand. An initial recognisance was undertaken in a semi-nomadic Bushmen community in the Kalahari Desert. Project plans were discussed while sitting around the camp fire. Greta had a flash of insight and suggested that although the limbs and digital joins were paired, they were not necessarily symmetrical and that a 9-point score would be appropriate.
1971 – Greta's 9-point score was successfully used in a formal epidemiological survey of 1081 persons in a Tswana community in the Transvaal, South Africa. Details of the project were presented by Peter Beighton at a meeting of the Herberden Society in London in Nov 1972. The results were published under the names Beighton, Solomon and Soskolne in 1973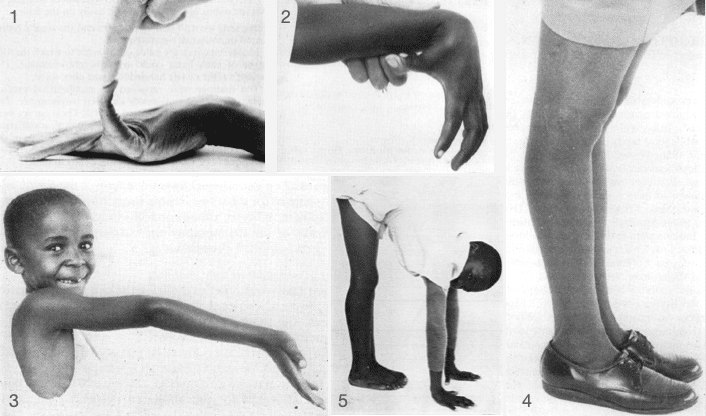 Fig 1: Hyperextension of the fifth finger [In this particular illustration, the extension angle does not reach the required 90o
Fig. 2 Apposition of the thumb to the ventral aspect of the forearm
Fig 3. Hyperextension of the elbow joint beyond 10o
Fig 4. Hyperextension of the knee joint beyond 10o
Fig 5. Placing the palms of the hands flat on the floor while maintaining the knees in full extension
The method of assessing joint mobility by means of a score based upon the range of movements of certain joints has proved its value in previous investigations. Although the great majority of normal adults score values of 0, 1, or 2 on the mobility scale, individuals with inherited hypermobility syndromes achieve scores at the top end of the scale (Beighton and Horan, 1969). It is therefore reasonable to conclude that the scale is valid for the measurement of joint mobility.

The results which were obtained demonstrate that the range of movements decreases with age, falling rapidly during childhood, and more slowly throughout adult life. However, at any age, females are consistently more hypermobile than males.

Beighton et al 1973
---
Selected Key medical contributions [from OMIM]
Spondyloepimetaphyseal dysplasia with joint laxity, Type 1 (Beighton type; SEMDJL1): characterized by vertebral abnormalities and ligamentous laxity that result in spinal misalignment and progressive severe kyphoscoliosis, thoracic asymmetry, and respiratory compromise resulting in early death. [Beighton et al 1980, 1984]
Beukes familial hip dysplasia (BFHD): Cilliers and Beighton in 1990 identified a 'new' inherited skeletal disorder in 47 patients in 6 generations of an Afrikaner family in South Africa. Hip joint discomfort usually developed during childhood at age less than 2 years, but might develop either later in childhood or, as in one instance, as late as the age of 35 years. They traced the family back to a single Dutch immigrant to South Africa who arrived in 1685. Since only members of the Beukes family were identified as suffering from the condition, they proposed the designation 'Beukes familial hip dysplasia (BFHD)'
Schwartz-Jampel syndrome: Viljoen and Beighton in 1992 gave an extensive description of SJS and pointed out that malignant hyperthermia is a potentially lethal complication during anaesthesia.
Osteoglophonic dwarfism: Beighton et al in 1980 described a seemingly 'new' form of dwarfism in a 10-year-old South African girl of mixed ancestry. The designation 'osteoglophonic,' which connotes 'hollowed out,' was based on the radiographic appearance of the metaphyses. The parents were nonconsanguineous and the father was 39 years old at her birth, supporting dominant inheritance. Beighton reviewed the world cases in 1989
---
Major Publications
Books
Beighton P. The Ehlers-Danlos Syndrome. 1970
Beighton P. Inherited Disorders of the Skeleton. 1978 [2e 1988]
Cremin B, Beighton P. Bone Dysplasias of Infancy. 1978
Beighton P, Cremin B. Sclerosing Bone Dysplasias. 1980
Horan F, Beighton P. Orthopaedic Problems in Inherited Skeletal Disorders. 1982
Beighton P, Sellars S. Genetics and Otology. 1982
Beighton P, Grahame R, Bird H. Hypermobility of joints. 1983 [2e 1989, 3e 1999, 4e 2012]
Kozlowski K, Beighton P. Gamut Index of Skeletal Dysplasias. 1984 [2e 1995, 3e 2001]
Beighton P, Beighton G. The Man Behind the Syndrome. 1986
Beighton P. McKusick's heritable disorders of connective tissue 5e. 1993
Bartsocas CS, Beighton P. Dysmorphology and Genetics of Cardiovascular Disorders. 1994
Beighton P, Beighton G. The Person Behind the Syndrome. 1997
Bartsocas CS, Beighton P. Genetic Counseling in the Dawn of the 21st Century. 1998
Beighton P. Blackpool Division, St John Ambulance Brigade; The Early Years. 1998
Publications
---
References
Biography
---
[cite]
---
BA MA (Oxon) MBChB (Edin) FACEM FFSEM. Associate Professor Curtin Medical School, Curtin University. Emergency physician, Sir Charles Gairdner Hospital.  Passion for rugby; medical history; medical education; and asynchronous learning #FOAMed evangelist. Co-founder and CTO of Life in the Fast lane | Eponyms | Books | Twitter |