Ralph Ger (1921-2012) was a South African clinical anatomist, surgeon and educator
Ger was a founding member of the American Association of Clinical Anatomists, and remembered by his colleagues for his innovation, humanity and patient care. He pioneered the use of muscles flaps to promote wound closure, and was one of the first to perform laparoscopic hernia repair on a human.
Ger is eponymously associated with a clinical sign for testicular torsion, Ger's sign which he first described in 1962.
---
Biography
---
Medical Eponyms
Ger's sign (1962)
Ger wrote in the South African Medical Journal of an "unusual physical sign" he had observed in a case of testicular torsion in a 13-year-old boy which had not been reported previously.
This sign is a dimpling of the scrotum…the site of the dimpling is midline, where the skin is attached through the dartos to the septum. In extravaginal torsion, twisting of the cord of necessity causes it to shorten.

Ger, 1962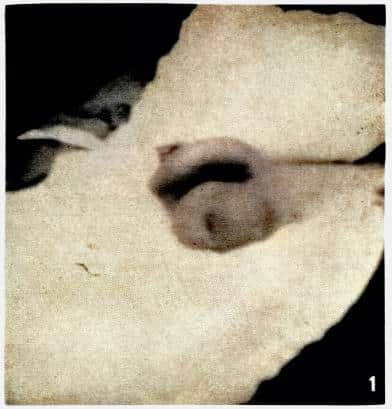 Ger hypothesised that this sign would only be seen in extravaginal testicular torsion, and intravaginal torsion would be less likely to produce oedema and would not produce traction on the coverings of the cord. He concluded by questioning where others had seen this sign previously, and whether it could be a useful clinical sign in the diagnosis of testicular torsion from epididymo-orchitis.
1966 – The first eponymous use of Ger's sign by JB McFarland made reference to the new sign described by Ger of midline dimpling of the scrotum in cases of extravaginal testicular torsion.
1974 – King described a case series of 38 patients with testicular torsion over 11 years, referencing – although not eponymously – scrotal dimple as a common sign (although not quantified).
A dimple on the dependent aspect of the scrotum was often noted if the patient was seen within 24 hours of the clinical onset of symptoms… While the scrotal dimple is a characteristic finding when present, it is rapidly obscured by increasing oedema with congestion and thickening of the scrotal skin

King, 1974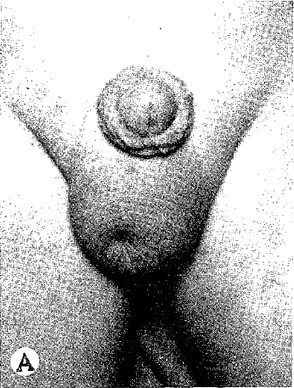 1985 – Ger wrote a response to a British Journal of Surgery article on testicular torsion again advocating for this clinical sign, contemplating that the reason the sign's incidence was still unknown or unheard of was due to urologists under-reporting or under-recognising its significance. The author's response suggested that the sign may be infrequent due to the predominance of intravaginal torsion in adolescent patients.
I would like to draw attention to a physical sign previously which, if present, establishes the diagnosis. Other physical signs that are described are non-diagnostic, and a diagnostic physical sign will render more sophisticated tests unnecessary, especially as theymay be non-diagnostic or impractical.

The incidence of the scrotal dimple in testicular torsion is unknown for several reasons. Surgeons, especially urologists who are tending more and more to see these patients, may be aware of this physical sign and therefore desist from reporting it or, perhaps more likely, the sign is there and is not recognized.

Ger, 1985
---
Key Medical Contributions
1962 – Description of Ger's sign for testicular torsion
1966 – Describes the use of soleus and flexor digitorum longus muscles for the repair of large wound defects secondary to chronic advanced stasis ulcers
---
Controversies
In 1966, Ger was appointed to the staff of Somerset Hospital, a non-white institution. This posting would ultimately lead to his leaving South Africa and emigrating to the United States
This appointment brought joy to my heart, because I was able to do something to improve the situation that had arisen in a country where the civil rights of the majority of the population were non-existent. I always had mixed feelings of living in a racist community, but the apartheid government was reaching new lows. I met a man who belonged to a Christian organisation and who was trying to ameliorate the conditions under which the blacks lived, and I arranged a weekly clinic for those who needed surgery, driving them to hospital where I could treat them.

Ralph Ger, memoir
The police had found an address book incriminating Ralph Ger as the movement's medical attendant. The very next day, following his release, the front page of an Afrikaans newspaper pictured Ralph as the 'movement's doctor'. His hard-earned hospital appointments were immediately terminated by order of the government.
---
Major Publications
---
References
Biography
Eponymous terms
---
Cite this article as:
Jeremy Rogers and Daniel Carroll, "Ralph Ger," In:
LITFL - Life in the FastLane
, Accessed on March 27, 2023,
https://litfl.com/ralph-ger/
.
---
eponym
the person behind the name