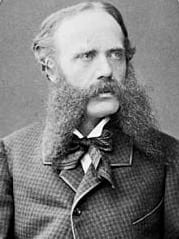 Richard von Volkmann (1830 – 1889) German surgeon and author of poetry and fiction.
Volkmann wrote poetry under the name Richard Leander including "Dreams by French Firesides" [Traeumereien an franzoesischen Kaminen]
Biography
Born August 17, 1830, Leipzig
Died November 28, 1889
Key Medical Attributions:
More about medical contributions
Medical Eponyms
Volkmann ischaemic contracture – flexion contracture secondary to external pressure causing irreversible necrosis of muscle tissue. Most commonly seen in the hand, resulting in a claw hand
Volkmann triangle – avulsion of the posterior edge of the tibia sustained in traumatic ankle fracture
Hueter-Volkmann law with Carl Heuter – conceptual description of immature bone growth – "compression forces inhibit growth and tensile forces stimulate growth"
Volkmann splint – for a fracture of the lower limb with a footpiece and two lateral supports
Volkmann disease (or Volkmann's syndrome I) – Congenital talus luxation or tibiotarsal dislocation resulting in characteristic foot deformity.
Volkmann abscess – abscess of cervical vertebral secondary to tuberculosis. The abscess was removed using a Volkmann spoon…
Major Publications
Volkmann R. Die perforierende Tuberkulose der Knochen des Schädeldaches [Perforating tuberculosis of the skull bones]. Zentralbl Chir. 1880;7:3–7.
Volkmann R. Ischämische Muskellähmungen und -kontrakturen [Ischemic muscle paralysis and contractures]. Zentralbl Chir. 1881;8:801–803.
Volkmann R. Chirurgische Erfahrungen über Knochenverbiegung und Knochenwachstum [Surgical experiences about bone deformities and bone growth]. Virchows Archiv. 1862;24:512–540.
Volkmann R. Über die katarrhalischen Formen der Gelenkeiterung [About the "catarrhal inflammation" type of septic joints]. Arch Klin Chir. 1862;408–447.
Volkmann R. Über massenhafte Neubildung Havers'scher Kanälchen im harten Knochengewebe in einem Falle sogenannter entzündlicher Osteoporose [About the massive regeneration of the Haversian system in the hard bone tissue in one case of so-called inflammatory osteoporosis]. Deutsche Klinik. 1862;14:426.
Volkmann R. Ein Winkelmaß für das Hüftgelenk (Coxankylometer) [A goniometer for the hip joint]. Arch Klin Chir. 1862;2:294–299.
Volkmann R. Über den antiseptischen Okklusivverband und seinen Einfluss auf den Heilungsprozess der Wunden [About antiseptic occlusive bandages and their influence on the healing process of wounds]. Volkmanns Sammlung klinischer Vorträge II Serie. 1875;96:759–812.
Volkmann R. Über die Anwendung der Esmarch'schen blutsparenden Verfahrens bei Exartikulation des Hüftgelenkes [About the application of the Esmarch's blood saving technique for the exarticulation of the hip joint]. Zentralbl Chir. 1874;1:65–66.
Volkmann R. Beiträge zur Anatomie und Chirurgie der Geschwülste [Contributions to the anatomy and surgery of growth]. Langenbecks Arch Chir. 1873;15:556–561.
Volkmann R. Über den Verlust der Pronations- und Supinationsbewegungen nach Brüchen am Vorderarm [About the loss of pronation and supination capability after forearm fractures]. Berl Klin Wschr. 1867;5:193.
Volkmann R. Zur Ätiologie der Klumpfüsse [Etiology of the equinovarus]. Deutsche Klinik. 1863;15:329.
References
Willy C et al. Richard von Volkmann: Surgeon and Renaissance Man. Clin Orthop Relat Res. 2008 Feb; 466(2): 500–506. [PMC2505124]
Mostofi SB. Who's Who in Orthopedics. Springer; pp 344-345. 2005 edition
Volkmann Poetry as Richard Leander – Reveries at French Firesides ~ Traeumereien an franzoesischen Kaminen. [Full text]
Hueter C. Anatomische Studien an den Extremitätengelenken Neugeborener und Erwachsener [Anatomic studies on the joints of the extremities in newborns and adults]. Virchow Arch. 1862;26:484–519.
Schober KL. [Our surgical heritage. Richard von Volkmann on the 150th anniversary of his birth on 17 August 1980]. Zentralbl Chir. 1980;105(24):1635-43. [PMID 7015747]
Hach W, Hach V. [Richard von Volkmann and the Surgical School of Halle in 1867 to 1889]. Zentralbl Chir. 2001 Oct;126(10):822-7. [PMID 11727197]
--- eponym
the person behind the name