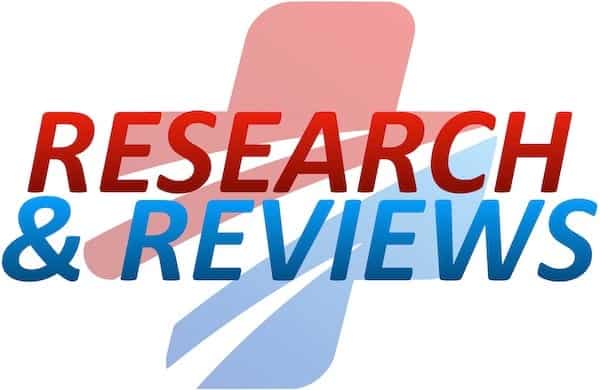 Welcome to the 145th edition of Research and Reviews in the Fastlane. R&R in the Fastlane is a free resource that harnesses the power of social media to allow some of the best and brightest emergency medicine and critical care clinicians from all over the world tell us what they think is worth reading from the published literature.
This edition contains 5 recommended reads. The R&R Editorial Team includes Jeremy Fried, Nudrat Rashid, Soren Rudolph, Anand Swaminathan and, of course, Chris Nickson. Find more R&R in the Fastlane reviews in the : Overview; Archives and Contributors
---
This Edition's R&R Hall of Famer

Principi T et al. Effect of Oxygen Desaturations on Subsequent Medical Visits in Infants Discharged From the Emergency Department With Bronchiolitis. JAMA pediatrics 2016. PMID: 26928704
Apparently kids with bronchiolitis desat. A lot. In this cohort, 64% of children discharged home with a clinical diagnosis of bronchiolitis had desaturations to lower than 90% for over a minute. 50% of children had desaturations to 80% or lower for more than one minute, and 25% had desaturations of 70% or lower. The median length of desaturation was 3 minutes and 22 seconds (interquartile range 1:54 to 8:50). There as no difference in the primary outcome of unscheduled follow-up based on whether or not the children desaturated, but I am not sure that is the most appropriate outcome to prove that children are essentially facultative anaerobes. Really, I am not sure what to do with this data yet, but its interesting.
Recommended by Justin Morgenstern
---

Dhaliwal G. The Greatest Generation. JAMA 2015. PMID: 26647253
Docs with more grey hair than me often harken back to "the good old days" when you could diagnose zebras with stethoscopy, and everyone worked twice as hard, uphill, in the snow, both ways. But are kids these days just lazy and self absorbed? Or does the older generation simply romanticize the halcyon days of yore? And most importantly, remember that it's the current docs in charge who do such horrible things as overprescribe antibiotics and opioids, overorder imaging, and got duped by terrible pharmaceutical companies.
Recommended by Seth Trueger
---

Ferguson I et al. Propofol or Ketofol for Procedural Sedation and Analgesia in Emergency Medicine-The POKER Study: A Randomized Double-Blind Clinical Trial. Ann Emerg Med 2016 PMID: 27460905
It appears that in adults requiring procedural sedation and analgesia, Ketofol has a similar incidence of adverse respiratory events requiring intervention when compared to propofol, but with the hypothetical addition of increased complexity of keeping track of multiple medications and syringes, that MIGHT LEAD to more medication errors.
Recommended by Salim R. Rezaie
---

Ross EM, Redman TT, Harper SA, Mapp JG, Wampler DA, Miramontes DA. Dual defibrillation in out-of-hospital cardiac arrest: A retrospective cohort analysis. Resuscitation. 2016. PMID: 27344928

Double sequential defibrillation (DSD, the "double down") has gained some acceptance in the algorithm for refractory ventricular fibrillation/tachycardia (VF/VT). This was a retrospective cohort of an EMS system where the protocol included DSD in patients with refractory VF/VT and of 279 patients with these diagnoses during the study time period, 50 received DSD. The groups had no difference in neuro intact survival or in any other outcome the researchers assessed. So does DSD not work? There was, undoubtedly, some selection bias at play here as only a small subset of those with refractory VF/VT received DSD. The jury is out.
Recommended by Lauren Westafer
---

Sackett DL, Rosenberg WM, Gray JA, Haynes RB, Richardson WS. Evidence based medicine: what it is and what it isn't. 1996. Clinical orthopaedics and related research. Clin Orthop Relat Res 2007. PMID: 17340682
Not a new paper, but if you don't have it in your library, it is worth a read. David Sackett described evidence based medicine as it ought to be. Some quotes:
"Good doctors use both individual clinical expertise and the best available external evidence, and neither alone is enough."
"Increased expertise is reflected in many way, but especially … in the more thoughtful identification and compassionate use of individual patients' predicaments, rights, and preferences in making clinical decisions about their care"
Because evidence based medicine "integrates the best external evidence with individual clinical expertise and patients' choice, it cannot result in slavish, cookbook approaches to clinical care"
Recommended by Justin Morgentern
---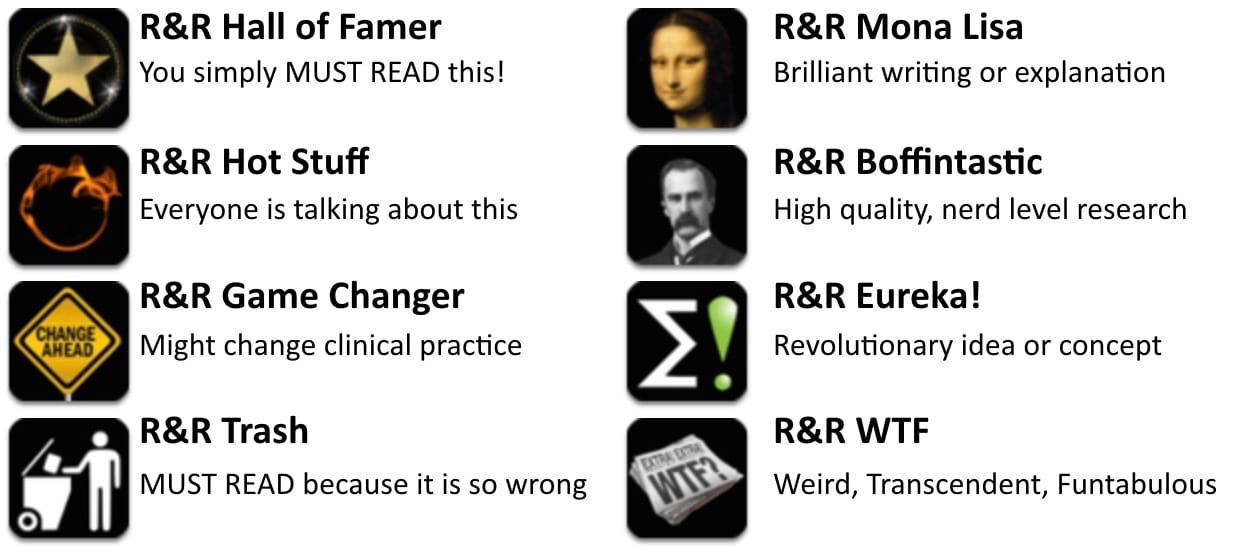 Community emergency physician with a passion for education, evidence based medicine, and life, working in the Greater Toronto Area (that's in Canada).
| Read more posts | @First10EM | Website |