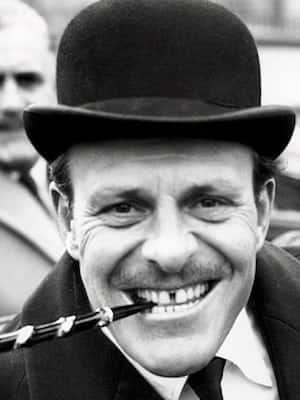 Terry-Thomas (born: Thomas Terry Hoar Stevens) (1911 – 1990) was an English comedian and character actor.
Eponymously affiliated with the Terry-Thomas sign
The Terry-Thomas sign was proposed in 1977 by orthopedic surgeon – Victor H Frankel when likening the AP wrist XR of scapholunate dissociation to the upper central dental diastema of actor Terry-Thomas
Biography
Born 10 July 1911
Died 8 January 1990
Medical Eponyms
Controversies
The hyphen: Thomas Terry Hoar Stevens tried multiple variations of his name in preparation for a career on the stage. First with 'Tom Stevens', then reversing as 'Mot Snevets' before finally settling for 'Terry Thomas'. He later added the hyphen ('Terry-Thomas'), which he likened to the gap between his teeth.
References
Frankel VH. The Terry-Thomas sign. Clin Orthop Relat Res. 1978 Sep;(135):311-2. [PMID 709947]
Neill A. Anatomy for Emergency Medicine 018: Scapholunate dissociation. EM Ireland 2012.
Clark DL, von Schroeder HP. Scapholunate ligament injury: the natural history. Can J Surg. 2004 Aug; 47(4): 298–299. [PMC3211786]
--- eponym
the person behind the name