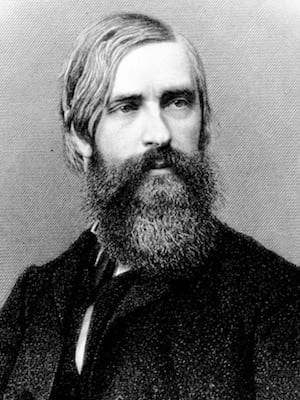 Friedrich Wilhelm Ernst Albrecht von Gräfe (1828 – 1870) was a German ophthalmologist.
Often referred to as as the founder of scientific ophthalmology
In January 1854, the first issue of 'Archiv für Ophthalmologie', 400 of the 480 pages were written by von Gräfe and by volume 16, he had contributed more than 2500 pages. The journal is still published as 'Graefe's Archive for Clinical and Experimental Ophthalmology'
---
Biography
Born 22 May 1828 Finkenheerd, Brandenburg. Son of the German surgeon Karl Ferdinand von Gräfe (1787-1840)
1847 – Graduated Medicine, Berlin
1854 – Founded the Jounral Archiv für klinische und experimentelle Ophthalmologie
1857 – Founded the Deutsche Ophtalmologische Gesellschaft [German Ophthalmological Society]
1857 – Associate professor of ophthalmology
1866 – Professor of ophthalmology
Died 20 July 1870
---
Key Medical Attributions
Von Graefe died aged 42 from pulmonary tuberculosis. During his short career he made significant contributions to the field of ophthalmology including; describing sudden visual loss due to retinal artery embolism; optic retinitis; iridectomy in angle closure; alternate cataract incision from the lower to the upper cornea; initiated visual field testing, and performed over 10,000 operations in his clinic in Berlin.
---
Medical Eponyms
Graefe sign (1864) Failure of the upper lid to follow a downward movement of the eyeball when the patient changes his or her vision from looking up to looking down. von Graefe considered it pathognomonic in exophthalmic goitre (Basedow disease)
Adson-Graefe forceps – 125mm tissue forceps
Usher syndrome – Autosomal recessive disease characterized by retinitis pigmentosa and sensorineural deafness. von Graefe first reported the combination of retinitis pigmentosa and perceptive deafness in 1858. Usher posthumously reviewed the research of his mentor E Nettleship and defined combined heritability for blindness and deafness in an article describing the pathology and inheritance of 69 cases in 1914. [1914;19:122-236]
---
Major Publications
---
Controversies
Friedrich Wilhelm Ernst Albrecht von Gräfe – most often Anglicized to Graefe
---
References
--- eponym
the person behind the name