Description
Böhler angle: The angle between line from highest point of anterior process to highest point of posterior facet plus line tangential to superior edge of tuberosity; measured on lateral foot x-ray. Normally 20-40°. If < 20° represents a calcaneal fracture (or more specifically a collapse of the posterior facet)
[aka Boehler angle, Bohler angle, tuber-joint angle, calcaneal angle]
Line 1: Drawn between the most cephalic part of the posterior process of the calcaneus bone (point a) and the most cephalic point of the posterior facet of the calcaneus bone (point b)
Line 2: Drawn between the most cephalic point of the posterior facet of the calcaneus bone (point b) and the highest point of the calcaneus bone articulating with the cuboid bone (point c)
---
History of the Böhler angle
1931 Lorenz Böhler (1885 – 1973) first proposed the use of the tuber-joint angle to assist in determining fractures of the calcaneum.
Normally there exists, between the upper contour of the tuberosity of the os calcis and the line uniting the highest point of the anterior process with the highest point of the posterior articular surface, an angle of thirty to thirty-five degrees. This angle I have named the "tuber-joint angle". In fractures of the os calcis this angle becomes smaller, straight, or even reversed

Böhler 1931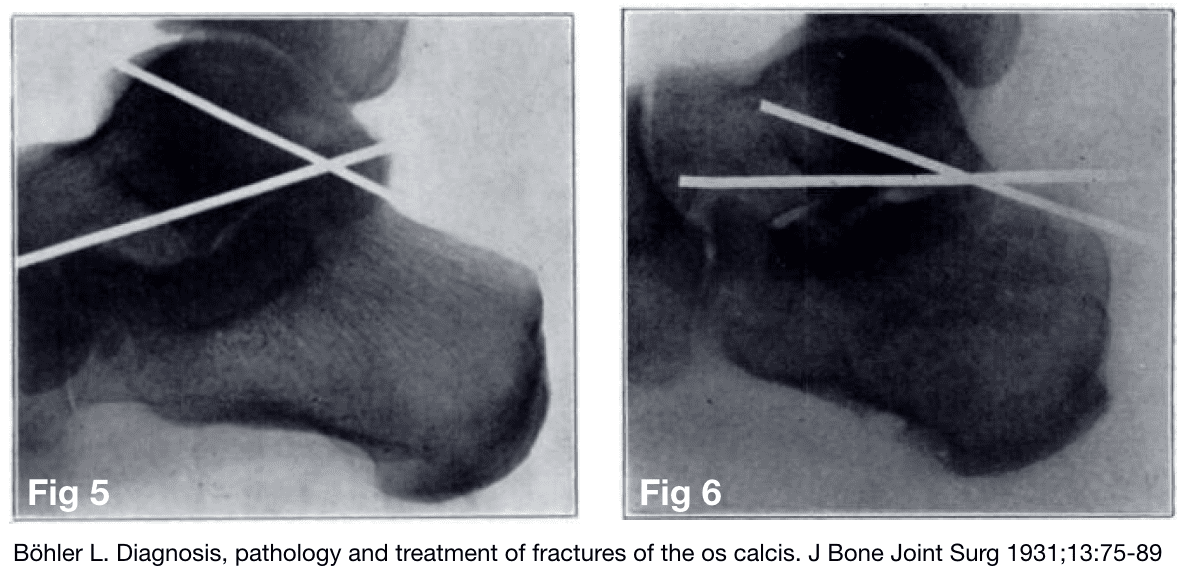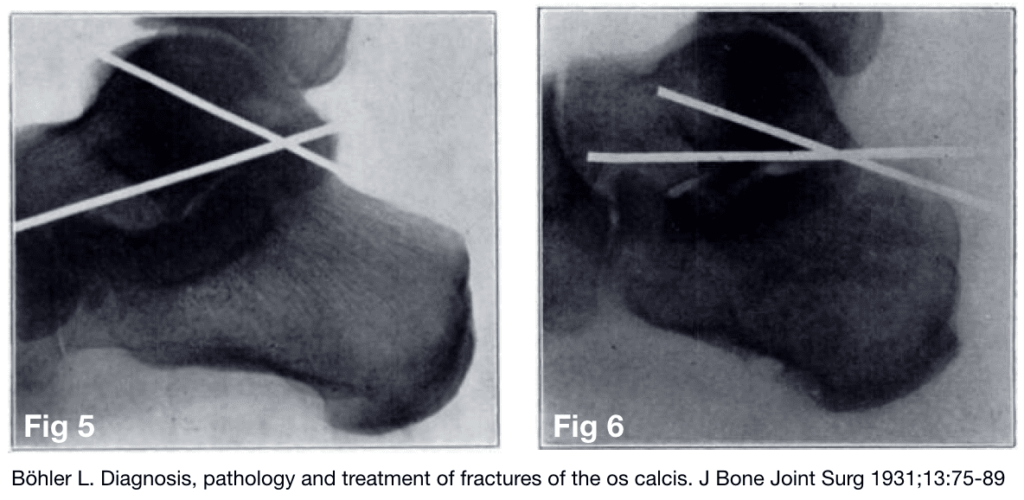 Fig 5. Normal tuber-joint angle of 40 degrees in a normal os calcis. The longitudinal axis of the astragalus (talus) is inclined.
Fig 6. Tuber-joint angle of 20 degrees in a mild fracture of the os calcis. The longitudinal axis of the astragalus (talus) approaches the horizontal
1991 Chen et al reviewed 120 consecutive ankle radiographs for ankle injuries but normal bone anatomy the mean +/- SD of Bohler's angle was 30 +/- 6 degrees (range, 14 to 50 degrees), no differences between gender, no differences between right or left ankles. They found that the use of 20 degrees as the lower limit may decrease the number of false-positive to three cases (2.5%); using 18 degrees (mean -2 SD) reduces the false-positive rate to less than 1% (one case).
2002 According to Buckley et al, patients with Bohler's angle <10 degrees, comminuted fracture patterns, large initial joint step-off, women, non-workman's compensation cases, and younger patients (age <29) have improved outcomes with surgery.
2006 Knight et al found published a randomized, blinded, case-control study of 133 patients found that emergency physicians were 97.9% accurate at diagnosing calcaneus fractures without the assistance of angles, but that determining Bohler's angle can still be helpful and has good interrater reliability.
---
Controversies
Discrepancy between the normal angles of 20-40°; 28-40°; and 25-45°
---
Associated Persons
---
Alternative names
Boehler's angle, Bohler's angle
Tuber-joint angle, tuber angle
Calcaneal angle
---
References
Historical articles
Review articles
---
Cite this article as:
Aparicio Gomez and Mike Cadogan, "Böhler angle," In:
LITFL - Life in the FastLane
, Accessed on April 1, 2023,
https://litfl.com/bohler-angle/
.
---
eponymictionary
the names behind the name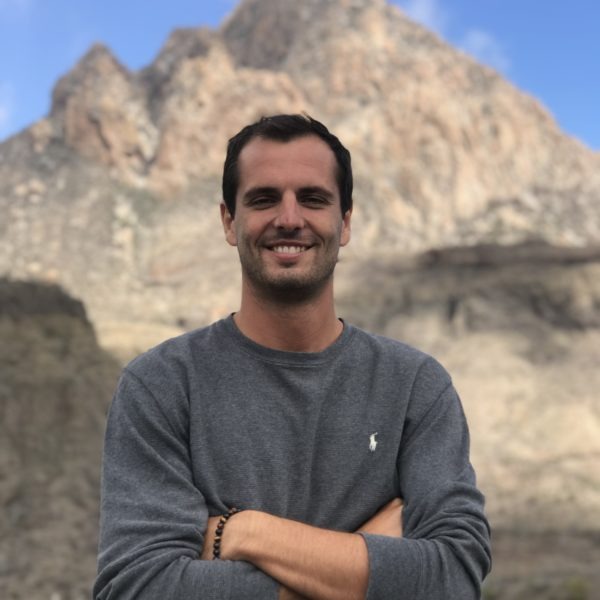 Resident medical officer in emergency medicine MB ChB (Uni. Dundee)  MRCS Ed. Avid traveller, yoga teacher, polylinguist with a passion for discovering cultures.
Associate Professor Curtin Medical School, Curtin University. Emergency physician MA (Oxon) MBChB (Edin) FACEM FFSEM Sir Charles Gairdner Hospital.  Passion for rugby; medical history; medical education; and asynchronous learning #FOAMed evangelist. Co-founder and CTO of Life in the Fast lane | Eponyms | Books | Twitter |