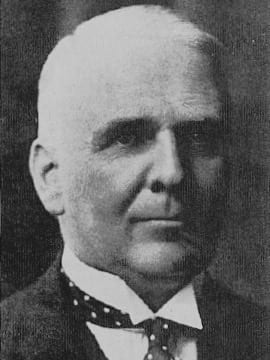 Carey Franklin Coombs (1879-1932) was a British cardiologist. Best known for his work on rheumatic and coronary heart disease.
Coombs made important studies of rheumatic fever describing the diastolic murmur of acute rheumatic mitral valvulitis (Carey Coombs murmur) and taking a great interest in the prevention and management of heart disease in children.
Coombs was one of the first to describe myocardial infarction, credit actually went to James Herrick who published his findings in JAMA in 1912.
---
Biography
Born 1879 Castle Cary, Somerset, UK.
1901 – graduated St Mary's Hospital Medical School having been awarded prizes in Medicine, Surgery, Pathology, Hygiene, Forensic Medicine and Psychological Medicine
1903 – became Medical Registrar at St Mary's Hospital.
1904 – left London to become a General Practitioner.
1905 – Registrar at Bristol Children's Hospital.
1917 – Fellow of Royal College of Physicians.
1920 – became physician at Bristol General Hospital.
1920 – part of a group of Consultants who set up the Cardiac Club, the forerunner of the British Cardiac Society
1927 – became director of the Bristol University Centre of Cardiac Research.
During First World War served in the Royal Army Medical Corps and was posted to Europe, Egypt, Iraq and India, which he expressed concern in the lack of continuity of his research.
1932 – died following a cardiac event at the age of 53.
---
Key Medical Attributions
Influential in the study of both coronary thrombosis and rheumatic heart disease. Prior to his death he had documented 144 cases of coronary thrombosis.
He was invited by Dr Frederick Poynton to develop an interest in rheumatic heart disease and during his work at Bristol Children's Hospital, compiled research into valvular heart disease in children and noted a specific diastolic murmur.
Most famously known for the Carey-Coombs murmur which is now largely obsolete due to the eradication of rheumatic heart disease.
---
Medical Eponyms
Carey Coombs murmur (1907): short mid-diastolic murmur caused by active rheumatic carditis with mitral-valve inflammation
Next the apical second sound becomes doubled and then, but often not till some time after, a murmur is added to the second half of this second sound. This, hard to distinguish at first, lengthens and strengthens till at last it runs into the beginning of the next cycle, becoming, in fact, a pre-systolic murmur. This is not as rough and loud as that of mitral obstruction and it is not due to valvular disease.

Bristol Medico-Chirurgical Journal. 1907
---
Controversies
Coombs was one of the first to describe myocardial infarction, credit actually went to James Herrick who published his findings in JAMA in 1912.
Upon his death, Coombs' wish was to have his heart preserved in a pathology museum, but on autopsy, there was nothing structurally wrong with his heart and thus, nothing for the museum. [Reference]
---
Major Publications
Coombs CF. Rheumatic Carditis in Childhood. Bristol Medico-Chirurgical Journal. 1907 Sep; 25(97): 193–200. [PMC5046766] [Carey Coombs murmur]
Coombs CF. The Nature and Treatment of Chorea. Bristol Medico-Chirurgical Journal. 1911 Mar;29(111):51-67. [PMC5049107]
Coombs CF. A British Medical Association Lecture on heart attacks. Br Med J. 1928 Jun 16;1(3519):1009-13. [PMC2456300]
Coombs CF. Rheumatic heart disease. New York: William Wood, 1924.
Coombs CF.An address on some phenomena counterfeiting organic heart disease. Lancet 1924;204(5287):1323-1327
Coombs CF. Prognosis in Coronary Thrombosis. Bristol Medico-Chirurgical Journal. 1932 Winter; 49(186): 277–284. [PMC5058289]
Coombs CF. Thirty Years' Progress in the Study of Rheumatic Heart Disease. Bristol Med Chir J. 1933 Summer;50(188):93-112. [PMC5060960]
Coombs CF. Prognosis in Coronary Thrombosis. Bristol Medico-Chirurgical Journal. 1932 Winter; 49(186): 277–284. [PMC5058289]
---
References
--- eponym
the person behind the name