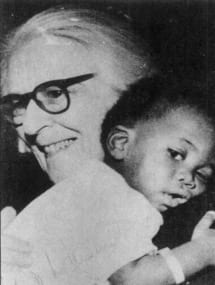 Cicely Delphine Williams (1893–1992) was a highly influential Jamaican born, English paediatrician, nutritionist and child health advocate.
The first female doctor in Jamaica, Williams was instrumental in advancing the field of maternal and child health in developing nations.
Directly responsible for initiating a worldwide campaign against the unsuitable use of sweetened condensed milk as a breast milk substitute, and for the diagnosis of the dreaded childhood nutritional disease, Kwashiorkor (1931).
During her extraordinary career, Cicely worked in over 50 conutries, as a doctor, researcher, lecturer, consultant
---
Biography
Early Life and Education
Cicely Williams was born on 2 December 1893 in Westmoreland, Jamaica, where her mother ran a 'back verandah clinic'.
The family migrated to England in 1906 and Cicely attended Bath High School for Girls.
Aged 19, Cicely began studying medicine at Somerville College in Oxford. During the First World War, women were allowed to replace male medical students.
She graduated in 1920 and undertook paediatric training at the South London Hospital for Women and Children.
In 1928 she achieved a Diploma at the London School of Hygiene and Tropical Medicine.
Ghana
As men had now returned from the war, jobs for female doctors were in short supply.
In 1929 Cicely entered the Colonial Medical Service in Ghana (then named the Gold Coast), working in maternal and child health.
Cicely quickly identified a need for comprehensive medical services for sick infants.
Cicely opened a medical clinic which became so popular police were required to control the gathered crowds.
Cicely promoted early breastfeeding, keeping babies with their mothers during hospital stays, and taught mothers how to bathe and care for sick babies.
After six years, Cicely wrote a thesis based on the 100,000 cases she had treated in the Gold Coast.
Cicely documented a previously unrecognised disease of advanced malnutrition – Kwashiorkor. She wrote that the disease was associated with loss of protein when a mother weans a toddler abruptly when a new baby arrives.
She developed a special treatment regime to combat the disease – this saved millions of lives.
Her first publication on the disorder was in 1933.
Singapore
Cicely transferred to Malaya in 1936 where she advocated utilising local resources to improve the health of the poor.
She also developed an integrated preventive and curative health service for mothers and children in Trengganu.
This involved setting up a network of village health centres, with trained indigenous midwives and nurses trained to recognise the social aspects of disease.
In 1942 Cicely was interned by the Japanese into Singapore's Changi Prison.
She was then taken by the Kemple Tai (the Japanese equivalent of the SS), and was held in appalling conditions for nearly six months.
Cicely lost a third of her body weight and developed dysentery and beri-beri, but she survived.
Later career
In 1948 Cicely was appointed Director of Maternal and Child Health in the World Health Organization.
Passionate about education, she lectured in nutrition at the University of London and the American University in Beirut, as well as advising on maternal and child health in over 70 countries.
As well as this, Cicely conducted surveys on child health in Borneo, Italy, Yogoslavia, Tanzania, Cyprus and Uganda.
She also worked with Palestinian mothers and children in the Gaza Strip.
In 1965 Cicely was awarded the James Spence Medal for contributions in the field of tropical paediatrics.
She was also awarded Companion of the Order of St. Michael and St. George in 1968.
Retirement
Honorary fellow of King's College Hospital Medical School.
Honorary Doctorate of Science from the University of Ghana in 1986.
Also awarded the Order of Merit – Jamaica's highest honour.
At her 90th birthday symposium, international guests from the field of maternal and child health gathered to pay tribute.
Died 13 July 1992 in Oxford, aged 98.
---
Medical Eponyms
Kwashiorkor (1933)
Initially described as nutritional disease affecting children between 1 and 4 years, secondary to a diet of mainly maize after they cease breast feeding. Currently defined as the presence of bilateral pitting oedema, in the absence of another medical cause of oedema, generally occurring while receiving a monotonous cereal-based diet. [aka oedematous malnutrition or 'disease of the deposed child']
In fact, a name means very little except to classify a certain conception. Until pathologists and biochemists can give us more precise information about the defects, we may well accept the word kwashiorkor in all its cacophony.

Cicely Williams, 1953.
---
Key Medical Attributions
1952 Williams undertook research into an epidemic of Jamaican vomiting sickness. She found the Ackee apple fruit, a native fruit of Jamaica, was responsible for the acute gastrointestinal illness and associated hypoglycemia particularly in malnourished children.
---
Major Publications
---
References
---
---
eponym
the person behind the name
GP trainee in the UK after three years of Emergency Medicine in Brisbane and Perth. Fascinated by the history of medicine.
Associate Professor Curtin Medical School, Curtin University. Emergency physician MA (Oxon) MBChB (Edin) FACEM FFSEM Sir Charles Gairdner Hospital.  Passion for rugby; medical history; medical education; and asynchronous learning #FOAMed evangelist. Co-founder and CTO of Life in the Fast lane | Eponyms | Books | Twitter |