Just in case you still thought cricoid pressure was a good idea, listen John Hinds at smaccGOLD. Hinds was an anaesthetist, intensivist and a motorcycle-riding prehospital resuscitationist based in Northern Ireland. In this debate he will tell you about 'cricolol'.
John parodies cricoid pressure by encouraging us to imagine that this procedure is a drug… Yep, might as well use it as a suppository.
Would you give it?
Listen to the talk below (John starts about halfway through at 12min 55sec if you're impatient).
Here are the slides to flick through as you listen:
---
Or why not go straight to the video:
BTW, big ups to Brent May for valiantly putting forward the case for cricoid pressure… An unenviable task.
---
References
LITFL CCC — Cricoid pressure
Brian Arthur Sellick (1918 – 1996)
Sellick BA. Cricoid pressure to control regurgitation of stomach contents during induction of anaesthesia. Lancet 1961;2:404-6.
Koziol CA, Cuddeford JD, Moos DD. Assessing the force generated with application of cricoid pressure. AORN journal 2000;72:1018-28, 30.
Smith KJ, Dobranowski J, Yip G, Dauphin A, Choi PT. Cricoid pressure displaces the esophagus: an observational study using magnetic resonance imaging. Anesthesiology 2003;99:60-4.
Hartsilver EL, Vanner RG. Airway obstruction with cricoid pressure. Anaesthesia 2000;55:208-11.
Allman KG. The effect of cricoid pressure application on airway patency. Journal of clinical anesthesia 1995;7:197-9.
Levitan RM, Kinkle WC, Levin WJ, Everett WW. Laryngeal view during laryngoscopy: a randomized trial comparing cricoid pressure, backward-upward-rightward pressure, and bimanual laryngoscopy. Annals of emergency medicine 2006;47:548-55.
Garrard A, Campbell AE, Turley A, Hall JE. The effect of mechanically-induced cricoid force on lower oesophageal sphincter pressure in anaesthetised patients. Anaesthesia 2004;59:435-9.
Chassard D, Tournadre JP, Berrada KR, Bouletreau P. Cricoid pressure decreases lower oesophageal sphincter tone in anaesthetized pigs. Canadian journal of anaesthesia = Journal canadien d'anesthesie 1996;43:414-7.
Heath KJ, Palmer M, Fletcher SJ. Fracture of the cricoid cartilage after Sellick's manoeuvre. British journal of anaesthesia 1996;76:877-8.
Ralph SJ, Wareham CA. Rupture of the oesophagus during cricoid pressure. Anaesthesia 1991;46:40-1.
---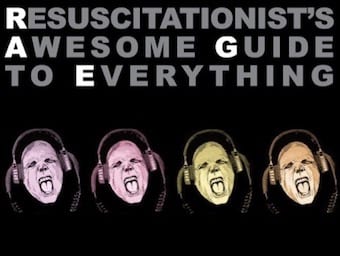 Thanks again for listening to the RAGE!
---