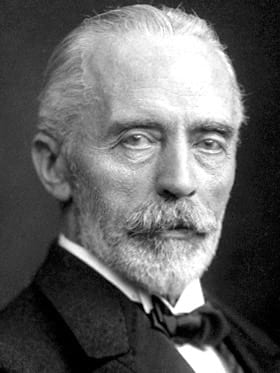 Emil Theodor Kocher (1841 – 1917) was a Swiss Surgeon.
The Nobel Prize in Physiology or Medicine 1909 was awarded to Theodor Kocher "for his work on the physiology, pathology and surgery of the thyroid gland". Performed over 5,000 thyroid excisions with a reduction in mortality from 14% in 1884 to 0.18% in 1898

Along with Lister and Hallsted, Kocher introduced aseptic technique to surgical operations greatly reducing mortality rates.
The surgeon is a doctor who can operate and knows when he should not do it.
Biography
Born August 25, 1841, Bern, Switzerland
1860-1865 – Medical studies Universität Bern
1909 – Nobel Prize in Physiology or Medicine for work on then thyroid gland
1909 – Theodor Kocher Institute (TKI) in Bern was established
1911 – Retired
Died July 27, 1917, Bern, Switzerland
Key Medical Attributions:
Thyroid Surgery: Extensive work on the thyroid gland. Based on his 1883 work on the thyroid gland's function in metabolism and demonstration that thyroid surgery should be 'hygienic'; associated with minimal blood loss and that a viable part of the gland needs to be left intact following the operation.
Aseptic Surgery: Recognized the importance of aseptic techniques and introduced aseptic techniques of Lister whilst evolving his own. Careful evaluation of post-operative wound complication led him to ban visitors form the operating theatre…
Neurosurgery: research was pioneering and covered the areas of concussion, neurosurgery and intracranial pressure (ICP) found that decompressive craniectomy was an effective method to lower ICP. Worked with Harvey Cushing in 1900 first encountering the Cushing reflex during decompressive surgery
Surgical instruments: A craniometer; surgical clamp; arterial tweezers and forceps
Research Statistics: ("arithmetical observations") were introduced to prove the beneficial effect of "radical surgical techniques" and to control their quality. Death rates, incidence of infections, follow-ups etc were assessed and reported. Kocher recorded all operations in notebooks and later published e.g. 119 inguinal hernia operations (1892); 1513 appendectomies (1913) and 2712 with goitres treated with iodine injections (1873)
Medical Eponyms
Kocher arc incision – oblique incision for opening the knee joint
Kocher incision – ubcostal incision performed on the right side exposes the gallbladder and common bile duct, and on the left side gives access to splenectomy or splenorenal venous anastomosis.
Kocher manoeuvre – Operative mobilization of the duodenum to expose the retroduodenal, intrapancreatic and intraduodenal portions of the common bile duct
Kocher Operation – relates to a few operations…

Method of excision of the ankle joint
Method to reduce the subcoracoid dislocation of the humerus (1870)
Procedure of removal of the tongue
procedure of pilorectomy

Kocher sign – in patients with Basedow-Graves disease – dissinergism between eyeballs and frontal muscles movements when patient is looking upward
Koches craniometer
Kocher Surgical Clamp – used to prevent blood loss during surgery (1882)
Kocher Reflection (Kocher's reflex) – contraction of the abdominal muscles subsequent to the exploratory compression of the testicle.
Major Publications
Kocher T. Eine neue Reductionsmethode für Schulterverrenkung. Berliner Klinische Wochenschrift 1870; 7(9): 101-105.
Kocher T. Chirurgische Operationslehre (Text-Book of Operative Surgery). Jena, Fischer, 1892.
Kocher T. 'Die antiseptische Wundbehandlung' (Antiseptic wound treatment)(1881)
Kocher T. 'Vorlesungen über chirurgische Infektionskrankheiten' (Lectures on surgical infectious diseases) Basel-Leipzig, C. Sallmann, 1895.
Kocher T. Zur Pathologie und Therapie des Kropfes. Deutsche Zeitschrift für Chirurgie, Leipzig, 1874, 4: 417-440.
References
"Theodor Kocher – Facts". Nobelprize.org. Nobel Media AB 2014. [Source]
Aguirre CP. Biography: Emil Theodor Kocher (1841-1917). University of Valencia – CSIC 2002.
Choong C, Kaye AH. Emil theodor kocher (1841-1917).J Clin Neurosci. 2009 Dec;16(12):1552-4. Epub 2009 Oct 7. [PMID 19815415]
Schültke E. Theodor Kocher's craniometer. Neurosurgery. 2009 May;64(5):1001-4; [PMID 19404160]
Gemsenjäger E. Theodor Kocher (1841-1917). Milestones in European Thyroidology (MET)
Tröhler U. Der Nobelpreisträger Theodor Kocher 1841-1917. Birkhäuser publisher Basel 1984
--- eponym
the person behind the name