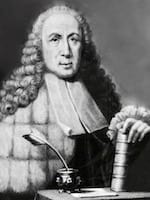 Giovanni Battista Morgagni (1682 – 1771) Italian physician, anatomist and pathologist.
Morgagni correlated postmortem pathology and clinical findings
He determined that diagnosis, prognosis, and treatment of disease must be based on an exact understanding of pathological changes in anatomical structures
---
Biography
Born 25 February 1682 Forli, Italy
University of Bologna, Pupil of Valsalva
Died 5 December 1771
---
Medical Eponyms
Morgagni hernia – one of the congenital diaphragmatic hernias. Characterized by herniation through the foramen of Morgagni. In comparison to Bochdalek hernia, they are more anterior and more often right-sided (~90%)
---
Key Medical Attributions
Morgagni proved Valsalva's contention that the cerebral lesion in stroke causing paralysis is on the opposite side of the brain.
He described Fallot's tetralogy, aortic coarctation and pneumonia with consolidation.
He believed in contagion and would not dissect patients with tuberculosis or smallpox. Virchow considered that Morgagni introduced modern pathology – 'with him begins modern medicine'
Morgagni described Stokes-Adams attacks in a patient (a merchant of Padua):
When visiting by way of consultation, I found with such a rarity of the pulse that within the 60th part of an hour the pulsastions were only 22 – and this rareness which was perpetual – was perceived to be even more considerable, as often as even two (epileptic) attacks were at hand – so that the physicians were never deceived from the increase of the rareness they foretold a paroxysm to be coming on.
---
Major Publications
---
References
Zani A, Cozzi DA. Giovanni Battista Morgagni and his contribution to pediatric surgery. Journal of Pediatric Surgery, 2008;43(4): 729–733. [PMID 18405723]
--- eponym
the person behind the name