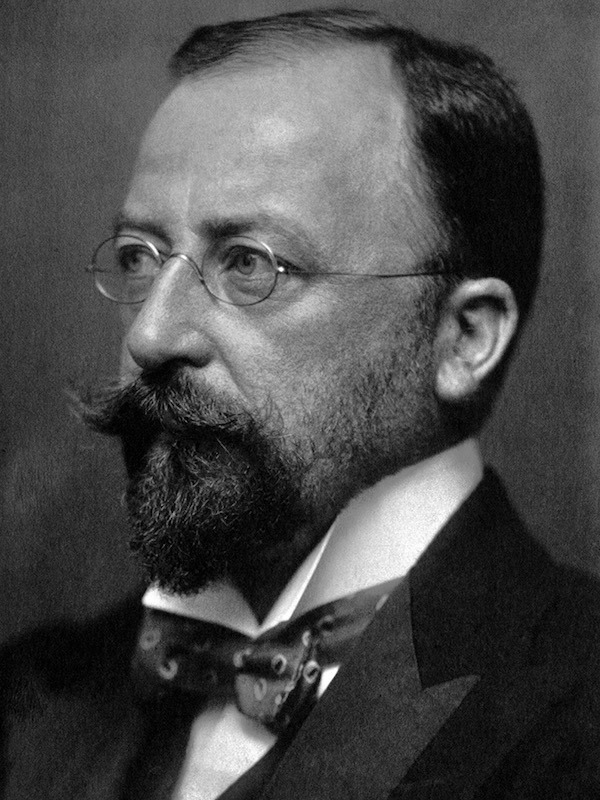 Sir Henry Head (1861-1940) was an English neurologist.
Head provided one of the earliest representations of the pattern of peripheral sensory dermatomes in man
Head provided an account of 450 cases of herpes zoster documenting the distribution of the lesions and deduced the
distribution of the posterior nerve roots.
Talented artist and poet, his career was cut short by Parkinsonism
---
Biography
---
Medical Eponyms
Head's zones (1893-1896)
Zones of skin hyperalgesia, associated with visceral disease. Referred sensation from the viscera, such as shoulder tip pain with gall bladder disease
Head-Holmes syndrome (1911)
Sensory changes produced by lesions of the cerebral cortex and other parts of the brain.
Head-Riddoch syndrome (1917) (autonomic dysreflexia)
---
Key Medical Contributions
Head and James Sherren (1872-1945) had tried to determine the sensibility remaining after complete division of all cutaneous nerves without injury to the muscular branches. However accidents of this nature were exceedingly rare, and although 'real patients' were helpful it was deemed that "Introspection could be made fruitful by the personal experiences of a trained observer only". The decision was therefore made to perform surgical transection on the left hand radial nerve of Head, with evaluation of results by William Halse Rivers (1864-1922)…
At the time of the experiment, H. was nearly 42 years of age and in perfect health. Since boyhood he had suffered from no illnesses, excepting as the consequence of wounds in the post-mortem room….For two years before these experiments began he had given up smoking entirely. No alcohol was ever taken on the days during which he was under examination.

On April 25, 1903…an incision 6.5 in. (16.5 cm.) long was made in the outer bicipital fossa extending along the axial line of the left upper extremity…the radial nerve was divided at the point where it arises from the musculospiral (N. radialis). A small portion was excised, and the ends united with two fine silk sutures. The external cutaneous nerve (N. cutaneus antibrachii lateralis) was also divided…and sutured with fine silk

Rivers 1908
Following the surgical section and repair of Head's superficial radial nerve, Sherren and Rivers commenced rigorous and meticulous observation through sensory testing and evaluating psycho-social responses during the period of recovery and for the following 5 years. This contributed greatly to the understanding of the sensory examination following nerve injury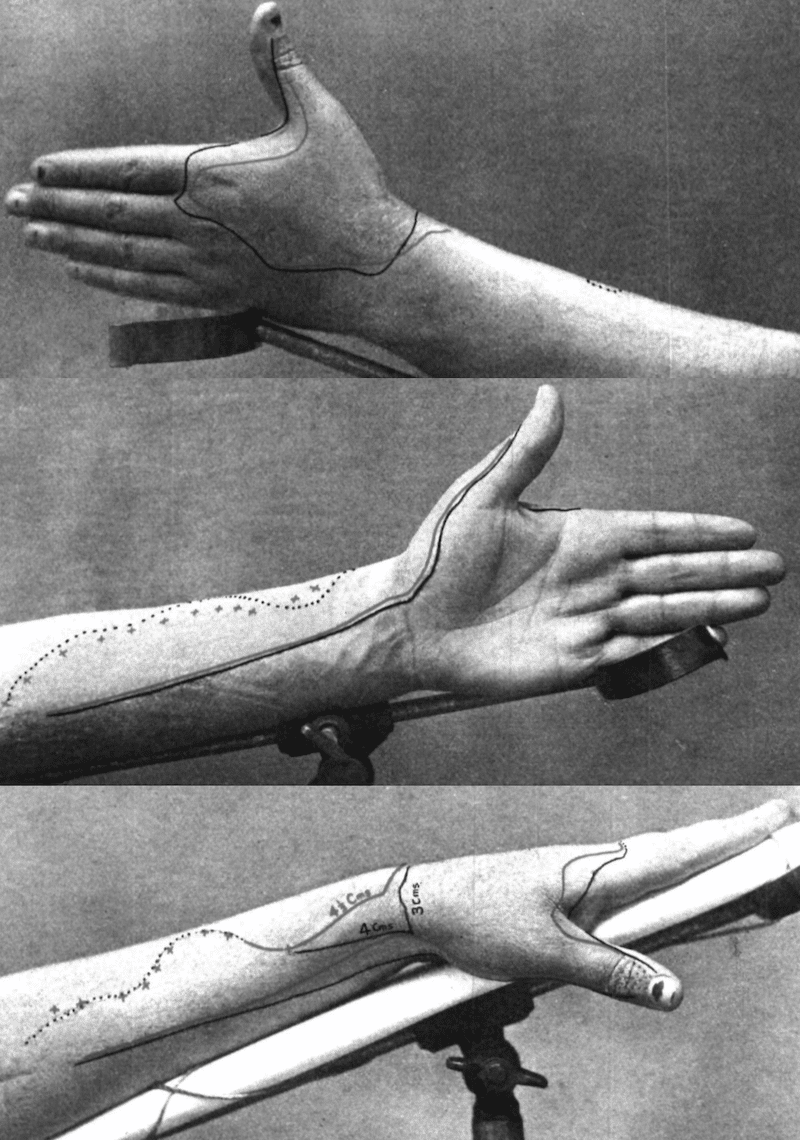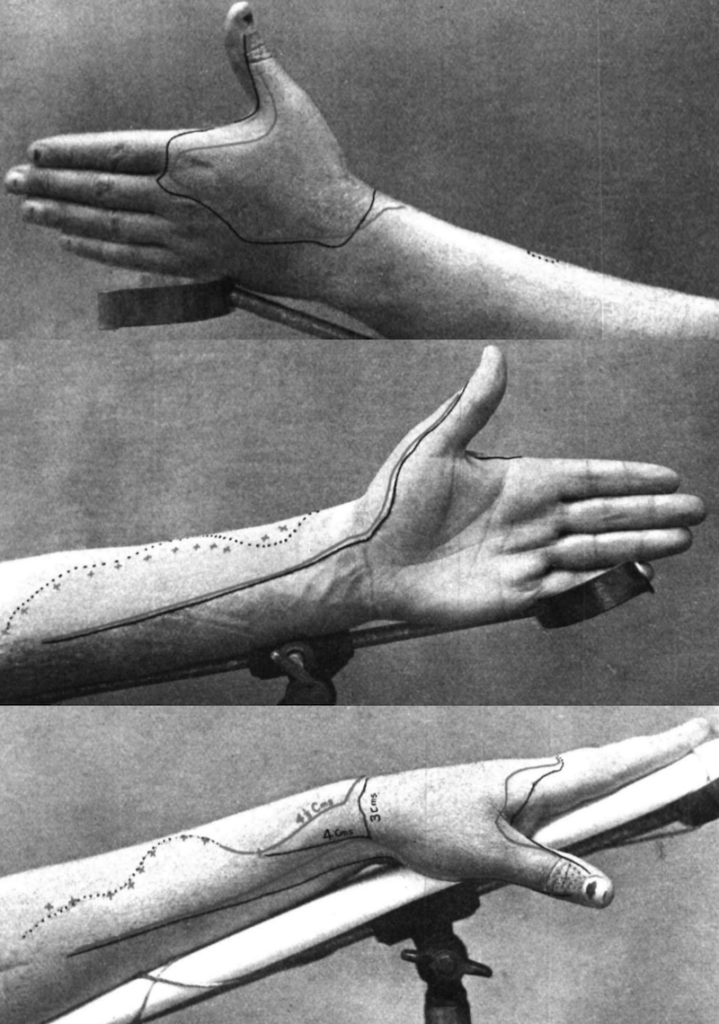 Head's posterior roots (1891) and dermatome mapping
..a fundamental difference between the areas marked out on the surface of the body by Sherrington and by myself in that, whilst his areas overlap considerably, mine do not overlap to any appreciable extent

Head 1893: 43
1932: Professor Otfrid Foerster published The dermatomes in man and concluded that 'The dermatomes of man overlap to the same large degree as do those of the monkey'
I have had the opportunity of defining a great number of dermatomes in man by exactly the same method as that used by Sherrington, that is by outlining the borders of the sensibility which remains after a large number of contiguous roots have been divided, and a single root in the middle of them has been left intact. I need not discuss here the circumstances under which such a selected procedure may be undertaken.…

Foerster 1933
---
Major Publications
Poetry
---
References
---
eponym
the person behind the name
Associate Professor Curtin Medical School, Curtin University. Emergency physician MA (Oxon) MBChB (Edin) FACEM FFSEM Sir Charles Gairdner Hospital.  Passion for rugby; medical history; medical education; and asynchronous learning #FOAMed evangelist. Co-founder and CTO of Life in the Fast lane | Eponyms | Books | Twitter |