aka Trauma Tribulation 010
Your next patient is a 2 year-old girl who has sustained a burn. This is what the injury looks like: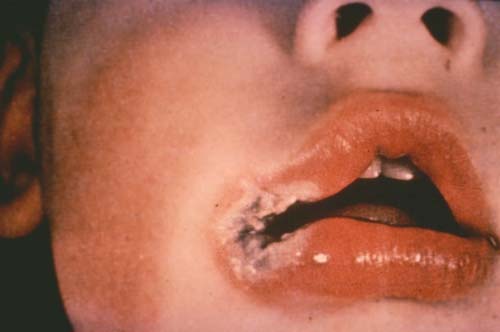 ---
Questions
Q1. What is shown and what is the likely mechanism?
Answer and interpretation

An oral commissure burn.

These injuries typically result from biting on an electrical cord (no, not from smoking a cigarette and letting it burn all the way down…). This is one of the most common mechanisms of electrical injury in toddlers, who tend to explore their environment by putting things in their mouths.
---
Q2. What key complication must be considered?
Answer and interpretation

Delayed lingual artery hemorrhage

These burns are often full thickness and are subject to the usual complications of burns. They may be disfiguring and result in microstomia. They are often underestimated. A particularly important complication is the potential for lingual artery hemorrhage. This occurs in about 10% of cases, typically about 5 to 21 days after the injury when separation of the maturing eschar occurs.
---
Q3. Why is a top-to-toe examination of this child important?
Answer and interpretation

Consider the possibility of systemic electrical injury.

look for an 'exit' wound. This may suggest the likely path of current through the body.
a baseline ECG and cardiac monitoring should be considered if current may have passed through the heart.
musculoskeletal injuries can result from tetanic contractions (e.g. rhabdomyolysis or fractures)
assess for neurological injury, deep tissues burns and other organ injuries.
---
Q4. What is the appropriate disposition of this patient?
Answer and interpretation

Referral to a plastics/ burns surgeon, patients are usually discharged with outpatient follow up.

In the past children were often admitted for observation to ensure that a delayed lingual artery bleed would be detected and treated. However, in modern times, the pressure on bed numbers is such that this is infeasible. Parents should be instructed on how to apply bidirectional direct pressure to the floor of the mouth in the event of lingual artery hemorrhage. If this occurs urgent plastics/ ENT/ maxillo-facial surgery assessment and management is essential.

Admission may be required for analgesia, nutrition (e.g. nasogastric feeding) or for assessment of possible non-accidental injury or neglect. Definitive treatment options include conservative management with an oral commissure split, early reconstruction or delayed excision of the burn site.
---
---