Imaging of COVID-19 pneumonia: a critical care perspective
Author: Dr Greg Brogan – Peer Reviewer: A/Prof Chris Nickson
OVERVIEW
COVID-19 lung imaging is generally indicated in any COVID-19 patient with worsening respiratory status
commonly manifests as ground glass opacities (CT chest), distributed bilaterally in bases and peripheries
evolves rapidly and lung involvement is associated with severity; findings progress over 1-3 weeks, typically peaking at 10-14 days
findings may be present in asymptomatic individuals or pre-symptomatic individuals and may be absent early in the course of disease
In general, the lung imaging findings of COVID-19 patients are consistent with other viral pneumonias – there is no proven specific finding for COVID-19, though there may be suggestive patterns.
CHEST RADIOGRAPHY
Abnormalities are seen on chest x-ray (CXR) and are more common in severe COVID-19 disease
Features Include (Guan, WJ et. al. 2020 Wong, HYF, et al. 2020)
Bilateral shadowing (72.9%) – mostly ground glass opacity (68.5%)
Unilateral disease (25%)
Local patchy shadowing
Interstitial abnormalities (less common finding, <5% in some studies)
Pleural effusions are uncommon
COMPUTED TOMOGRAPHY (CT)
Abnormalities are seen on CT in a majority of COVID-19 cases (86% (Guan, WJ et. al. 2020))
Common CT features (Guan, WJ et. al. 2020 Ye, Z et al 2020 Zhao, W et al. 2020)
Uncommon CT manifestations include (Salehi S et al. 2020, Rodriguez JCL. et al 2020)
Pleural effusion
Pericardial effusion
Lymphadenopathy
Cavitation
CT Halo sign
Pneumothorax
Super-infection may be suggested by pleural effusion, extensive tiny lung nodules, tree-in-bud and lymphadenopathy (Rodriguez JCL. et al 2020)
When followed over time, a pattern to stages of disease emerges (Li, M et al 2020)
Early Phase – Moderate clinical manifestations with lesions limited to single or multiple areas
Progressive phase – Lesions progress in extent and density with the accumulation of cellular exudate in alveoli
Severe Phase – Pulmonary lesions reach a peak at around 14 days with dense bilateral infiltration and a large amount of cellular exudate
Dissipative Phase – after 14 days, gradual absorption of lesions occurs (may occur earlier if disease course shorter)
Role of CT in diagnosis:
A single study of 1014 patients in Wuhan suggested high sensitivity (97%), but low specificity (25%) to detect disease the during outbreak (Ai, T et al. 2020)
A small study of CT-radiologists were able differentiate COVID from non-COVID viral pneumonias (Bai, HX 2020), however they had a wide range of sensitivity (67-93%) and specificity (7-100%)
Advantage of faster availability than PCR tests, though non-specific and risks of transport remain
Changes can even be seen in asymptomatic patients (Shi, H et al. 2020)
However, findings are time dependent (Rodriguez JCL. et al 2020) – Approximately half may have normal study 2 days after symptoms onset.




Lung Ultrasonography (US)
The role of lung ultrasonography is still being defined, but no specific COVID-19 findings have been confirmed (Soldati G et al. 2020, Vetrugno, L et al 2020)
Only sparse case series and case reports currently available
Uses
May help reduce the amount of CT scans and X-rays required (Vetrugno et al 2020)
May provide a useful alternative in a climate where transport capabilities, staffing and imaging availabilities are stressed (Smith et al 2020)
Cases exhibit presence of viral pneumonia with features including (Buonsenso, D et al. 2020):
Irregular pleural line
B-lines (may be irregular and even confluent)
Patchy pattern with bilateral sparing
Areas of white lung
Subpleural consolidations
Risks
It is important to consider infection control and prevention of transmission via contact with ultrasound machine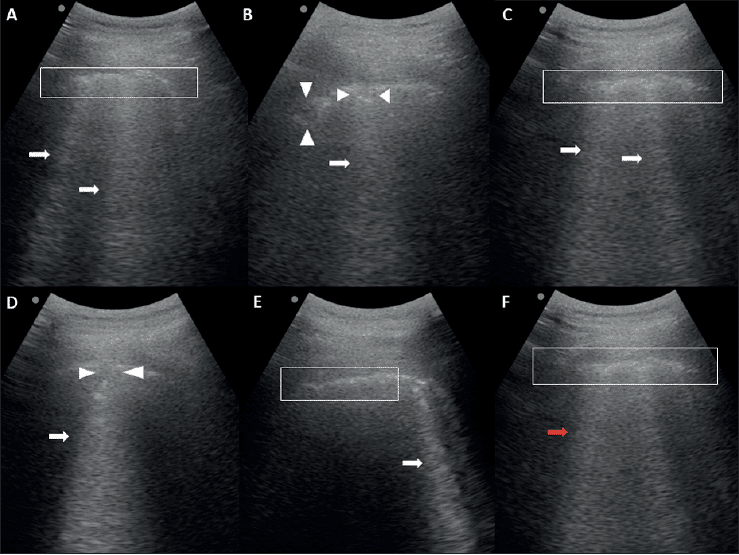 References
LITFL
Journal articles
FOAM and web resources
SARS-CoV-2
novel coronavirus of COVID-19