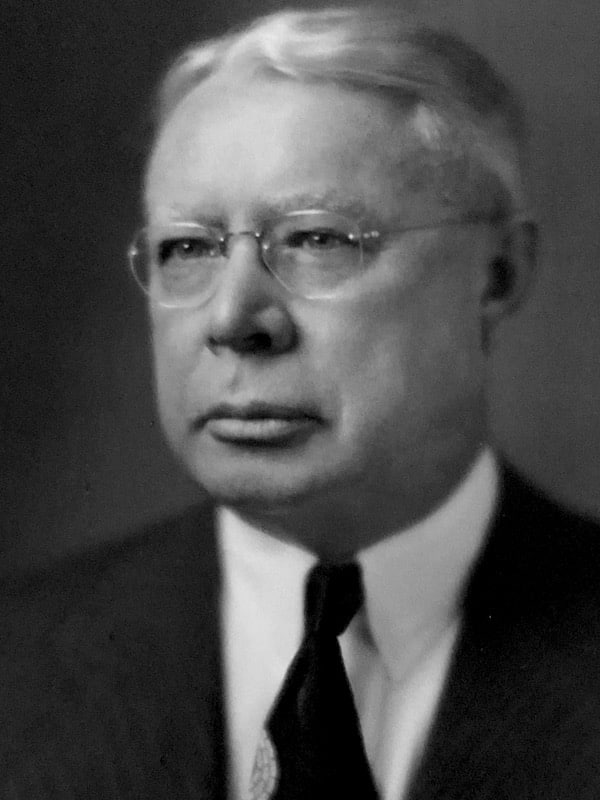 Jay Albion Heidbrink (1875-1957) was an American dentist and inventor
Heidbrink's work in anaesthesia lead to a long line of anaesthesia machines, a longer line of dental and anaesthesia related patents and a legacy that continues to persist in modern anaesthesia machines today.
Most notable are Heidbrink's work on pressure reducing valves or the APL valve and flowmeters which allowed for the accurate titration of multiple anaesthetic gases. The inspiration? Like many others before him, his personal experiences as a patient undergoing surgery without anaesthetics was a major driver in his resolve to 'dedicate myself to effective and safe anaesthesia.'
He certainly was a man of his time period, so much so that he adamantly refused to adopt the metric system which is seen up until his last anaesthesia machine that was 'metered' to deliver gas in 'gallons per hour.'
---
Biography
Born on March 11, 1875 at Boaz, Richland County, Wisconsin
1901 – graduated from University of Michigan Dental College
1903 – purchases a Teter anaesthesia machine and begins alterations to it to fit his use which results in the creation of a whole new anaesthesia machine. He incorporates a pressure reducing valve into the machine and a light bulb; these modifications solve the problem of nitrous oxide freezing on release from the high-pressured gas tanks
1912 – after further refinements, his anaesthesia machine becomes his first commercial endeavour in the field of anaesthesia and is named Anesthetiser Model A. Each unit is sold for $32. This begins a long line of alphabetical inspired anaesthetic machines up to Model T in the late 1930's
1924 – acquires he rights to "Anacin" and to the trademark "AN-A-CIN" a non-narcotic compounding of acetaphenetidin (phenacetin), aspirin, quinine sulphate, and caffeine.
1930s – develops the Heidbrink Kinet-O-Meter. During this period, he also designs his own flow meter which is a variant of the already existing rotameters. Heidbrink's version allows for a visual display of gas flow on a calibrated scale. The Heidbrink Kinet-O-Meter undergoes multiple configurations and modifications over the next few decades up until the late 1960's where it is replaced by the Ohio Unitrol Machine.
By the late 1930's, Heidbrink begins to shift the majority of his business operations to rival company Cleveland's Ohio Chemical and Manufacturing Company (OCMC)
1946 – retires from dental practice
1954 – becomes the first recipient of the American Dental Society of Anaesthesiology's annual achievement award, posthumously changed to the Heidbrink Award
1957 – dies at the age of 82yrs in Minnesota.
For a considerable time, I was asked annually to read a paper on gas anaesthesia at our National Exodontia Society Meetings. Finally, I convinced them that I had nothing new to offer. Once the equipment and technic were perfected, that was it. Others might have something different to offer and should be given a chance.

J.A Heidbrink Memoirs 1957
Unfortunately, his company whilst a success during his life followed its' founders demise shortly after; it was bankrupted by lawyers because of patient deaths caused by valve malfunctions which went undetected by incompetent anaesthetists.
---
Medical Eponyms
Heidbrink Kineto-O-Meter
The Kineto-O-Meter, a variation of the initial model and one of many configurations, comprised two metal cylindrical poles placed on a stand with four wheels. There were three tank hook-ups with regulators on top positioning on the metal poles for gas tanks containing oxygen, nitrous oxide and/or carbon dioxide and cyclopropane. These were connected by tubing to a panel of four flowmeters where gas mixtures could be titrated and delivered to the patient via a metal valve.
In the beginning the trainee was permitted only to keep the inhaler firmly in place at all times…he was then allowed to manipulate the gas machine. If he made mistakes, I immediately made the correction. If he repeated the error a third time, I would give him a light kick on the shin with progressively harder ones until he discovered and corrected his error. Rather harsh treatment – but it worked

J.A Heidbrink Memoirs 1957
Heidbrink's anaesthesia machines were one of the first to incorporate a pressure reducing valve which allowed high tank pressures to be adjusted to a more normal and workable pressure. This was to prevent the gases released from freezing when passing out of the tank, an observation Heidbrink made during the development of his machines.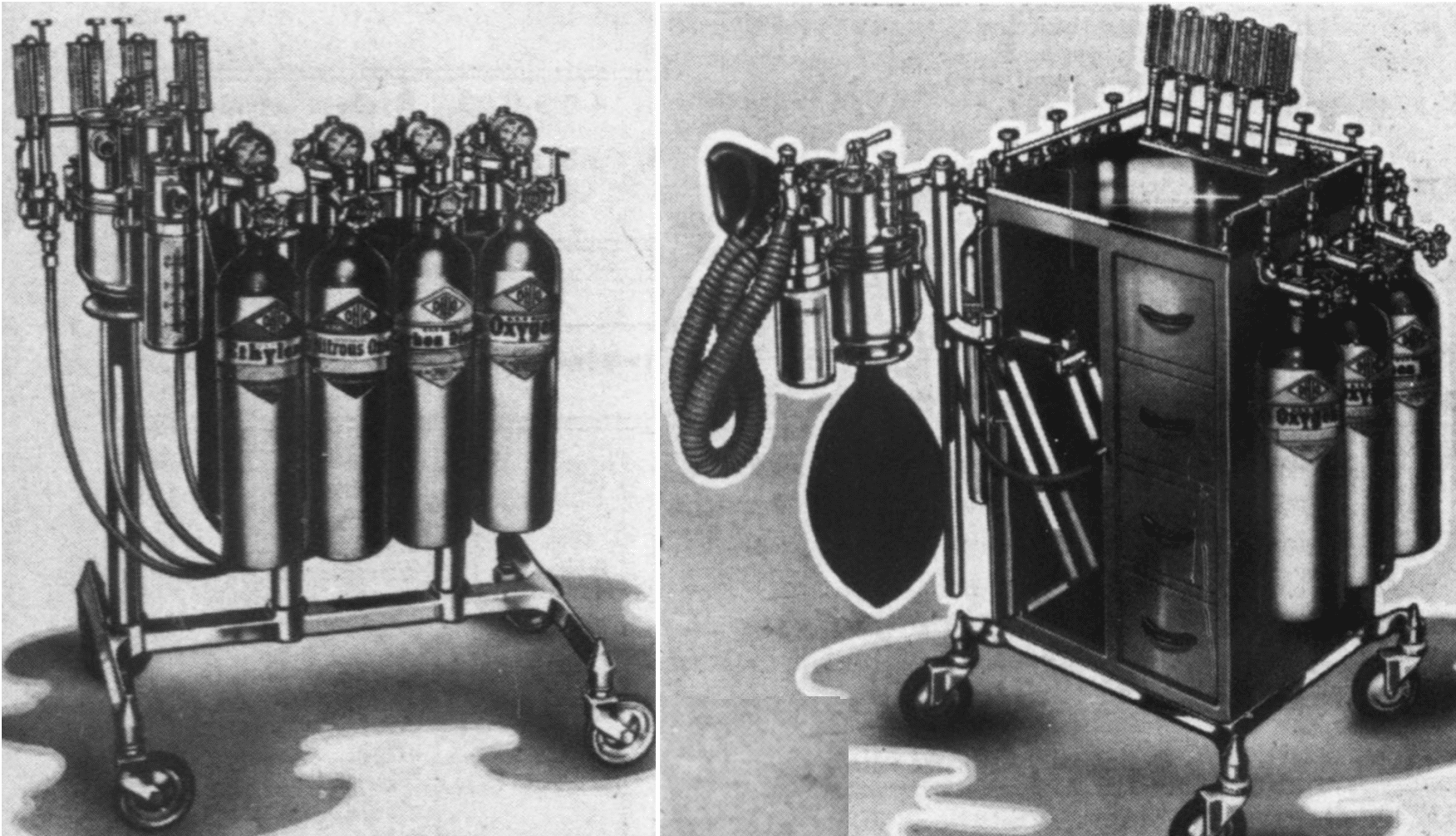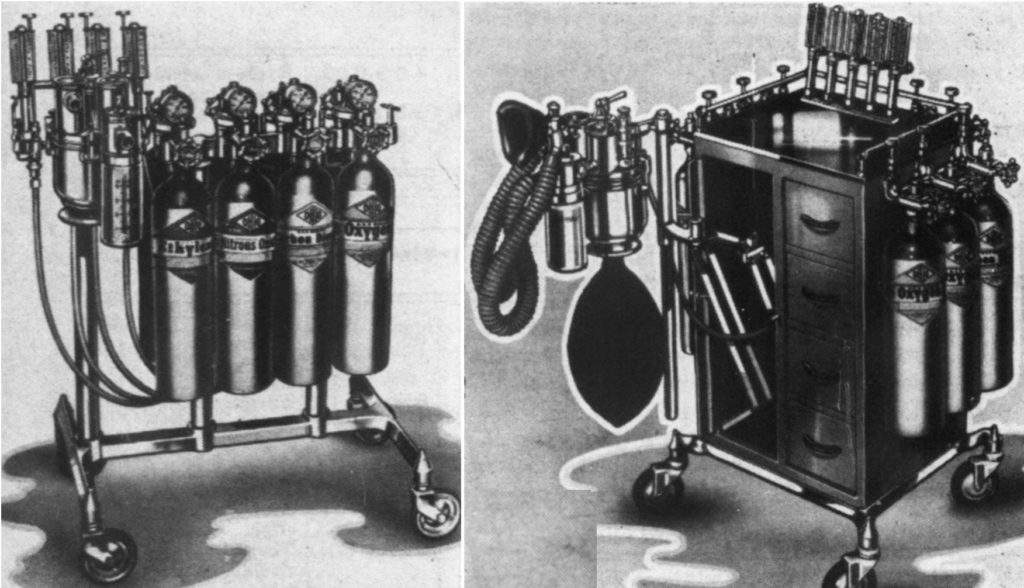 Heidbrink's anaesthesia machine found a rival in Dr Karl Connell whose apparatus sparked a trend away from pedestal-style design towards cabinet-style machines. Connell's anaesthesia machine equipped slanted double bearing flowmeters which were necessary to the function of the machine. Heidbrink in turn invented a similar tapered flowmeter which he purposely slanted; However, the incline had no functional purpose unlike Connells design, except to appear outwardly similar to Connells' flowmeter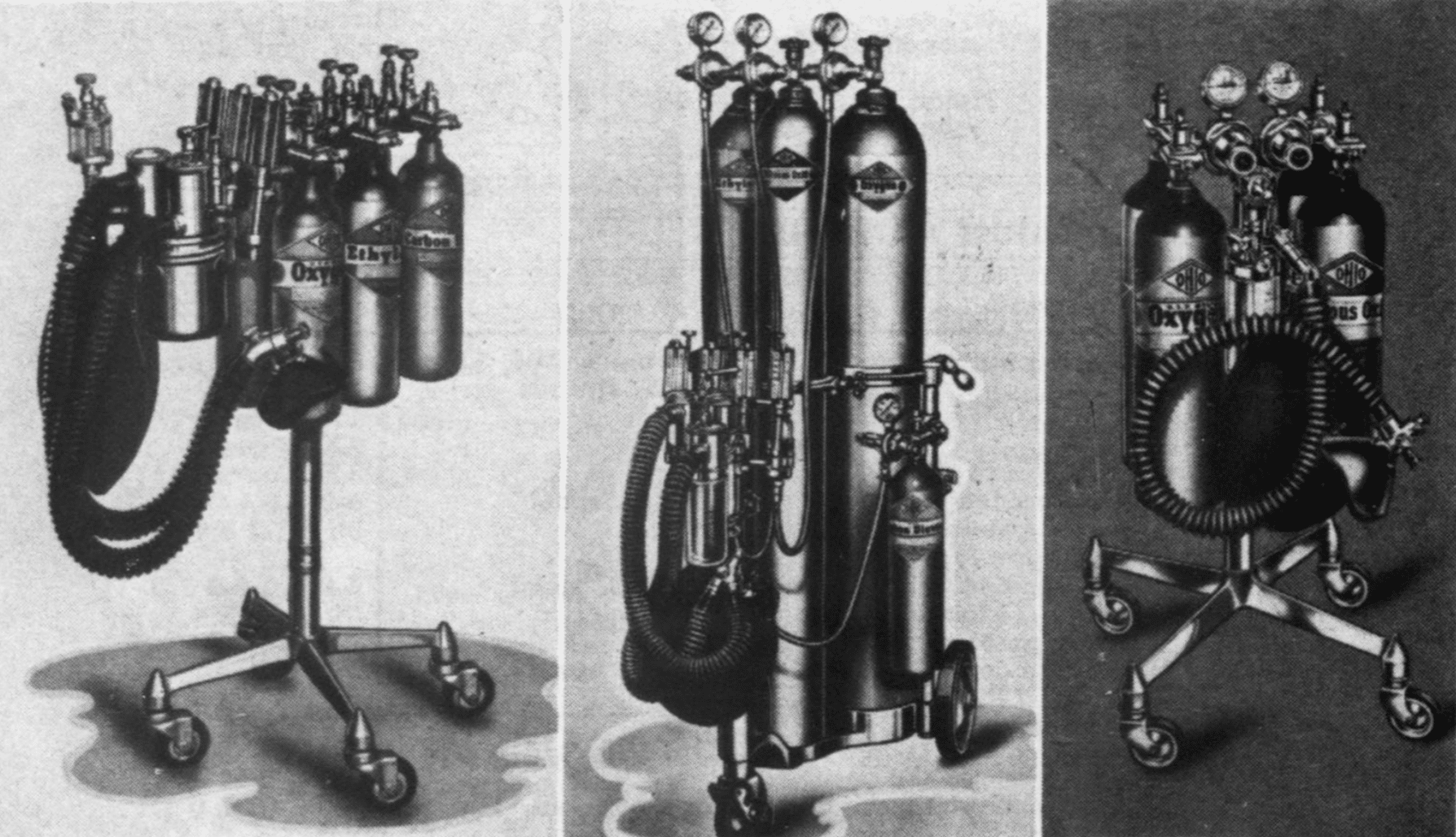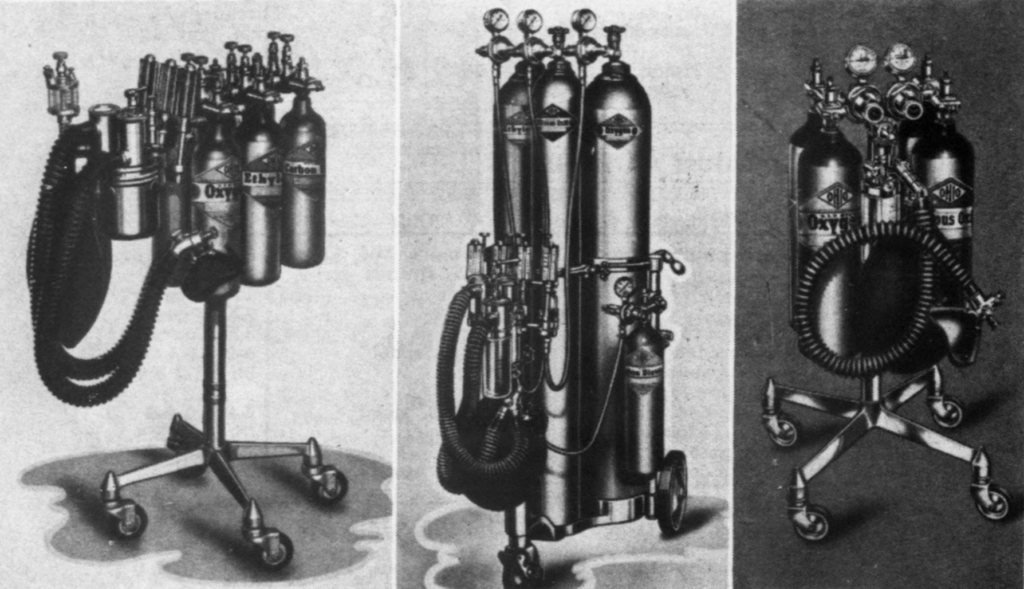 ---
Heidbrink Valve
First described in 1929, the Heidbrink valve was an adjustable expiratory valve used to allow exhaled air from the patient to pass back into the circuit whilst preventing entry of air from outside the circuit. It also acted as a pressure release valve where excess gas could be vented from the circuit when pressures in the system exceeded that of the set level of the Heidbrink valve.
It consisted of a flat circular disc held in place by an adjustable coiled-helical spring. A knurled screw allowed the anaesthetist to adjust the resistance of the spring so that gas elimination from the circuit could be controlled. Thus, lower resistance settings were used for spontaneous ventilation and higher resistance settings for intermittent positive pressure ventilation.
Today it is known as an adjustable pressure limiting valve or the APL valve and is a common attachment on modern anaesthesia machines.
---
The device comprised an oxygen tank, a carbon dioxide tank, an electrical motor and tanks for ice and soda-lime. A large 'tent' was secured onto a metal rod which would be placed over the head of the patient to deliver oxygen. It incorporated a transparent section to allow patient/healthcare workers to directly visualise the patient as well as provide a means for light to enter.
An object of the invention in general is to provide a device in the nature of a tent for enclosing at least the head of the patient to whom the gas is to be delivered. Oxygen therapy is administered in this way for pneumonia patients, for patients with certain heart diseases, in cases of monoxide poisoning, for immediate care of new born babes, etc
The lower portion of the tent was 'tucked under' the patient or pillow to form a somewhat seal to prevent gas escaping. Oxygen was passed from its tank to the ice tank for cooling and then into the lime—soda tank for 'purification,' before entering the tent 'somewhat below the top.' This allowed the warmer gas at the top of the tent to exit via separate pipelines.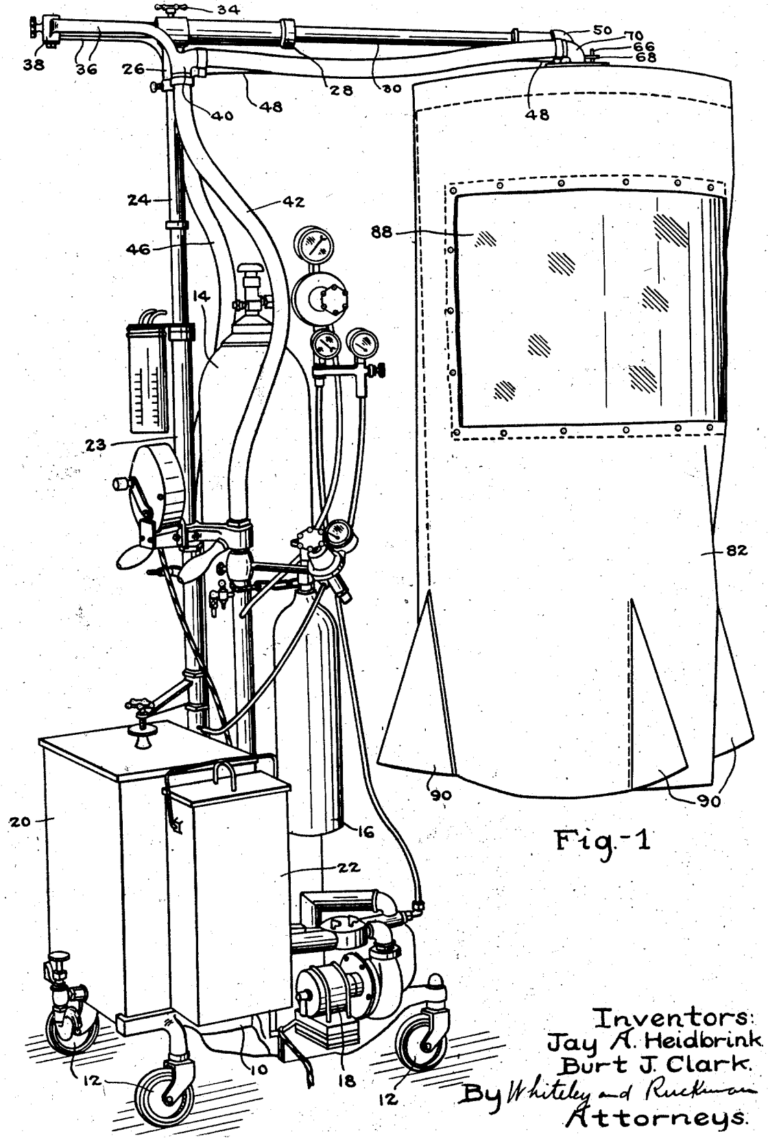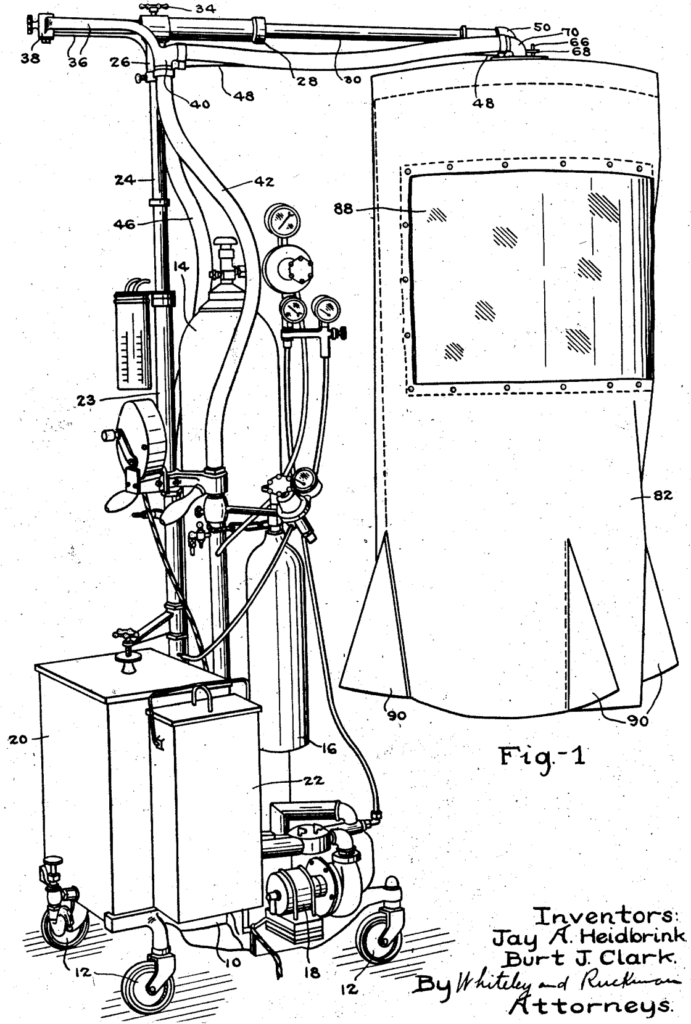 This was all mounted-on caster wheels so that it could be easily transported to areas of need. It was also rotatable so that it could 'avoid the necessity of putting more than one window in the tent to accommodate light for different positionings of the bed.'
---
Heidbrink Celluloid Mask
Also made in rubber, the Heidbrink mask had an inflatable rubber rim which made it more comfortable and better fitted to the patient's face. A valve on the back of the metal connector attached to the mask could be adjusted to control the flow of fresh air. Celluloid has since been superseded by plastic given the former is highly flammable making it far from ideal within the operating environment.
---
The Heidbrink wrench
Was a device manufactured specifically for use on Heidbrinks anaethesia machines and other equipment. Heidbrink resisted adopting the metric system and was one of the last to stop manufacturing anaesthesia machines metered to deliver gases in "gallons per hour."


---
The Heidbrink Award
An annual award that was instituted in 1954 and delivered by the American Dental Society of Anesthesiology.
The Heidbrink Award is the highest honor of the American Dental Society of Anesthesiology, awarded at the Annual Session to the individual who has has most significantly contributed to the advancement of anesthesiology in dentistry. It is given to honor this great pioneer in the field.

ADSA
---
Interesting facts
Whilst Heidbrink's anaesthesia machines were superseded by more modern machines, they found new purpose in veterinary medicine. Veterinary researchers such as Robert H Heath produced his own modifications of the Heidbrink Models to including custom circuits and tripods better adapted to this new form of patient. Thus, large marine animals could be anaesthetised at the Alaskan shoreline without need for transport to the United States. Heidbrink's legacy indeed continues in a somewhat different legacy than its inventor had initially intended.
---
Major Publications
Multiple Patents (listed here) including:
---
References
Biography
Eponymous terms
---
Eponym
the person behind the name
BA MA (Oxon) MBChB (Edin) FACEM FFSEM. Associate Professor Curtin Medical School, Curtin University. Emergency physician, Sir Charles Gairdner Hospital.  Passion for rugby; medical history; medical education; and asynchronous learning #FOAMed evangelist. Co-founder and CTO of Life in the Fast lane | Eponyms | Books | Twitter |