John Henry Blease (1906 – 1985) British inventor and anaesthetic technician.
Blease made numerous contributions to anaesthesia starting with the accessory components for simple anaesthetic machines in the 1930's to the all-purpose Alfo-Blease anaesthetic machine in the early 1940's and most famously the Blease 'Pulmoflator' which was the first British positive pressure ventilator in commercial production.
He collaborated with Roger Manley (1930-1991) to develop the Blease-Manley ventilator which continues to have lasting success around the world.
Between 1939 and 1960, Blease invented and successfully applied for 19 anaesthetic equipment patents. The Blease name survives today in the company that he founded.
---
Biography
Born in 1906 in Bootle, Blease grew up in Moreton on the Wirral, Merseyside
Blease began work as a butcher's boy at 14 years of age. He had a mechanical mind; his interests extended to tractor repairs and motorcycle enthusiast. He set up a car repair business with his younger brother
1930 – built own 1000cc motorcycle dubbed "Blease special" and competed at Wallasey and Southport winning every race
Blease became friends with neighbour Dr Henry Roberts (GP/anaesthetist at Liverpool) and began to make component parts from drawings of American anaesthetic machines
1937 – When Dr Roberts died unexpectedly, Blease took over his role as dental anaesthetist. He establishes contact with Liverpool surgical instrument company Alexander and Fowler
1938 – Blease and Fowler apply for patents for improvements in anaesthetic apparatus such as valves and temperature compensation
1940's – Blease is appointed as 'Emergency Anaesthetist' at Birkenhead General Hospital
1943 – apply for patents for addition of carbon dioxide absorption and one-way valves; these advances (among others) are used in the design and production in the Alfo-Blease anaesthetic machine
1945 – designs an intermittent positive pressure ventilator; joins Multitone Electronic Co Ltd and continues to supply AlfoBlease
1946 – produces the prototype of the Blease 'Pulmoflator' – a portable mechanical ventilator
1950 – the Blease Pulmoflator becomes the first ventilator freely available commercially in Britain
1953 – incorporates the Pulmoflator P1 within an anaesthetic machine and dubs the device 'The combined Pulmoflator P2.' This new version includes rotameters for gases, gas cylinders, an aspirator, bronchoscope accessories, an instrument tray and apparatus for blood pressure measurement
leaves Multitone electric Co and joins Edwards High Vacuum and continues to manufacture 'Pulmoflators' ~3-4/mth. An estimated 200 ventilators were produced over a 5year period.
1960 – joins with Robert Manley to patent and produce the Manley ventilator
1964 – retires
1983 – Elected Honorary Member of the Liverpool Society of Anaesthetists
Died in 1985 aged 79
---
Medical Eponyms
Alfo-Blease anaesthetic machine
In 1938, Blease and George Fowler applied for a patent for improvements in anaesthetic apparatus making use of manifold technology, valves and temperature compensation. They filed a second patent application in 1940 for the addition of carbon dioxide absorption and one-way valves. Utilization of these advances resulted in the Alfo-Blease anaesthetic machine


---
Blease 'Pulmoflator'
The first ventilator to introduce intermittent positive pressure and operated on a "bag in a bottle" principle. The inspiratory and expiratory ratio as well as a blow off valve within the compression chamber was operated by a cam. This cam and valve mechanism clearly came from car technology; a certain inspiration from his mechanic days! The 'bag in a bottle' concept of his early Pulmoflator' machine was later replaced by concertina bellows contained in a Perspex cylinder. Adjustable pointers and a calibrated scale outside this cylinder helped set the tidal volume. The later P2 Pulmoflator was incorporated into a self-contained anaesthetic machine and included rotameters for gases, gas cylinders, an aspirator, bronchoscope accessories, an instrument tray and apparatus for blood pressure measurement.
Modus operandi, the 'bag in a bottle' is rhythmically squeezed by the electric compressor through the cam and valve mechanism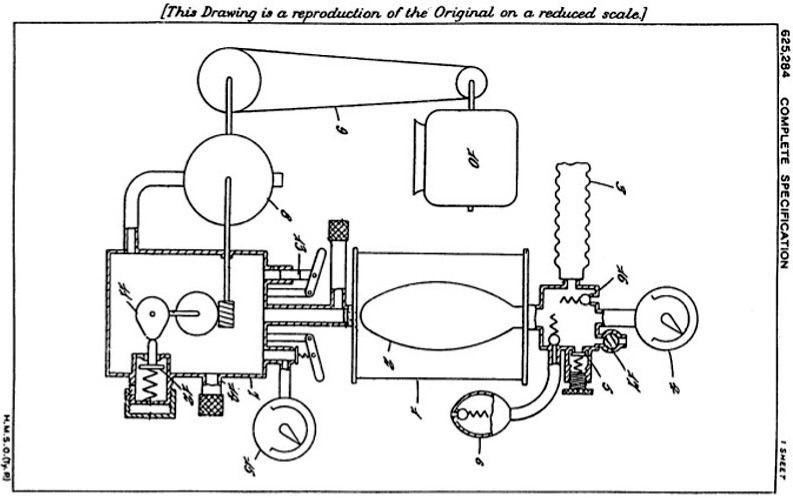 Key: 1, glass cylinder; 2, rubber rebreathing bag; 3, corrugated tubing to anaesthetic apparatus; 4, inflation pressure gauge; 5, adjustable expiratory valve (semi-closed circuit); 6, hand bellows (closed circuit); 7, compression chamber; 8, rotary pump with air inlet; 9, belt gearing; 10, electric motor; 11, cam; 12, adjustable deflation valve (cam operated); 13, manual valve to discontinue pressure; 14, branch for introduction of oxygen, nitrous oxide; 15, inflation pressure gauge; 16, inspiratory valve; 17, auxiliary inlet to enable introduction of oxygen or carbon dioxide.
---
Blease-Manley ventilator
The Manley ventilator required no external power source, was connected to the fresh gas outlet of the anaesthetic machine and delivered the gas to the patient as a minute volume divider.
Inflation was achieved by adjusting a variable weight loaded bellows to deliver a pre-set volume; the weight on the bar above the bellows helped set the inspiratory pressure and a rotameter was used to set minute volume. Inspiratory pressures up to 30cmH2O could be achieved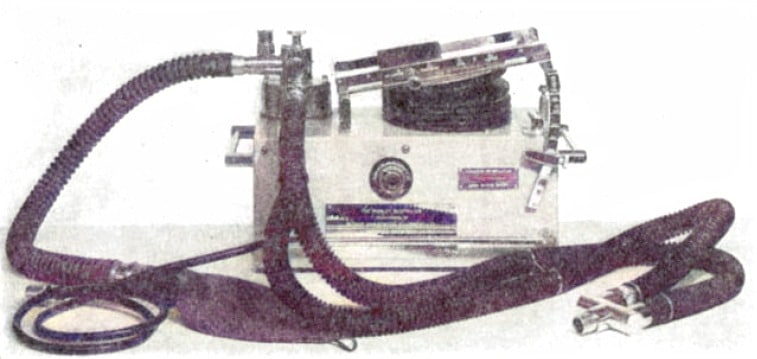 ---
Major Publications
Blease JH, Fowler G. Improvements in Anaesthetic Apparatus. British Patent GB519203A, 1940
Blease JH, Fowler G. Improvements in Anaesthetising Apparatus. British Patent GB535447A, 1941
Blease JH, Fowler G. Improvements in Anaesthetizing Apparatus. British Patent GB548617A, 1942
Blease JH, Alexander & Fowler Ltd. Improvements in Anaesthetizing Apparatus. British Patent GB562887A, 1944
British Patent GB625284A, 1946
Blease JH. Improvements in Apparatus for the Control of Respiration and Anaesthesia. British Patent GB695586A, 1953
Blease JH. Improvements in or relating to Needles for Use in Intravenous Injection. British Patent GB689131A, 1953
Blease JH. An improved Endotracheal Tube. British Patent GB693510A, 1953
Blease JH. Improved human respiration control valve. British Patent GB750152A, 1956
---
Controversies
In the journal Anaesthesia in 1969, Blease was reported as dead…
In respect of the obituary for the late Dr John Halton, I have been guilty of a very embarrassing mistake, for which I sincerely apologise to you and especially to Mr John Blease. I am pleased to say that the latter is still very much alive and enjoying an extremely happy retirement in Heswall on the Wirral. Indeed quite by chance, he telephoned me over the Christmas holidays and this, apart from the pleasure of my surprise in finding him almost a neighbour and in such reasonable health, gave me the opportunity of discussing the early days to which I had referred in Dr Halton's obituary.

The full story is, of course, that he first turned to constructing anaesthetic apparatus at the instigation of a Dr Henry Roberts, who was a neighbour of his in Moreton, and who had an extensive practice in dental anaesthesia. The Roberts Dental Machine was the result. On Henry Roberts' all too premature death, Blease approached Dr Kenneth Roberts of the Liverpool Royal Infirmary in order to have facilities for the clinical trial of his anaesthetic equipment. It was at about this time that he met Dr John Halton, for whom he constructed anaesthetic apparatus and who introduced him to the problems of thoracic anaesthesia, which led to the development of the 'Pulmoflator'.

Gray TC in Anaesthesia 1969; 24(2): 289-230
---
References
Biography
Eponymous terms
---
Cite this article as:
Ciselle Meier and David Raw, "John H. Blease," In:
LITFL - Life in the FastLane
, Accessed on November 29, 2022,
https://litfl.com/john-h-blease/
.
---
eponym
the person behind the name