Roger Edward Wentworth Manley (1930 – 1991) was a British inventor, anaesthetist and engineer
Manley was the pioneer of the Manley Ventilator. His prototype ventilator was assembled from various parts including the bellows of the then Blease 'Pulmoflator' in his garage. It was easy to use as it only required a fresh gas flow, and was later refined to become the well-known 'minute volume divider' Manley ventilator.
Manly became managing director of the Blease Company and later Cape Engineering. He founded his own engineering company was a consultant to others; adviser in medical engineering to Westminster Hospital; and an honorary clinical assistant in anaesthesia and intensive care at the Medical Research Council unit at Northwick Park.
He also developed the Manley Multivent (Penlon Manley), and was a major contributor to solving the problem of mechanical ventilation in the developing world.
---
Biography
Born in 1930
1954 – Graduated in medicine and surgery from the Westminster Hospital Medical College, London
1959 – Senior House Officer, Department of Clinical Measurement Westminster Hospital. Manley attended a symposium on the treatment of ventilatory failure at the Royal college of Surgeons in London and within two days of the meeting, produced a prototype ventilator
1960 – The Manley ventilator was refined and marketed by John Blease (1906 – 1985) as the MP2
1961 – Published on his "new mechanical ventilator" in the journal Anaesthesia
1990 – Designs a new ventilator (later known as the Manley Multivent

) for use in the developing world however dies prior to its production

Died on December 11, 1991
---
Medical Eponyms
Manley ventilator (Blease Manley ventilator)
The Manley ventilator required no external power source, was connected to the fresh gas outlet of the anaesthetic machine and delivered the gas to the patient as a minute volume divider.
Inflation was achieved by adjusting a variable weight loaded bellows to deliver a pre-set volume; the weight on the bar above the bellows helped set the inspiratory pressure and a rotameter was used to set minute volume. Inspiratory pressures up to 30cmH2O could be achieved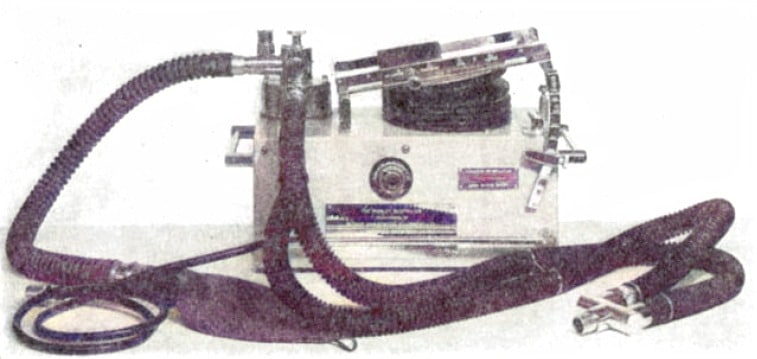 During inspiration:
Valve 1 (V1) is closed
Fresh gas flows into the bellows (B1) and fills
Valve (V2) is open, Valve 3 (V3) is closed
Weight (W) on top of the bellows forces the gas into the patient's lungs and inflation occurs
Duration of inspiration depends on height of B1
At end of inspiration V1 opens, pressure in chamber falls and V2 closes; V3 opens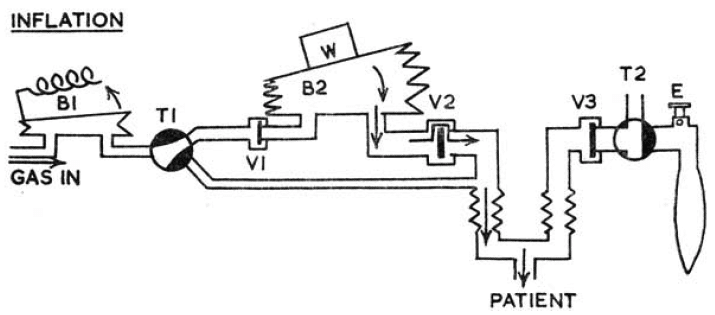 During expiration:
Patients' lungs are open to the atmosphere
Gas from B1 flows via V1 to B2
Duration of expiration depends on height of B2 before lever system closes V1
When V1 closes, pressure in chamber rises causing V3 to close and opening V2 and dthe cycle repeats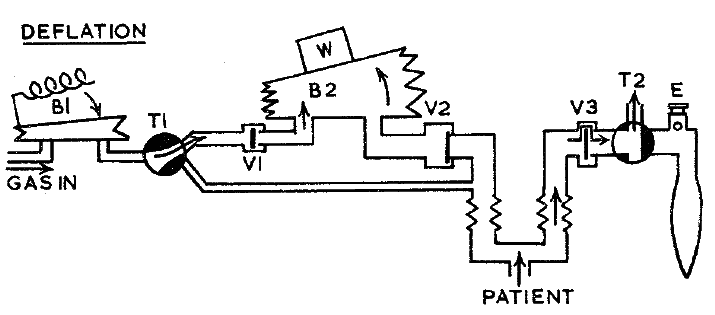 There was no electronic alarm for low or high pressures rather the anaesthetist had to be attuned to the audible changes of a disconnected or obstructed circuit. In an obstructed circuit or where there was increased air resistance (coughing), the bellows could not deliver the full tidal volume and so "clunking" could be heard as the ventilator alternated between inspiratory and expiratory phases. In a disconnected circuit, there was no air ways resistance so a "thump" could be heard as the bellows fell onto the rubber stopper on the ventilator casing
---
Manley Multivent Ventilator (Penlon Manley Multivent)
A simple and extremely versatile ventilator, the Manley Multivent came into production after Manley's death and has made major contribution to mechanical ventilation in the developing world.
It is an automatically powered version of the Oxford inflating bellows. There are only 3 controls – tidal volume, respiratory rate and I:E ratio which is pre-set to 1:2. Either oxygen or compressed air from a mains electricity or 12V DC car battery, can be used to drive the ventilator.
If oxygen is used, it has dual role in elevating the bellows as well as supplementing the inspired gas mixture to increase the fiO2. If ether is used as anaesthetic, then an alternate version of the Manley Multivent is available which includes an electronic gas circuit that is separated from the gas mixture by a distance of 25cm. This reduces the risk of an explosion.
---
Major Publications
---
References
Biography
Eponymous terms
---
[cite]
---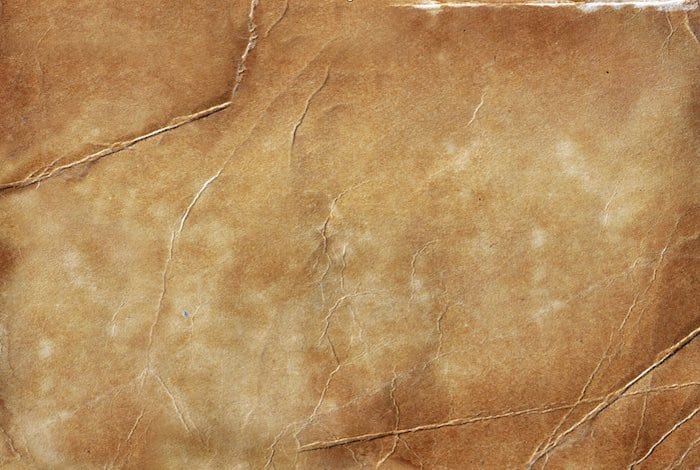 eponym
the person behind the name
BA MA (Oxon) MBChB (Edin) FACEM FFSEM. Associate Professor Curtin Medical School, Curtin University. Emergency physician, Sir Charles Gairdner Hospital.  Passion for rugby; medical history; medical education; and asynchronous learning #FOAMed evangelist. Co-founder and CTO of Life in the Fast lane | Eponyms | Books | Twitter |