Description
Löffler (Loeffler) syndrome is a rare, transient, self-limiting, and benign pulmonary eosinophilia lasting less than one month (usually 6-12 days). The syndrome is characterised by pulmonary infiltrates on X-ray, elevated blood eosinophils and an acute onset of potential symptoms of mainly cough, dyspnoea and wheeze.
The aetiology of Löffler syndrome has been mostly attributed to an allergic response to the transpulmonary migration of helminth larvae, namely Ascaris (A. lumbricoides), hookworms, and Strongyloides.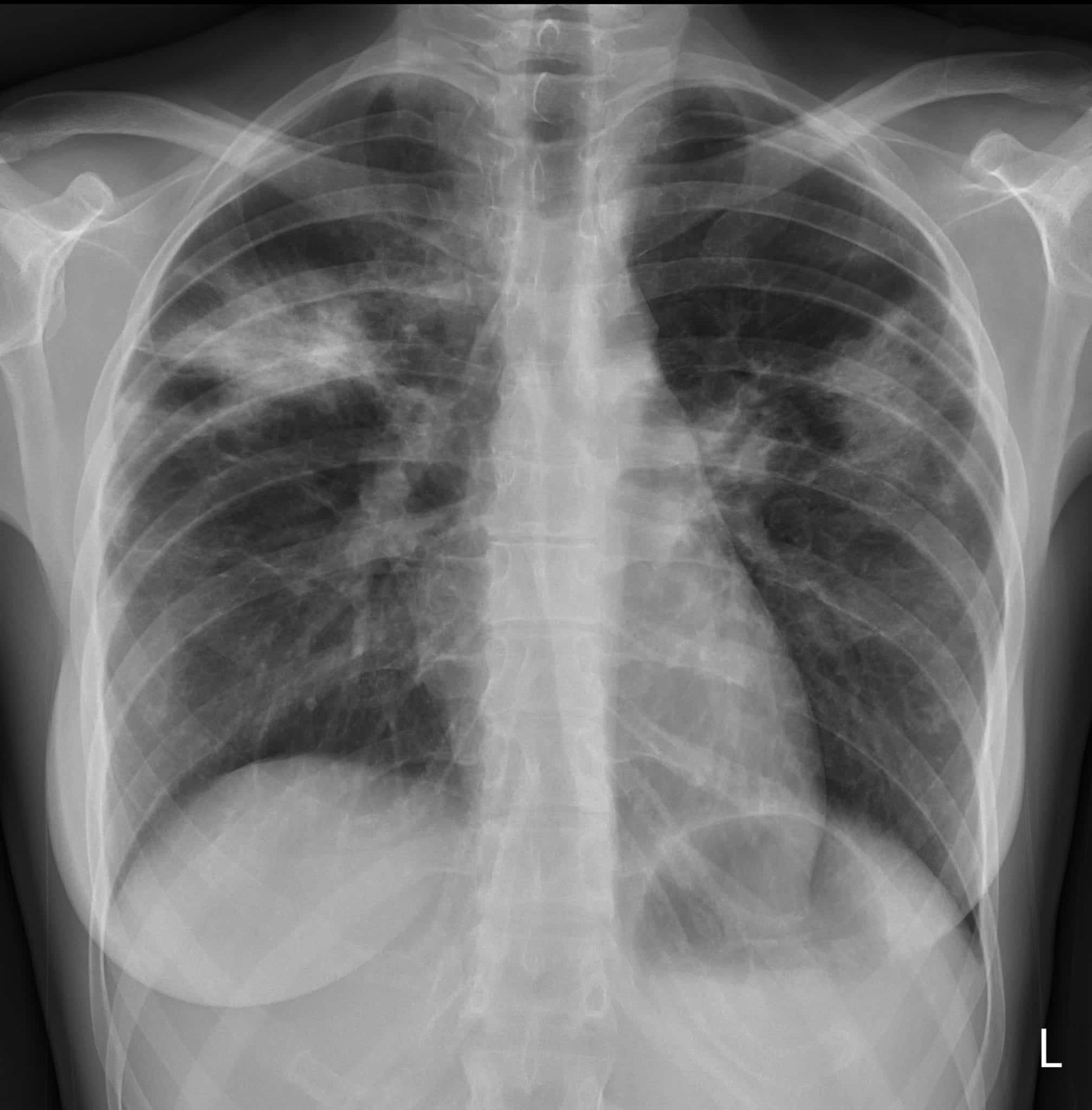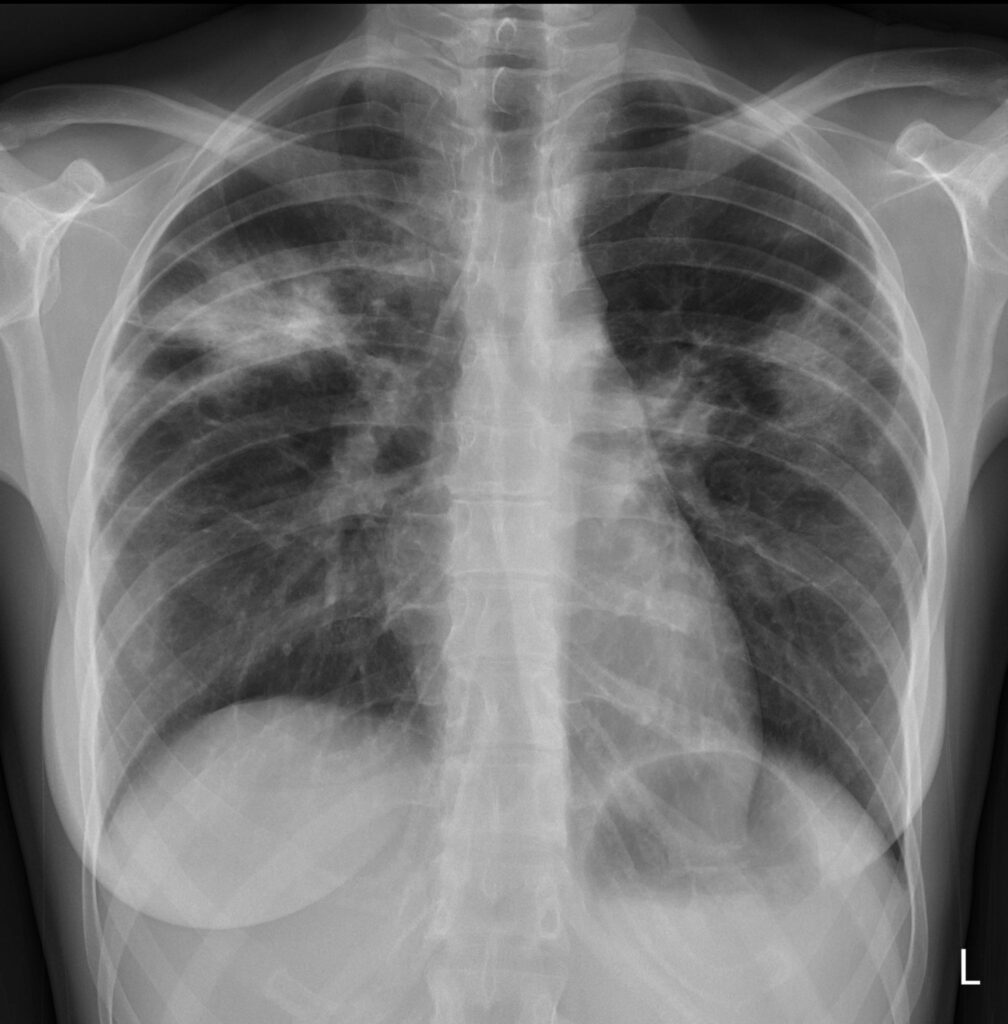 ---
History of Löffler syndrome
1909 – HS French described three categories of eosinophilia in a clinical lecture later published in the Guy's Hospital Gazette. The three categories he included were:
True spasmodic asthma
Conditions related to certain animal parasitic infections, namely "Anchylostomiasis, Bilharzia huematobia, Trichina spiralis, Hydatid disease; and to less extent with Taenia solium, Taania medio canellata, and Bothriocephalus latus; whilst it does not occur at all with Trichocephalus dispar, Oxyuris vermicularis, or Scabies; and Ascaris lumbricoides."
Skin diseases, most notably the bullous dermatoses: "Pemphigus, Erythema bullosiim, Erythema iris, Dermatitis herpetiformis, and Herpes gestationis."
1922 – Koino studied the infections of Ascaris on humans. He ingested 2000 mature eggs of human Ascaris, which produced symptoms of pneumonia, including fever, dyspnoea, productive cough, haemoptysis, and sputum containing larvae. Koino named it 'Ascaris pneumonia'. He also fed his younger brother 500 mature Ascaris eggs from the pig, which produced a shorter duration of fever, dyspnoea, and productive cough without blood or sputum containing larvae.
1932 – Löffler described four cases of transient (lasting 3-8 days) pulmonary infiltrates on chest X-ray, little to no symptoms, and normal white cell counts, but blood eosinophilia in two of the cases. He discovered these infiltrates while performing mass X-ray surveillance of tuberculosis patients in Zürich at the time.
1936 – Löffler published 51 additional cases of the syndrome he had observed
1940 – Freund and Samuelson reported 105 documented cases of Löffler syndrome, which included the 51 cases Löffler described in 1936
1942 – Vogel and Minning performed human experimentation with Ascaris. They fed six volunteers between six to 45 Ascaris eggs which produced significant symptoms in five of the volunteers. This demonstrated an allergic element to Löffler syndrome.
1943 – Weingarten published 81 cases from the coastal areas of India with a gradual onset of chronic (lasting up to years) spasmodic bronchitis, leucocytosis, massive blood eosinophilia, and X-ray of lung infiltrates in the acute phase. He named this syndrome 'tropical eosinophilia', and directly stated it to be different from the milder symptoms and transient nature of Löffler syndrome. Tropical eosinophilia has occasionally been referred to as Weingarten syndrome, and thought to be due to an immune response to microfilariae.
1943 – Maier published 100 cases of the syndrome he observed in Löffler's clinic. He believed the lung infiltrates to be similar to the temporary infiltrations from eosinophilic pneumonia observed in asthma.
1948 – Löffler et al. injected Ascaris into guinea pigs which induced the syndrome in these animals
1952 – Crofton et al. proposed the term 'pulmonary eosinophilia' to include the range of diseases with pulmonary infiltration and blood eosinophilia. The classification of pulmonary eosinophilia into five groups included:
Löffler syndrome (transient infiltrations)
prolonged pulmonary eosinophilia without asthma
prolonged pulmonary eosinophilia with asthma
tropical pulmonary eosinophilia usually with asthmatic symptoms
polyarteritis nodosa.
---
Associated Persons
---
Alternative names
Simple pulmonary eosinophilia
Eosinophilic pneumonia
Nematode pneumonitis
Ascaris pneumonia
---
Controversies
Pulmonary eosinophilia encompasses a large number of causes. 'Löffler (Loeffler) syndrome' has been misused to describe any type of pulmonary eosinophilia; however, the cases observed by Löffler were transient and due to the transpulmonary passage of helminth larvae.
---
References
Löffler W. Zur Differential-Diagnose der Lungenifiltrierungen. I. Frühfiltrate unter besonerer Berücksichtigung der Rückbildungszeiten. Beiträge zur Klinik der Tuberkulose. 1932;79(3-4):338–367.
Löffler W. Zur Differential-Diagnose der Lungenifiltrierungen. II. Über flüchtige Succedan-Infiltrate (mit Eosinophilie). Beiträge zur Klinik der Tuberkulose. 1932;79(3-4):368–382. [Löffler syndrome]
Löffler W. Zur Differential-Diagnose der Lungeninfiltrierungen. III. Über Differential-Diagnose der Sekundärinfiltrierungen. Beiträge zur Klinik der Tuberkulose. 1932;79(5):566–576.
French WH. Eosinophilia. Guy's Hospital Gazette. 1909;23:533-537.
Koino, S. Experimental infections on human body with ascarides. Japan Med. World. 1922;2: 317-320
Löffler W. Flüchtige Lungeninfiltrate mit Eosinophilie. Klinische Wochenschrift. 1935;14(9):297–299
Loeffler, W. Die fluchtigen Lungeninfiltrate mit Eosinophile. Schweiz. med. Wchnschr. 1936; 66:1069.
Freund R, Samuelson S. Transitory infiltration of the lung with eosinophilia: Löffler's syndrome. Arch Intern Med (Chic). 1940;66(6):1215–1220.
Vogel H, Minning W. Bietrage zur klinik der lungen- Ascariasis und zur Frage der fluchtigen, eosinophilen Lungeninfiltrate. Bietr. Klin Tuberk. 1942;98:620-54.
Weingarten RJ. Tropical eosinophilia. The Lancet. 1943;241(6230):103-105.
Maier, C. Das fluchtige eosinophile Lungeninfiltrat : Zusammenfassende Ergebnisse von uber 100 Beobachtungen, Helvet. med. acta 10:95, 1943.
Löffler W, Essellier AF, Macedo ME. Zur Pathogenese und Aetiologie der flüchtigen Lungeninfiltrate mit Bluteosinophilie (Lofflersches Syndrom). Helv Med Acta. 1948 Jun;15(3):223-39. [PMID: 18879263]
Crofton JW, Livingstone JL, Oswald NC, Roberts AT. Pulmonary eosinophilia. Thorax. 1952 Mar;7(1):1-35. [PMID: 14913498]
Gutierrez Y. Diagnostic Pathology of Parasitic Infections with Clinical Correlations. 2nd ed. Oxford: Oxford University Press; 2000.
---
eponymictionary
the names behind the name
Doctor in Australia. Keen interest in internal medicine, medical education, and medical history.
BA MA (Oxon) MBChB (Edin) FACEM FFSEM. Associate Professor Curtin Medical School, Curtin University. Emergency physician, Sir Charles Gairdner Hospital.  Passion for rugby; medical history; medical education; and asynchronous learning #FOAMed evangelist. Co-founder and CTO of Life in the Fast lane | Eponyms | Books | Twitter |