Relax, we didn't really delete the discussion of The ProCESS Trial from RAGE Session Four… We just chopped it out to be published separately as a miniRAGE.
This is what we're talking about:
ProCESS Investigators, Yealy DM, Kellum JA, Huang DT, Barnato AE, Weissfeld LA, Pike F, Terndrup T, Wang HE, Hou PC, LoVecchio F, Filbin MR, Shapiro NI, Angus DC. A randomized trial of protocol-based care for early septic shock. N Engl J Med. 2014 May 1;370(18):1683-93. doi: 10.1056/NEJMoa1401602. 2014 Mar 18. PMID: 24635773.[Supplement]
So, following on from Haney's comments on the Surviving Sepsis Campaign response to ProCESS, here is the RAGE team talking about what it all means for the management of septic shock.
Learn more here:
---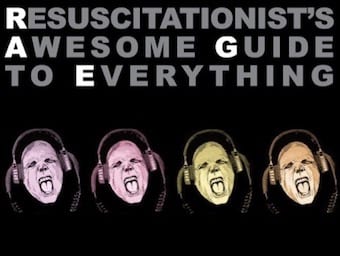 Thanks again for listening to the RAGE!
---