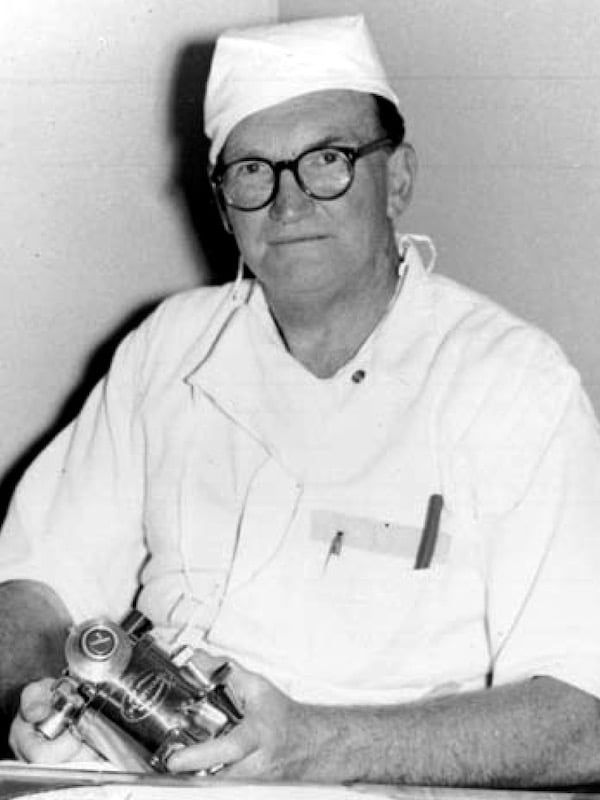 Norman Reynolds James (1908-1987) was an Australian anaesthetist, inventor and educator
James was a highly accomplished clinician whose talents are recognised across three continents – the United Kingdom, the United States and Australia. In the United Kingdom, he worked in emergency services during WWII treating war causalities and receiving wide spread recognition in regional anaesthesia thus earning himself the title 'England's foremost exponent of regional anaesthesia.'
In Australia, James became the first director of anaesthesia at The Royal Melbourne Hospital where he introduced Australia's first anaesthetic ventilator – the Harrington-James ventilator and later the James Autohand Ventilator. James is also credited with establishing the first recovery room and central oxygen delivery system in the Royal Melbourne hospital.
A strong advocate for proper anaesthetic training and qualifications particularly for rurally practicing clinicians, James made serious efforts to reform anaesthetic practice in Australia despite being met with derision from the medical community.
In the United States, he worked as an educator at Parkland Memorial Hospital and was well known for his use of a dog model for teaching cardiopulmonary resuscitation, IV infusions, tracheostomy, bronchoscopy, laryngoscopy and intubation. He finally retired to is hobby farm in 1975; a charismatic man, James made many significant contributions to anaesthesia across his academic career, a proud legacy that spans three countries.
---
Biography
Born on July 12, 1908 in Melbourne Australia
1929 – Graduates from Melbourne University; encouraged to travel abroad for further education
1936 – Graduates from Medicine at the Royal College of Medicine in Edinburg; undertakes post-graduate training in anaesthesia at North Staffordshire Royal Infirmary, Stoke-on-Trent and Royal Hospital, Wolverhampton.
1939-1941 Assistant anaesthetist at the Nuffield Department of Anaesthetics until 1941 under the tutelage of Anaesthesia Greats Sir Robert Reynolds Macintosh (1897-1989) and Edgar Pask (1912-1966)
During the events of WWII in the 1940's, James' reputation as an anaesthetist grew in particular his work with regional anaesthesia on war wounds. He was honoured with the title of 'England's foremost exponent of regional anaesthesia' by physician–anesthetist colleague Norman B. Kornfield. In 1943 he published a book on 'Regional analgesia for intra-abdominal surgery with special reference to amethocaine hydrochloride'
1947 – Returns to Australia to assist his father with legal complications following the sale of his business (rendering plant); begins a freelance practice at The Royal Melbourne Hospital
1948-1964 Head of department Department of Anaesthetics, Royal Melbourne Hospital
In 1950, James developed an interest in equipment for ambulances and the resuscitation of drowning victims. He designed a simple portable resuscitation device for local use after being approached by Jack Conabere, secretary of the Elwood Life Saving Club (ELSC). The resulting Royal Melbourne (R.M.) resuscitator, was a simpler, manual version of those available overseas.
The resuscitator was gas driven with a plunger, marked "Press", and a safety valve and the unit attached directly to the facemask. With the patient positioned facedown and the airway cleared of debris, the mask was placed firmly over the face. The plunger allowed gas to flow and lung inflation; releasing the plunger allowed expiration.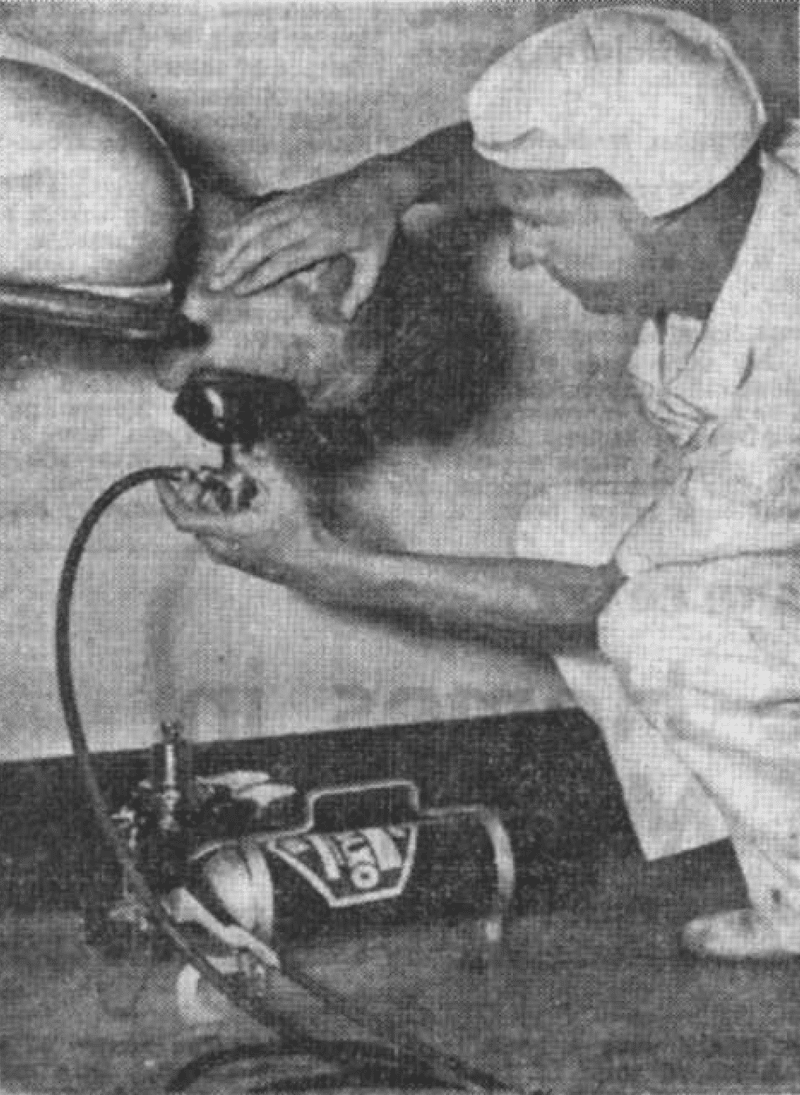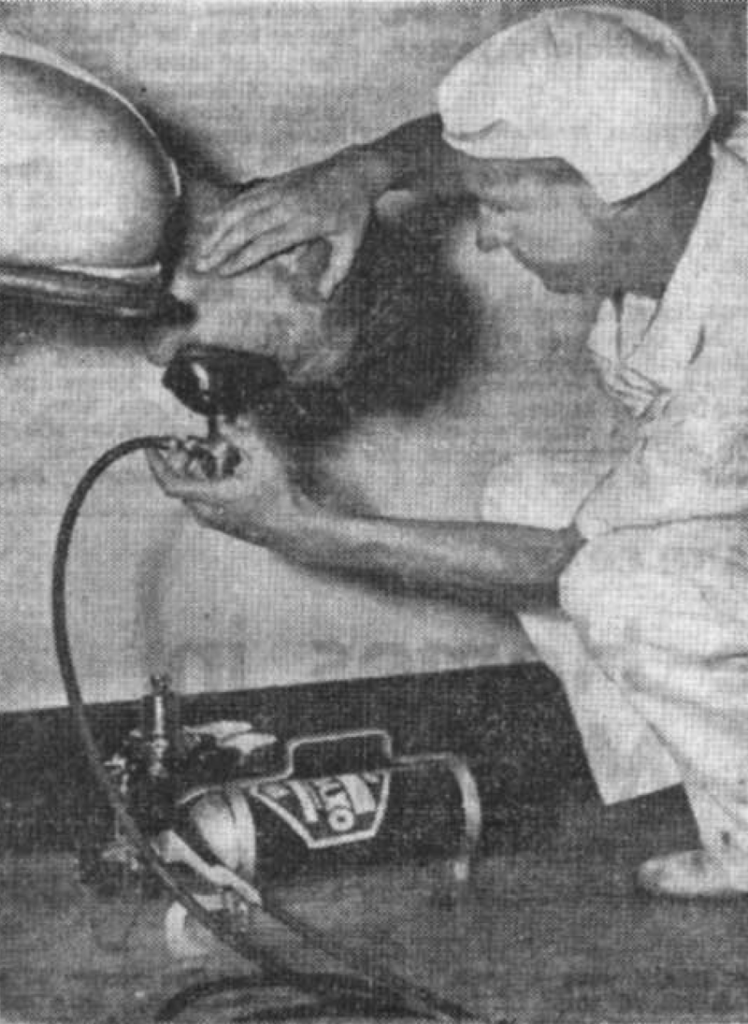 1953 – Opened the first 'recovery room' in Australia.
1957 – Designed and supervised the installation of a central oxygen supply system in the hospital which allowed oxygen to be 'piped' from a wall inlet for the first time.
1958 – Developed an automatic injector device for the administration of anaesthetic agents intra-operatively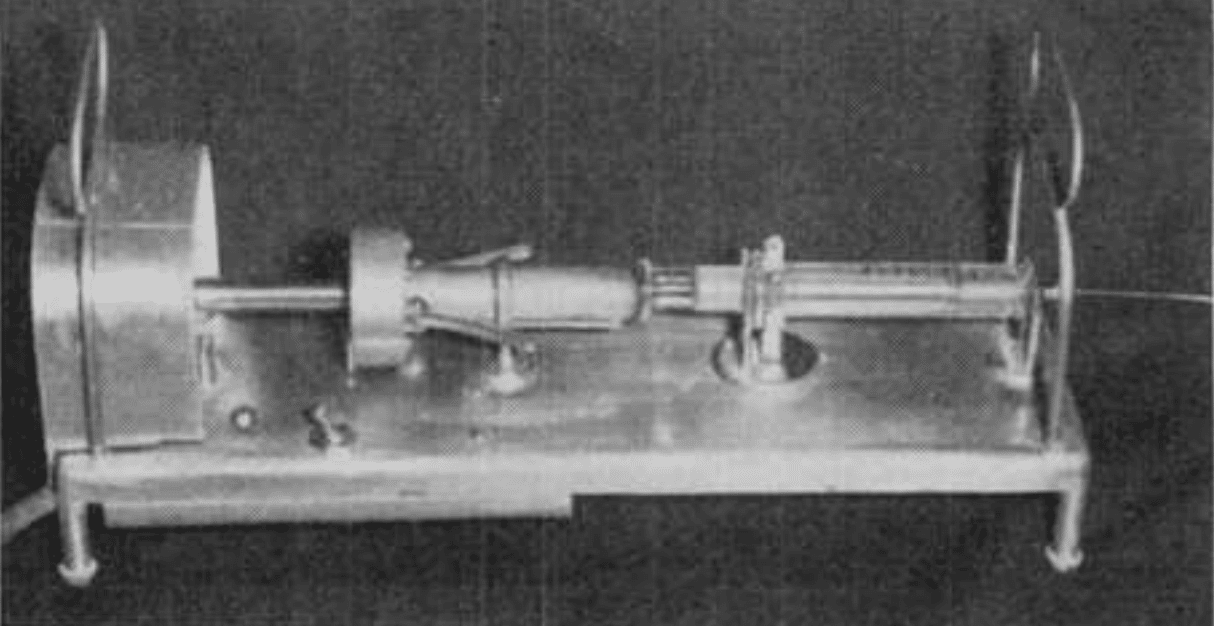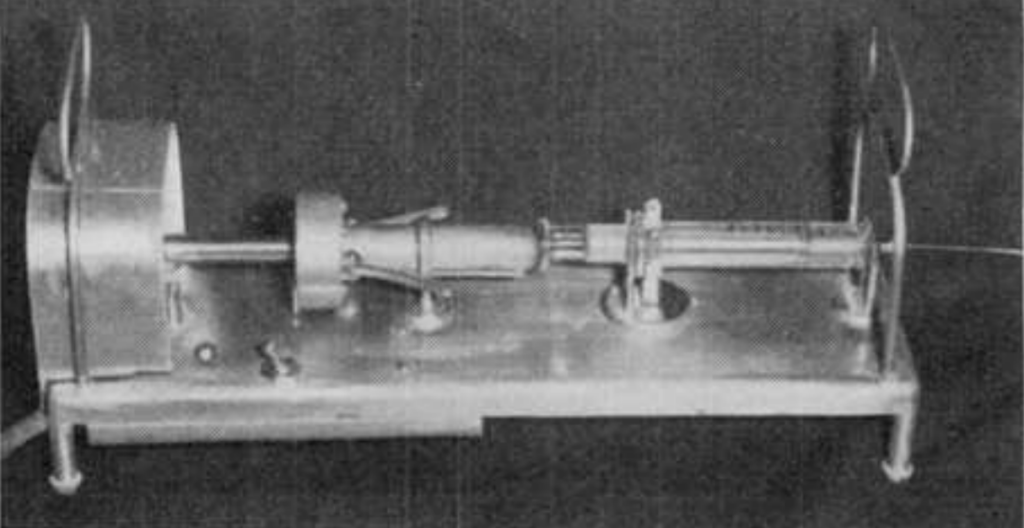 1964 – James left Australia for Texas to become Associate Professor of Anesthesiology at Parklands Hospital in Dallas; works in obstetric anaesthesia where he introduces nitrous oxide analgesia for labour pain using a DM apparatus (dental-midwifery) which later gained the name 'ARS machine' (Anesthesia Resident Substitute). Introduces the James Autohand Ventilator that allows for the delivery of mechanically assisted ventilation as well as controlled ventilation.
1964-1975 Spends the years until his retirement teaching junior staff about anaesthesia, resuscitation and ventilation.
1975 – Retires to "Four Flags Stock Farm", his hobby farm in Pilot Point, Texas
Died on May 11, 1987 in Texas having endured ten years of worsening dementia
---
Medical Eponyms
The James ventilator (1950)
The Harrington-James ventilator was the first Australian anaesthetic ventilator devised by James with assistance from RHM Harrington of the Pacific Electric Company Pty Ltd.
The ventilator consisted of a sparkless induction motor which, through a lever mechanism, compressed a concertina bag ~20 times a minute. Whilst the respiratory rate was fixed, the tidal volume could be adjusted via a small hand wheel. This allowed for rapid changes in stroke volume to be made without stopping the motor.
A water manometer was used to titrate pressures and was generally set between 100 to 130mm. The manometer also incorporated a spring-loaded spill-valve which doubled as a safety valve to allow the escape of surplus gas prior to peak pressure being reached. The escaping gas would bubble audibly and visibly through the water which indicated to the operator for possible airway obstruction or forcible retraction of the lung during surgery; or as James described would '…quickly detect such abuses as the surgeon's assistant using the patient's chest as an arm rest.'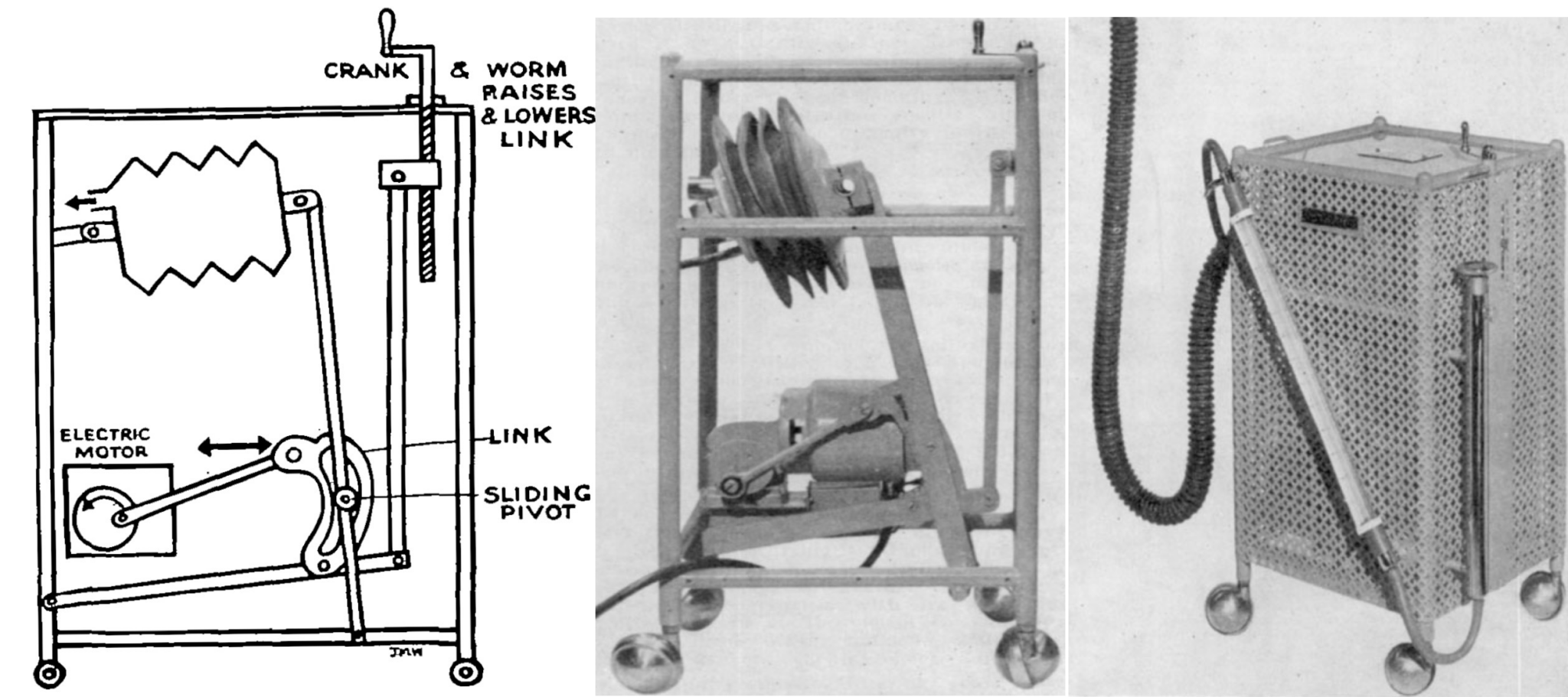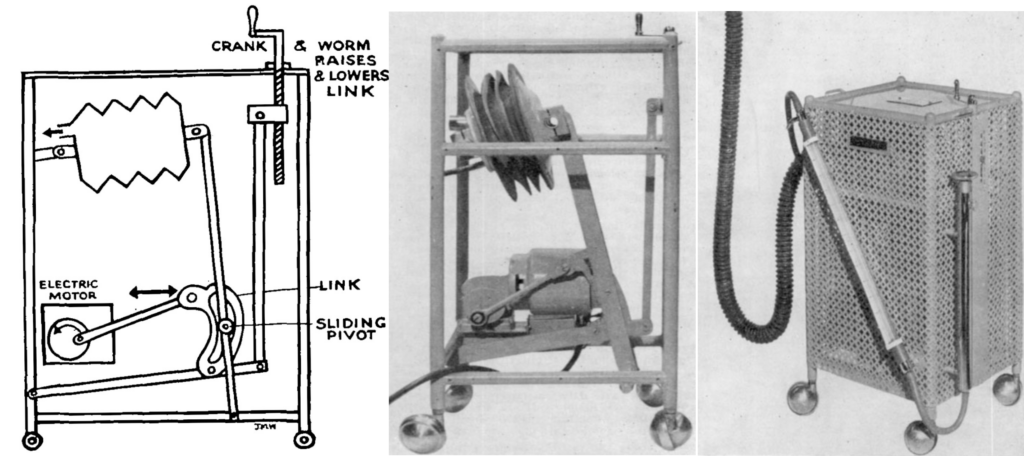 ---
James Autohand ventilator (1964)
The growing use of neuromuscular blockading agents in anaesthetic practice, saw James design and develop an apparatus for mechanical assisted and controlled ventilation – the Autohand Ventilator, a literal 'pair of mechanical hands which rhythmically squeeze the breathing bag and thus relieve the anaesthetist's hand during controlled respiration.'
The highly portable 8kg ventilator consisted of an ignition-proof, electrically driven, motor gearbox. The distance of the passive "fixed hand" from the "moving hand" could be altered to change the tidal volume.
When it is desired that the machine should take over, the breathing bag is simply dropped between the mechanical hands; this frees the anaesthetist to set up and control intravenous infusions, record blood pressure and operate other monitoring devices.

James 1964
It had no switches as James believed that –
A properly designed mechanical ventilator should have no controls, not even an off-on switch. If it is plugged into the wall outlet it should be on, pull the plug and it is off.

James 1964
The Autohand ventilator became a popular tool in Australia and Texas; it gradually fell out of favour when routine blood gas became available and found the ventilator to produce a marked alkalosis.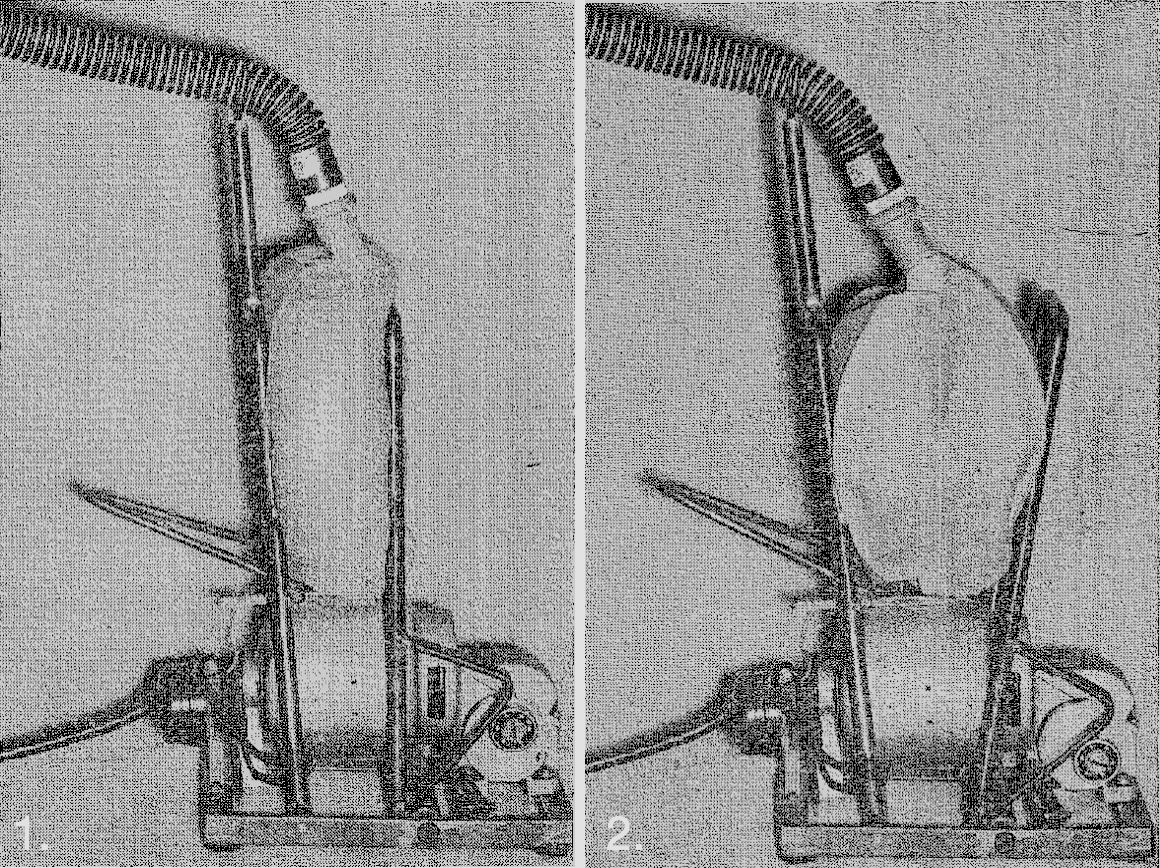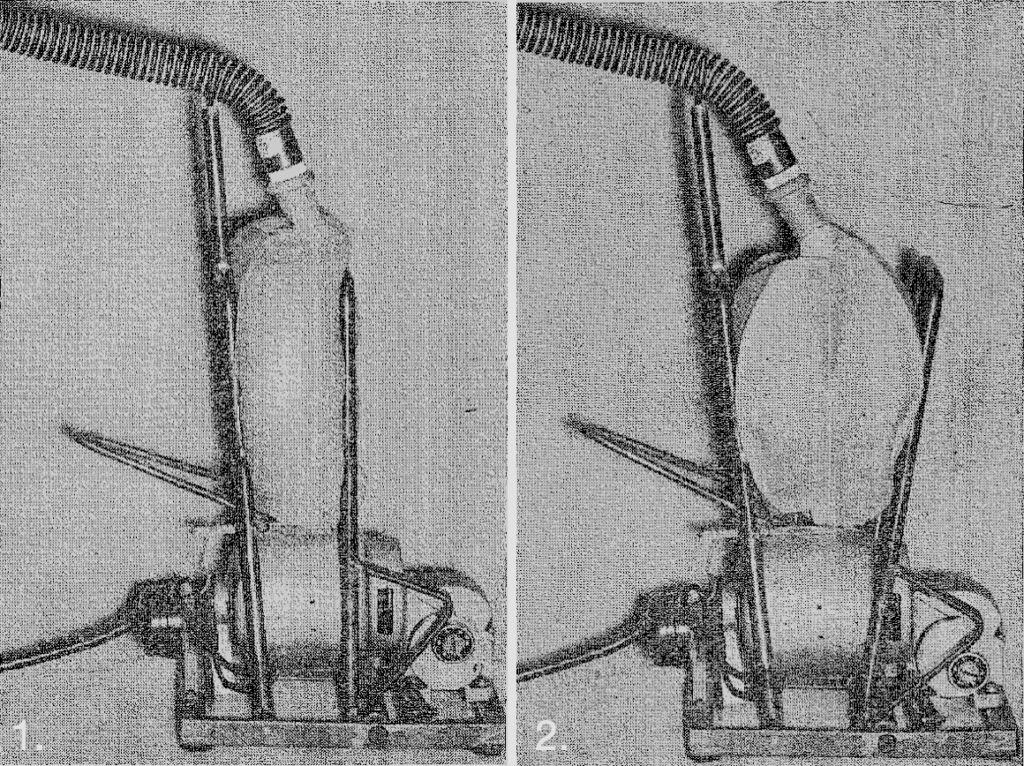 ---
Major Publications
---
Controversies
James was a strong advocate for improving anaesthesia training among general practitioners in both rural and metropolitan settings and became the incidental nationwide champion following remarks about an article listed in the Melbourne Truth Newspaper. The report blamed 'the moist atmosphere of Hobart' as a contributing cause to the death of a child under an anaesthetic. When asked to comment about the case during a public meeting, James responded:
'the main factor which would reduce chances of a patient's dying under anaesthesia during an operation was the skill of the anaesthetist. Many doctors now giving anaesthetics are simply not trained to handle them competently'
This was a source of great debate among the medical community, some condemning James as irresponsible for doing 'harm' to general practitioners and others in support of his statements, although less vocal in their support as their opposing counterparts. Whilst James chose not to weigh any further into the debate, he did continue in his efforts to improve the training and qualifications of anaesthetists in Australia and later in the US.
---
References
Biography
Eponymous terms
---
[cite]
---
BA MA (Oxon) MBChB (Edin) FACEM FFSEM. Associate Professor Curtin Medical School, Curtin University. Emergency physician, Sir Charles Gairdner Hospital.  Passion for rugby; medical history; medical education; and asynchronous learning #FOAMed evangelist. Co-founder and CTO of Life in the Fast lane | Eponyms | Books | Twitter |