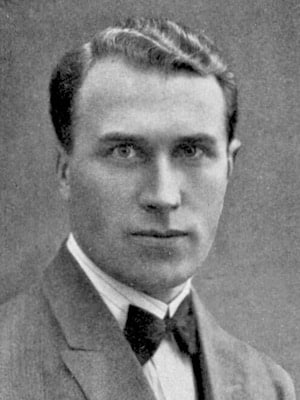 Frans Johan Paul Frenckner (1896-1967) was a Swedish otolaryngologist
Frenckner worked for most of his career in Stockholm and became Director of the Department of Otolaryngology at Sodersjukhuset. His main focuses were peroral endoscopy and later aural surgery.
Inventor of the Spiropulsator, later called the Frenckner-Crafoord-Anderson Spiropulsator, considered to be one of the first hybrid anaesthetic ventilators that allowed simultaneous delivery of cyclopropane during its use. This method of artificial ventilation was largely limited to Sweden as controlled artificial ventilation had not yet reached popularity elsewhere.
Frenckner is also credited for his design and development of the double lumen bronchoscope which with his colleagues Drs Jacobaeus and Bjorkman allowed for differential lung function (or bronchospirometry as he called it) to be measured for the first time in humans. Through his work, he became known as Sweden's first specialist in bronchoscopy
Frenckner was a celebrated academic and occupied the role of Editor-in-Chief of Acta Oto-larynoloica for much of his career; indeed, he devoted his retirement years to research striving to maintain the high quality of the journal from which he had inherited from its founder and teacher Dr Holmgren
---
Biography
---
Medical Eponyms
Frenckner-Crafoord-Anderson Spiropulsator
Frenckner's observations of artificial ventilation conducted by predecessors Giertz and Sauerbruch lead him to design and develop a respirator of his own
The fact that negative pressure breathing is not being used does not depend on the physiological inferiority of the method but is due to the fact that a negative pressure cannot be obtained without very great technical difficulty and procedures very impractical for operative work, while a positive pressure is relatively easy to arrange…

…the rhythmic introduction of air into the trachea under favorable circumstances would be the most ideal type of positive pressure breathing, I have worked out an apparatus which I believe fulfills most of these requirements.

Acta Oto-Laryngologica. 1934
The Frenckner Spiropulsator was a pneumatically driven positive pressure ventilator. Compressed gas which was either air, oxygen or anaesthetic gases passed through two pressure reducing valves to produce a pressure of 50cm water column. Ventilation occurred on the bag-in-bottle principle – a rubber bag was compressed in a glass bottle; air flow was delivered via a tube into the lungs until a set pressure was reached resulting in closure of the inlet valve and opening of the outlet valve allowing expiration to occur. A minimum expiratory pressure could also be set in cases of an open thorax to prevent lung collapse. Pressure was monitored by means of a manometer. Respiration rate could be adjusted between 1 and 60 breaths/minute.
The sound which the apparatus makes when the gas is turned on is very similar to the breathing sounds made by a human being who is fast asleep. By this means and from the movements of the manometer it is easy to set… the correct inspiration and expiration length which scarcely need to be altered from one person to the other. With 15-16 moderately deep breaths per minute one knows that the ventilation is adequate…

Acta Oto-Laryngologica. 1934
Frenckners' original Spiropulsator was later modified by Swedish surgeon Dr Clarence Crafoord and engineer Emil Anderson of the Swedish firm AGA who combined the Spiropulsator with an AGA anaesthetic apparatus. This allowed, for the first time, cyclopropane to be used as an anaesthetic simultaneously with the ventilator.
The rubber bulb of the narcotic apparatus is enclosed in a closed glass vessel. The inner part of the vessel is connected with the spiropulsator… When the spiropulsator causes an increase in pressure in the glass vessel, the rubber bag is squeezed and its contents are blown out into the patient's lungs

Acta Oto-Laryngologica. 1940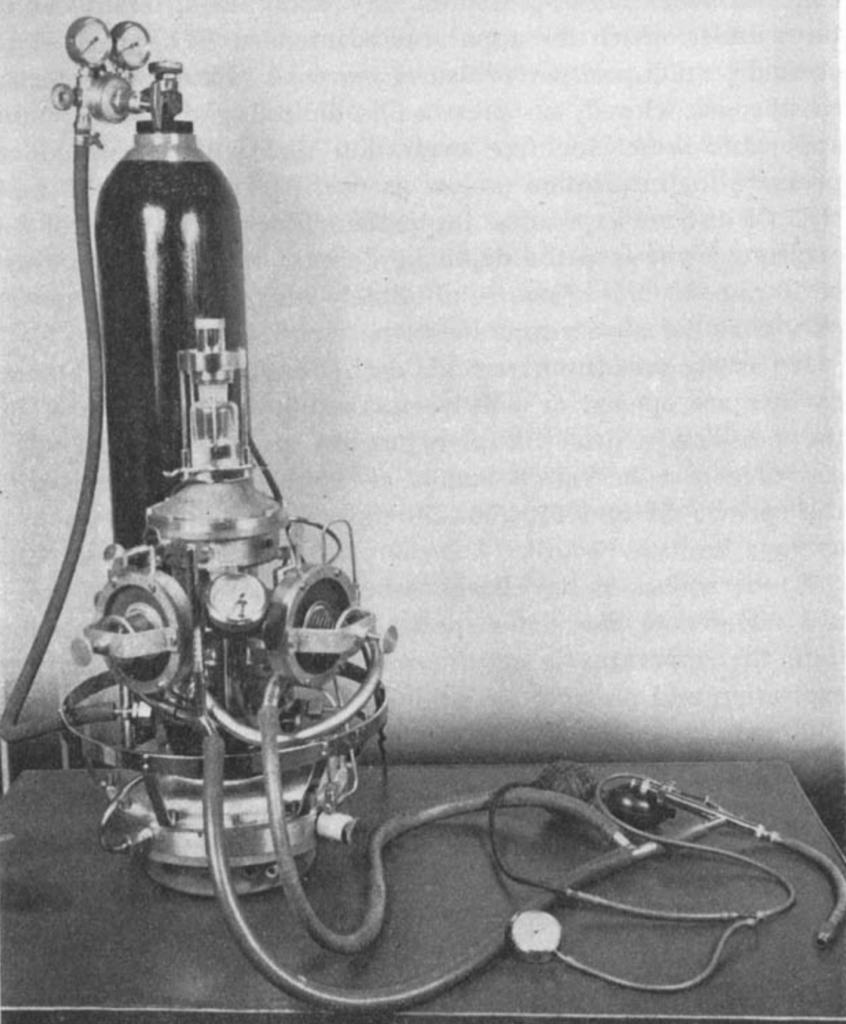 Crafoord used the spiropulsator for several hundred patients undergoing major thoracic surgery. The Frenckner-Crafoord-Anderson respirator can be considered the first hybrid anaesthesia-ventilator apparatus of its time. Indeed, it later became the inspiration for the Moerch respirator in the 1950's
---
Key Medical Contributions
Double-Lumen Bronchoscope
The separate evaluation of lung function was an area of interest in the 1930's and 1940's with experiments largely limited to animals. Frenckner in collaboration with Jacobaeus and Bjorkman carried out the first successful measurements of differential pulmonary function in humans by means of their invention – the double lumen bronchoscope.
The double bronchoscope consists of two tubes for respiratory air, two tubes for illumination and one tube for inflating the rubber caps…

The bronchoscope is passed until the distal obturator lies in the left main bronchus, between the carina and the origin of the bronchus of the upper lobe… rubber caps are inflated…. Both outlet tubes of the double bronchoscope are connected with tubes which lead to two separate spirometer systems… (And from whence analysis of lung function could be made)

Frenckner P, Björkman S. 1937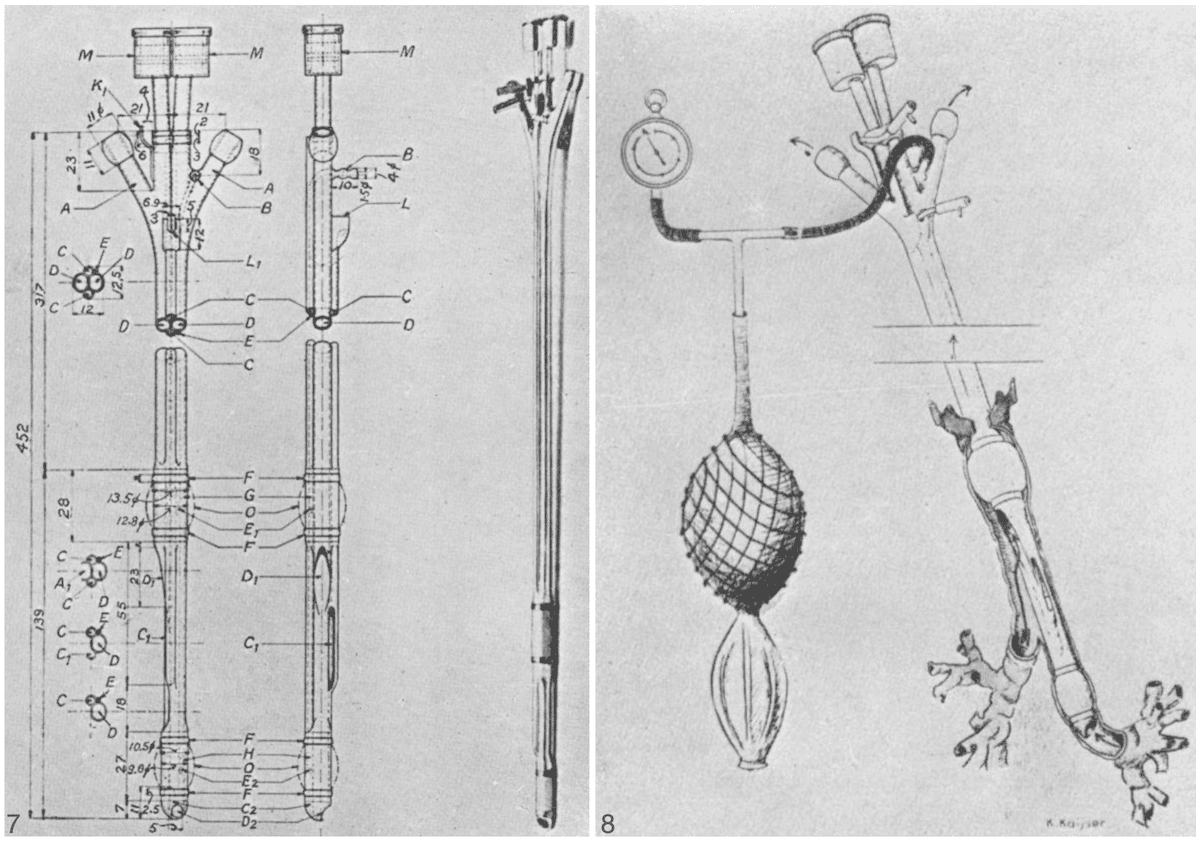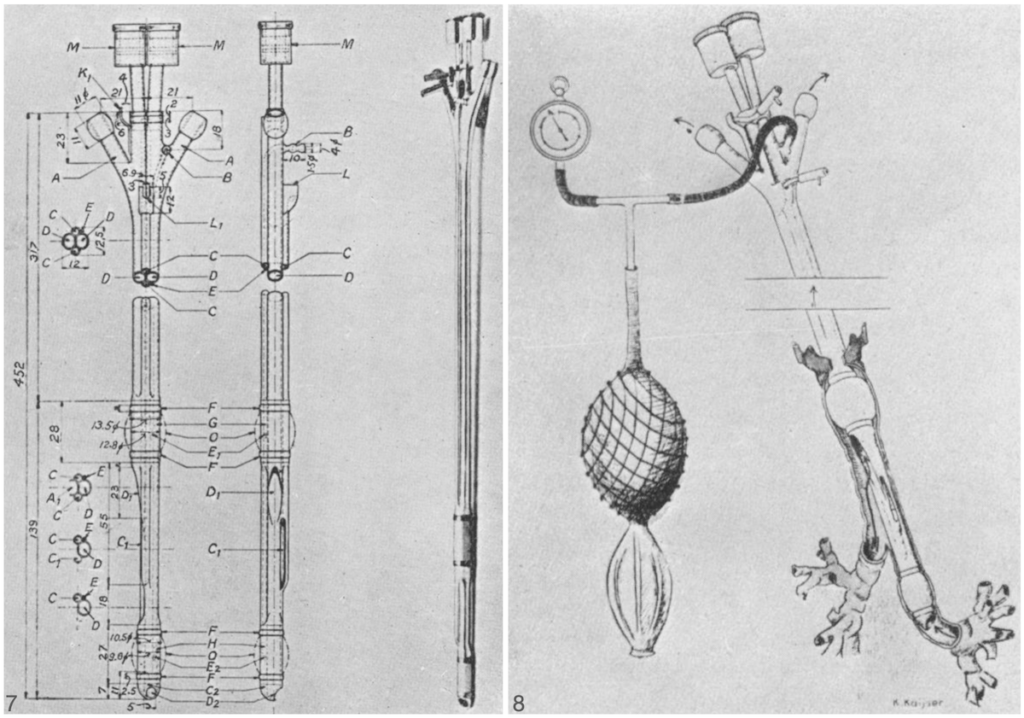 ---
Major Publications
---
References
Biography
Eponymous terms
---
[cite]
---
BA MA (Oxon) MBChB (Edin) FACEM FFSEM. Associate Professor Curtin Medical School, Curtin University. Emergency physician, Sir Charles Gairdner Hospital.  Passion for rugby; medical history; medical education; and asynchronous learning #FOAMed evangelist. Co-founder and CTO of Life in the Fast lane | Eponyms | Books | Twitter |