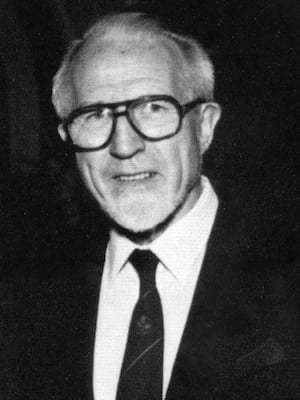 Philip Raikes Bromage (1920-2013) was a British anaesthetist.
Best known for popularizing epidural analgesia/anaesthesia and his textbook Epidural Analgesia
Bromage published 118 articles and letters on topics ranging from local anesthetics (bupivacaine, lidocaine, etidocaine, carbonation); the physiology and pharmacology of epidural anesthesia; pain management; and the neurological complications associated with neuraxial anesthesia.
---
Biography
Born in 1920 in Richmond, London
Educated in Benedictine College of Ampleforth in Yorkshire
1938-1943 – Medical student at St Thomas's hospital, London
1943 – House officer in ENT and Orthopaedics under George Perkins and Rowley Bristoe
1944 – Joined the Merchant Navy – became the ships surgeon on a cargo steamer (HMS Salween) converted to troop carrying on the Burma Campaign
1945 – Bromage took an ex service medical post at the Municipal Hospital at Southend-on-Sea, Essex under Dr Alfred Lee.
1946-1947– Registrarship at West Middlex Hospital, Isleworth – Bromage incorporated Regional anaesthesia techniques in patients with thoracic and upper abdominal surgery. to assist the patients early ambulation and to extend the post operative pain free physical therapy period. Bromage developed the scoring system to guide safe early ambulation of post operative patients.
1948-1955 – Consultantship at Chichester, West Sussex. During this time Bromage published the first edition of Epidural Anaesthesia
1956 – 1970 – Bromage emigrated to Montreal, Canada and joined the McGill Faculty as an Associate Professor under Dr. Harold Griffith
1970-1977– Chairman of the McGill department of Anaesthesia at the Royal Victoria Hospital
1978 – Moved to Duke University, North Carolina and Published the second edition of Epidural Anaesthesia
1981 – Chairman of the department of clinical anaesthesia in Denver, Colorado
1985-1987 – Worked on the exchange program as Professor at King Khaled University in Riyadh, Saudi Arabia
1988-1990 – Scientist-in-Residence at The Medical Center of Delaware and Professor at Thomas Jefferson University Medical School
1991 – Retired from clinical practice
Died June 7, 2013 in Williston, Vermont, USA
---
Medical Eponyms
Bromage Motor Blockade Score (1965)
The Bromage score is an assessment of the intensity of motor blockade originally described as below with sensory blockade to S5.
Tests for motor paralysis were made in patients with segmental analgesia above the 9th thoracic dermatome, and degrees of motor blockade were classified simply in terms of ability to move the feet and legs as in Fig. 3. The categories of blockade, Complete, Almost Complete, Partial and Nil were given arbitrary scores of 100, 66, 33 and 0 per cent respectively, so that the average results from each test solution could be expressed as a percentage of the maximum possible score of 100.

Bromage 1965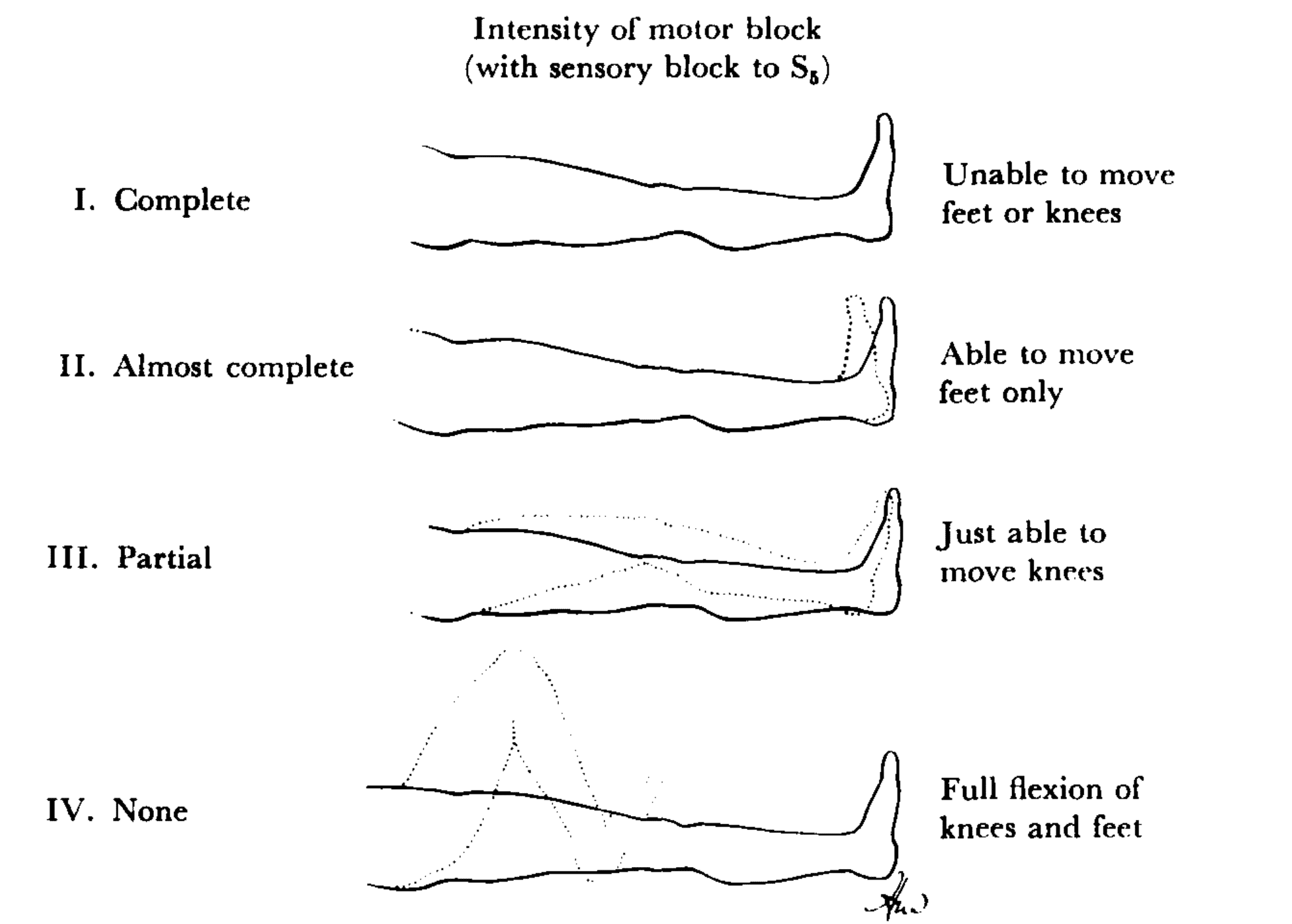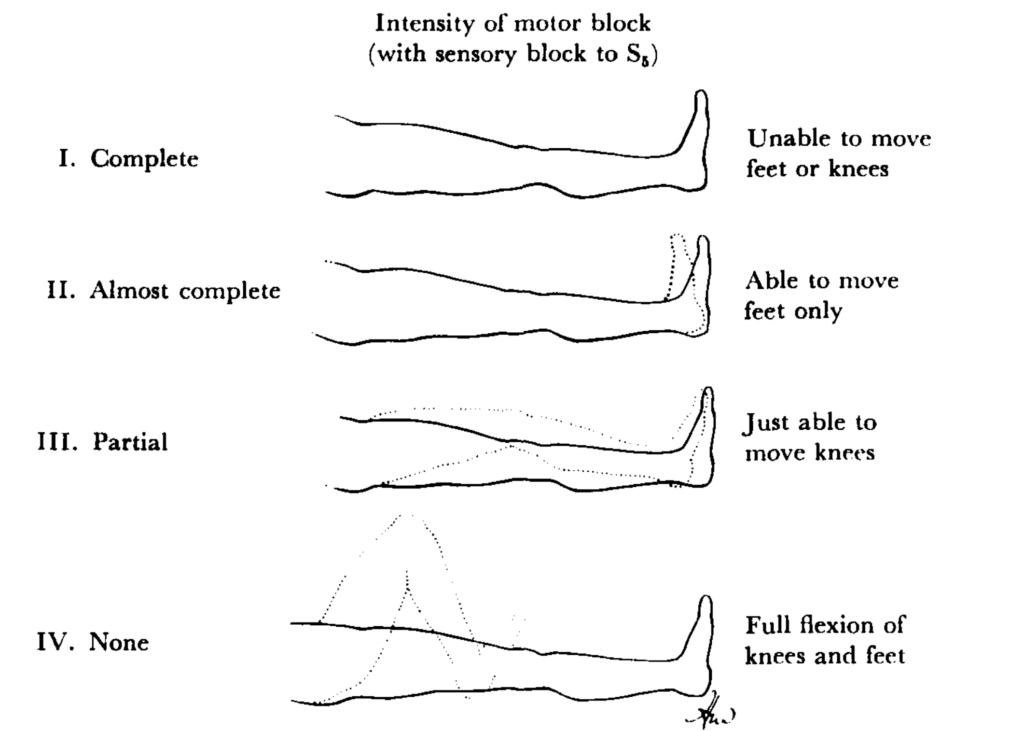 Several modifications of the Bromage scale have been described, including the use of more gradations of motor block. For example, Breen et al. used a six-point scale to assess motor block. The value of this modification is in the differentiation of patients in the Bromage score IV category. 
Modified Bromage score (Breen et al)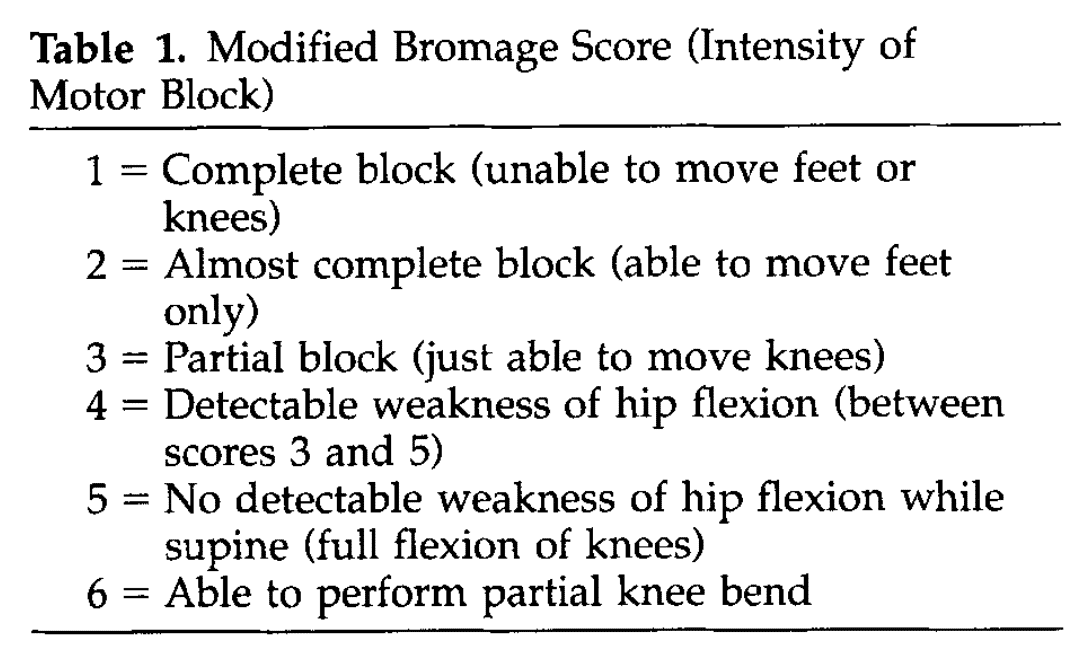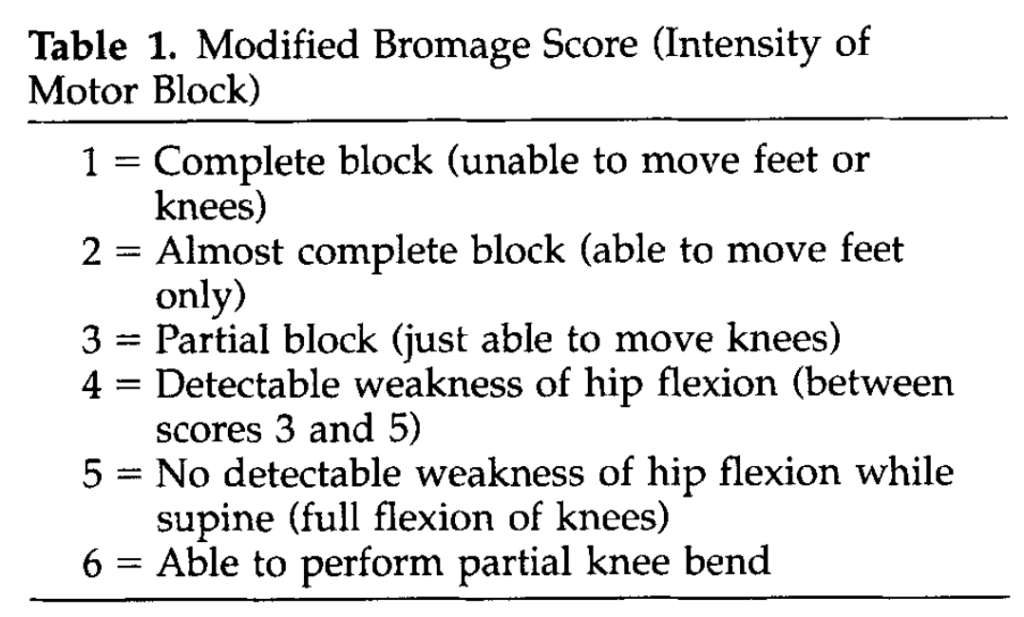 ---
Major Publications
---
References
Biography
Eponymous terms
---
eponym
the person behind the name
Resident Medical Officer currently working in Emergency Department at Sir Charles Gairdner Hospital. Pianist and avid Golfer  | LinkedIn |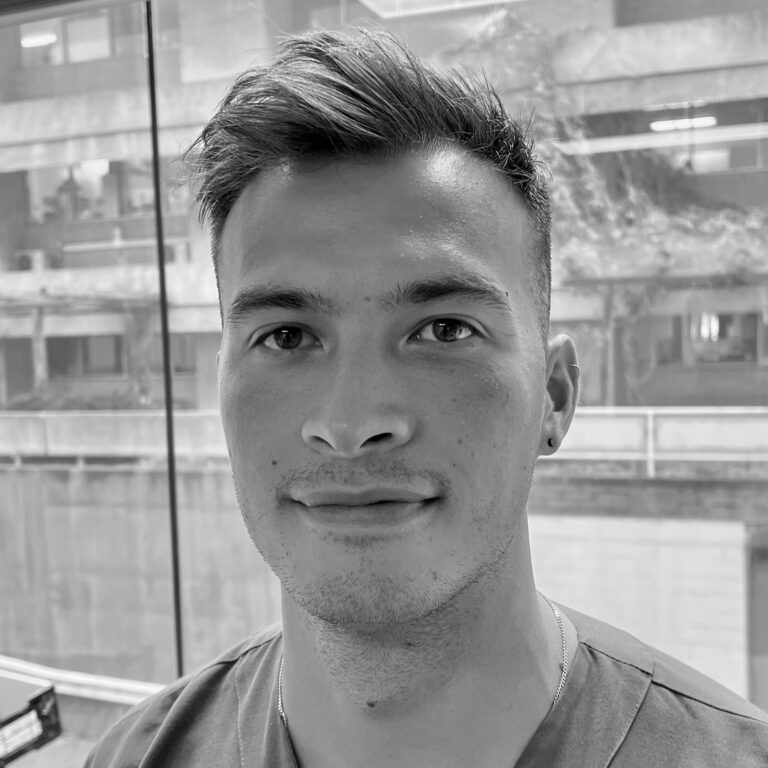 Emergency Medicine Registrar at Sir Charles Gairdner Hospital. BM BS, BMed Sci, MMed Sci from the University of Southampton.
Enjoying life in Australia currently with the view to returning to the UK to train in Anaesthetics and Intensive Care Medicine.