Robert Carl Muehrcke (1921-2003) was an American physician, and pioneer in the field of nephrology.
Muehrcke was one of the pioneers of kidney biopsy technique, and using biopsy as a diagnostic tool in renal disease. His name is eponymous with Muehrcke lines (1956), after observing white nail bands in patients with chronic hypoalbuminaemia (usually < 2 g/dL) and metabolic stress.
As Sgt Muehrcke, a WW II veteran of Guadalcanal, Bougainville and Okinawa, he edited "Orchids in the Mud" a series of personal accounts by veterans of the One Hundred Thirty-Second Infantry Regiment 1941-1945.
---
Biography
Born on August 4, 1921 in Cincinnati, Ohio
1941 – Joined the 132nd Infantry Regiment as the USA entered World War II, and served in Guadalcanal
1945 – Joined the 96th Infantry Division in Okinawa
1952 – M.D. from University of Illinois College of Medicine
Associate attending physician at Research and Educational Hospital, Cook County Hospital, and the Department of Medicine of West Suburban Hospital, Oak Park in Chicago; and teacher at University of Illinois College of Medicine.
1992 – Retired
Died on November 9, 2003
---
Medical Eponyms
Muehrcke lines (or Muehrcke's nails) are a disorder of the nail bed which can be a reflection of systemic disease. A distinct pattern of paired, white, transverse lines that usually spare the thumbnail and are most commonly in seen in association with hypoalbuminaemia (usually < 2 g/dL), metabolic stress or chemotherapy. Muehrcke's nail sign secondary to low albumin may be reversible with a rise in serum albumin levels.
Abnormal changes in the finger-nails often provide evidence of systemic diseases. This paper calls attention to a hitherto undescribed change which has been relatea to severe hypoalbuminaemia. This is the appearance of paired narrow white bands in the finger-nails of patients with serum albumin levels persistently below 2.2 g. per 100 ml. These two transverse bands run parallel to the lunule. They are not palpable, do not indent the nails, and are separated from each other and from the lunule by areas of normal pink nail. The distal white band may be slightly wider than the proximal band.

Muehrcke 1956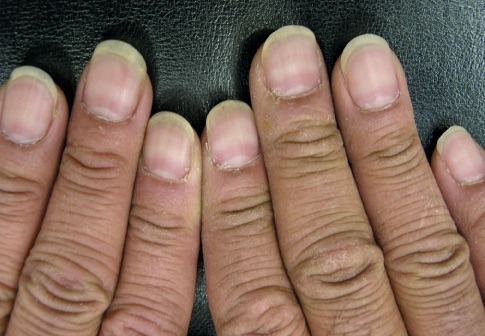 ---
Major Publications
Muehrcke RC. Regulators of the eosinophil level in the peripheral blood of man in health and disease. MD Thesis. 1952
Muehrcke RC, Kark RM, Pirani CL, Pollak VE, Steck IE. Histological and clinical evolution of lupus nephritis. Ann Rheum Dis. 1955; 14(4): 371-7.
Muehrcke RC, Kark RM, Pirani CL. Technique of percutaneous renal biopsy in the prone position. J Urol. 1955; 74(3): 267-77
Muehrcke RC, Kark RM, Pirani CL. Biopsy of the kidney in the diagnosis and management of renal disease. N Engl J Med. 1955; 253(13): 537-46.
Muehrcke RC. The finger-nails in chronic hypoalbuminaemia; a new physical sign. Br Med J. 1956;1(4979):1327-8. [Muehrcke lines]
Muehrcke RC, Kark RM. Lupus Nephritis. 1957
Kark RM, Pirani CL, Pollak VE, Muehrcke RC, Blainey JD. The nephrotic syndrome in adults: a common disorder with many causes. Ann Intern Med. 1958; 49(4): 751-4.
Muehrcke, Robert C. Orchids in the mud: World War II in the Pacific– pain, boredom, adventure: Guadalcanal, New Caledonia, Fiji, Bougainville, Philippines, Japan: personal accounts, 1941-1945. 1985. Oak Brook III
---
References
Biography
Eponymous terms
---
---
eponym
the person behind the name
Doctor in Australia. Keen interest in internal medicine, medical education, and medical history.
Associate Professor Curtin Medical School, Curtin University. Emergency physician MA (Oxon) MBChB (Edin) FACEM FFSEM Sir Charles Gairdner Hospital.  Passion for rugby; medical history; medical education; and asynchronous learning #FOAMed evangelist. Co-founder and CTO of Life in the Fast lane | Eponyms | Books | Twitter |