Last week we set the challenge was to correctly identify:
the imaging modality,
the structures shown, and
the underlying diagnosis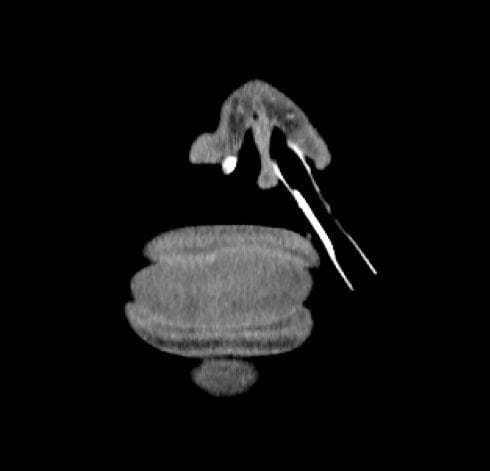 This was the first correct answer:

CT face Coronal section through lips tongue and nose, resembling a hamburger with a cocktail umbrella stuck in it. The lips and tongue look oedematous, dare I say it angioedema boys, and that's a nasal ETTdiagnosis — angioedema requiring nasal intubation???

Oh, and the other side has an NGT?
As an aside, you may be wondering: why CT a patient with angioedema?
Following awake fiberoptic nasal intubation in ED she was admitted to ICU. Oral intubation with a laryngoscope would have been impossible as her tongue was so swollen nothing could be passed orally. She remained intubated for 3 weeks until the swelling settled. During this time she started spiking temperatures and concerns were raised that there could be an infective component, however no collections were seen on CT. The cause of her angioedema was the good ole ACE inhibitor she had been taking for some time for hypertension. Her fevers were actually due to a ventilator associated pneumonia (she also had trouble handling her secretions and may have aspirated prior, or during, intubation).
The significant findings on CT were:
extensive opacification of the paranasal sinuses and the ethmoids.
Endotracheal tube and a nasogastric tube in situ.
Complete loss of the airway from the post-nasal nasal space caudally to the level of the thyroid. Diffuse oedema in the soft tissues which envelop the two tubes.
Here are some more images demonstrating the findings — note the complete lack of air around the ETT above the thyroid:
And finally if you're not sure what a patient with severe angioedema looks like, here's a pic from GMEP: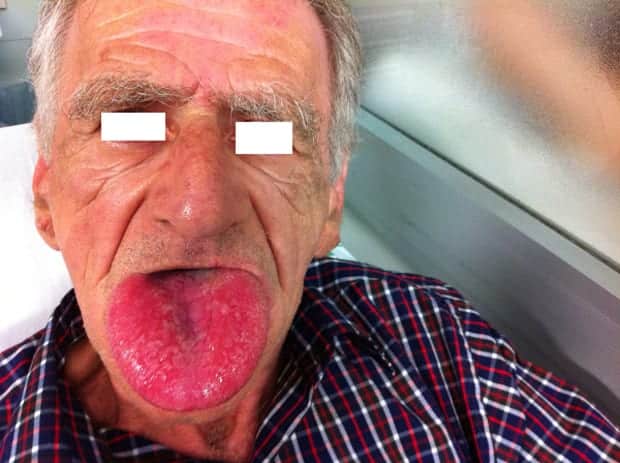 References and Links