That optic disc doesn't look right…2
aka Ophthalmology Befuddler 009b [Patient 1] [Patient 2]

Patient 2
A elderly man is found in his home unconscious after his son was unable to contact him on the phone. As part of a neurological work up, funduscopy is performed.
Findings similar to this are seen in the left eye: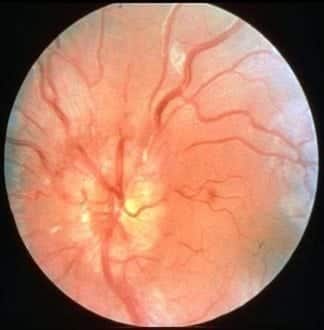 Questions
Q1. What does funduscopy show?
Answer and interpretation

Papilloedema

The observed features include:

swelling of the optic disc
blurring of the disk margins
hyperemia
loss of physiologic cupping
Flame-shaped hemorrhages and yellow exudates appear near the disk margins as edema progresses.

When observed in real time there may be obliteration of spontaneous venous pulsations (absent in 20% of normal people anyway).
---
Q2. What symptoms are usually associated with this finding?
Answer and interpretation

Papilloedema itself is usually asymptomatic.

There may be episodes of transient, often bilateral visual loss (lasting seconds), precipitated by rising from a lying or sitting position as a result of intracranial pressure changes.

Otherwise the presentation reflects the underlying cause and symptoms of raised intracranial pressure (e.g. headache and vomiting, worse in the morning) may be present.
---
Q3. Compare and contrast the expected examination findings of the conditions affecting Patient 1 and Patient 2
Answer and interpretation

Papillitis (optic neuritis):

pupilary reaction — RAPD present
visual acuity — reduced
colour vision — red desaturation
visual fields — large central scotoma
pain on eye movement — present
localisation — usually unilateral
fundoscopy — blurred disc margins

Papilloedema:

pupilary reaction — normal
visual acuity — normal (transient loss)
colour vision — normal
visual fields — large blind spot, peripheral constriction
pain on eye movement — present
localisation — usually bilateral
fundoscopy — blurred disc margins, no venous pulsation

Watch this RootAtlas video to see what spontaneous venous pulsations look like on funduscopy.
---
Q4. What are the possible underlying causes of this condition?
Answer and interpretation

Intracranial

space-occupying lesions (e.g. neoplasms, trauma, infection, and vascular causes)
benign intracranial hypertension (trauma, drugs, idiopathic, Addisons, sinus thrombosis)
central venous sinus thrombosis
meningoencephalitis

CSF

hydrocephalus – obstructive, communicating (production vs. absorption of CSF)
high CSF protein — e.g. Guillain-Barre Syndrome

Extracranial

central retinal vein occlusion (CRVO)
retro-orbital mass
hypertension (grade IV)
---
When you perform funduscopy on the man's other eye you see a similar appearance to this: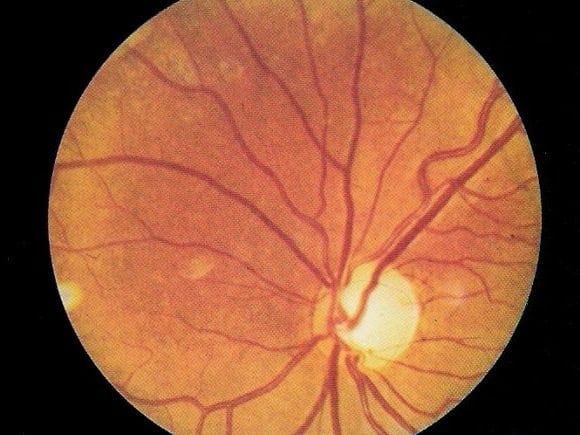 Q5. What is shown?
Answer and interpretation

Optic atrophy

Atophy is a misnomer — it is not a result of disuse!
---
Q6. What is the key feature of this condition on fundoscopy?
Answer and interpretation

A pale insipid optic disc (loss of the normal yellowish colour), with absence of normal physiological cupping.
---
Q7. What are the causes of this abnormality?
Answer and interpretation

Optic atrophy may be the end stage of:

chronic papiloedema
chronic optic neuritis
glaucoma
optic neuropathies (e.g. toxic, metabolic, ischemic and compressive)
familial, e.g. retinitis pigmentosa
---
Q8. What is pseudopapilloedema?
Answer and interpretation

Pseudopapilledema mimics papilloedema and may result from the presence of optic disc drusen or a congenitally anomalous disc.

The optic disc is not truly swollen — the characteristic findings include:

Vessels overlying the disc are not obscured
the disc is not hyperemic
surrounding nerve fiber layer is normal.
spontaneous venous pulsations are usually present.

Further investigation may still be required to rule out raised intracranial pressure.
---
---

Chris is an Intensivist and ECMO specialist at the Alfred ICU in Melbourne. He is also a Clinical Adjunct Associate Professor at Monash University. He is a co-founder of the Australia and New Zealand Clinician Educator Network (ANZCEN) and is the Lead for the ANZCEN Clinician Educator Incubator programme. He is on the Board of Directors for the Intensive Care Foundation and is a First Part Examiner for the College of Intensive Care Medicine. He is an internationally recognised Clinician Educator with a passion for helping clinicians learn and for improving the clinical performance of individuals and collectives.
After finishing his medical degree at the University of Auckland, he continued post-graduate training in New Zealand as well as Australia's Northern Territory, Perth and Melbourne. He has completed fellowship training in both intensive care medicine and emergency medicine, as well as post-graduate training in biochemistry, clinical toxicology, clinical epidemiology, and health professional education.
He is actively involved in in using translational simulation to improve patient care and the design of processes and systems at Alfred Health. He coordinates the Alfred ICU's education and simulation programmes and runs the unit's education website, INTENSIVE.  He created the 'Critically Ill Airway' course and teaches on numerous courses around the world. He is one of the founders of the FOAM movement (Free Open-Access Medical education) and is co-creator of litfl.com, the RAGE podcast, the Resuscitology course, and the SMACC conference.
His one great achievement is being the father of three amazing children.
On Twitter, he is @precordialthump.
| INTENSIVE | RAGE | Resuscitology | SMACC