Presentation
An 18 year old presents with progressive pain, swelling and erythema of his distal phalanx. Ten days earlier he had sustained a deep abrasion to the dorsum of his left ring finger whilst playing hockey on artificial grass.
The question was asked: Is this a simple paronychia?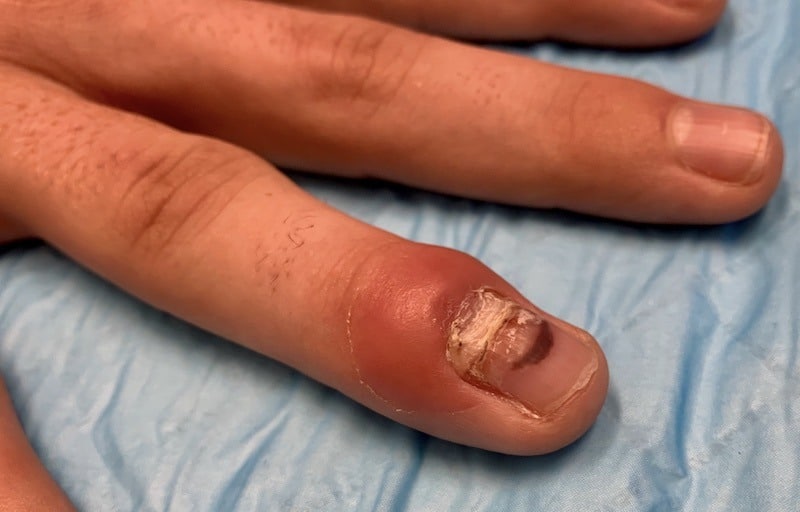 ---
Water Bath ultrasound imaging
With the patient's finger being exquisitely tender the water bath method of digit ultrasound was employed.
Method: Using a water bath can assist in obtaining good quality images in patients suffering painful digits. The finger and the imaging end of the ultrasound probe are submerged. A centimetre or two of water is allowed between the finger and probe enabling complete and accurate imaging without touching the finger.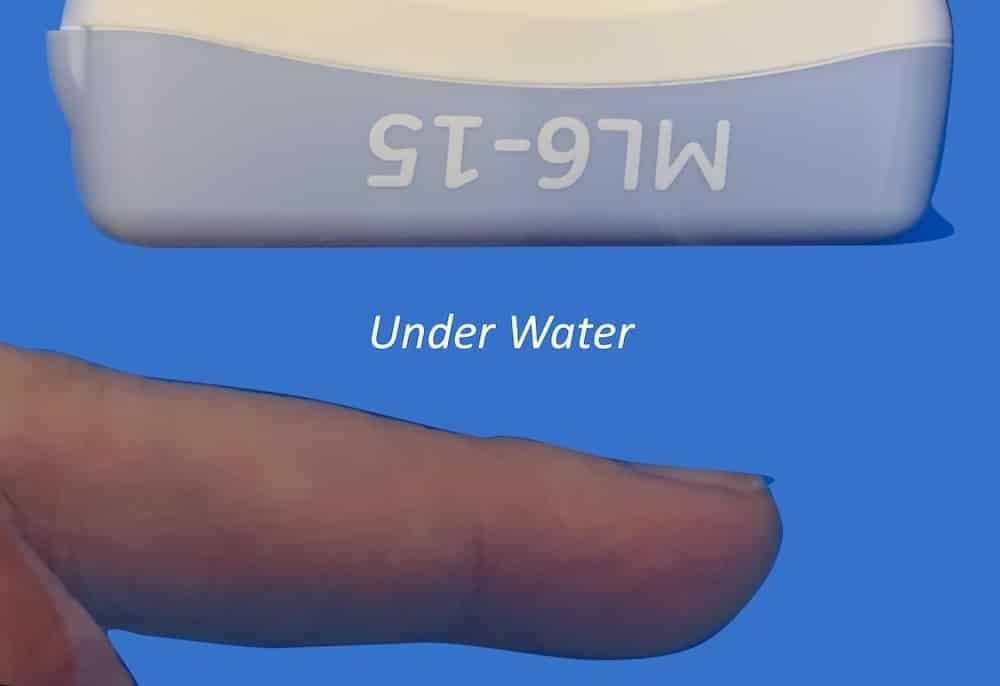 ---
Images and interpretation
Clinical presentation and ultrasound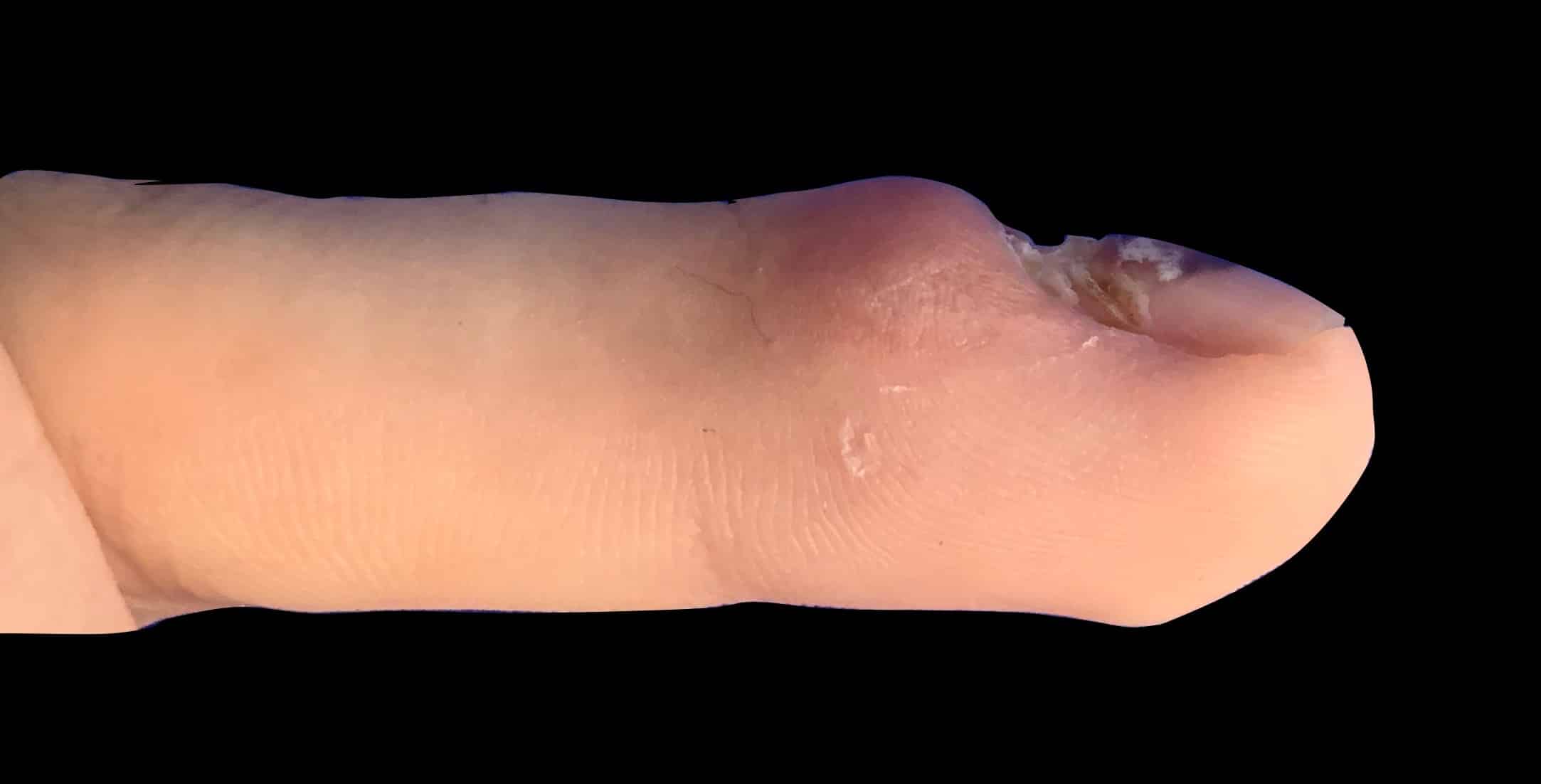 Lateral X-ray and ultrasound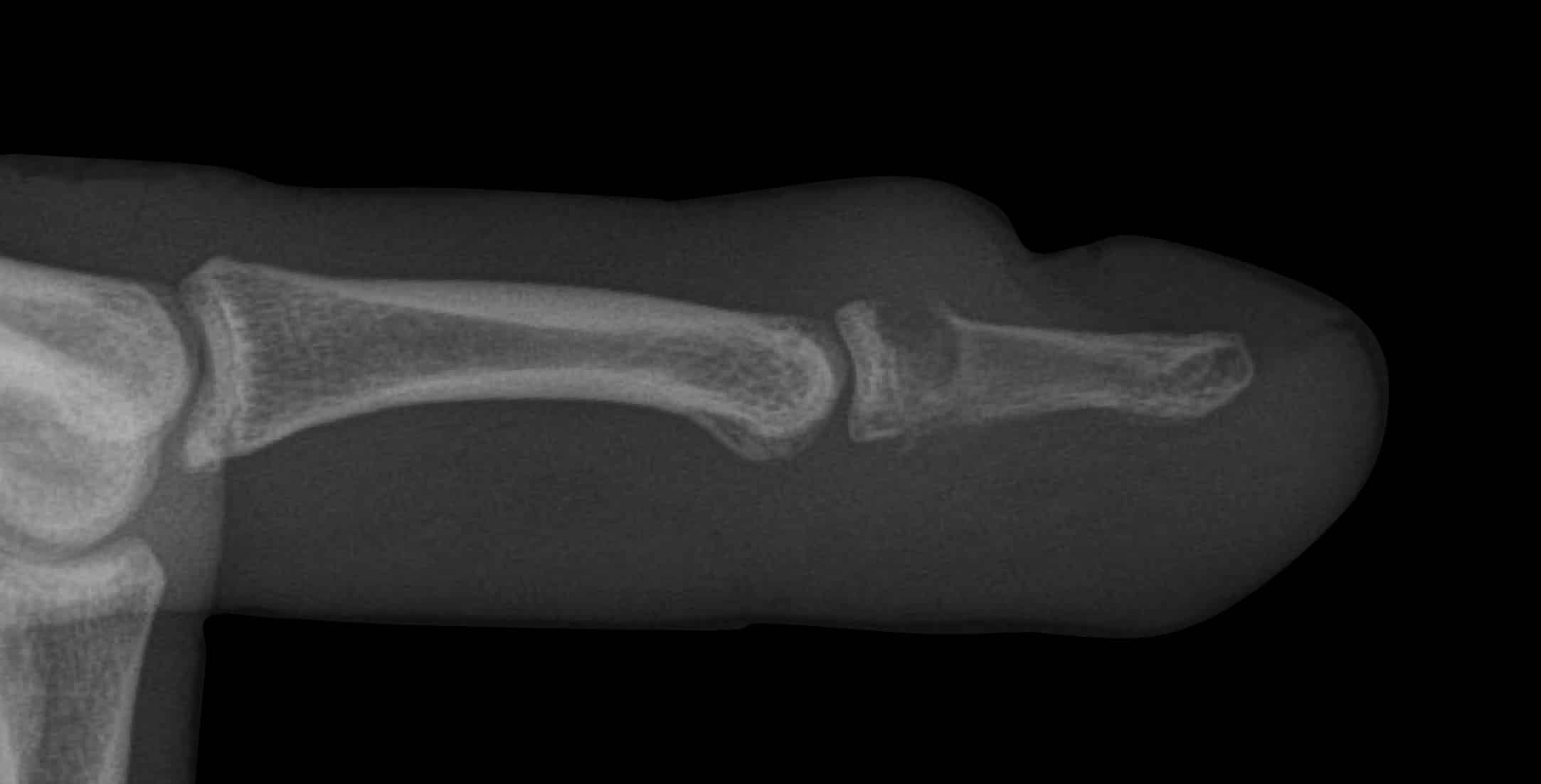 Labelled ultrasound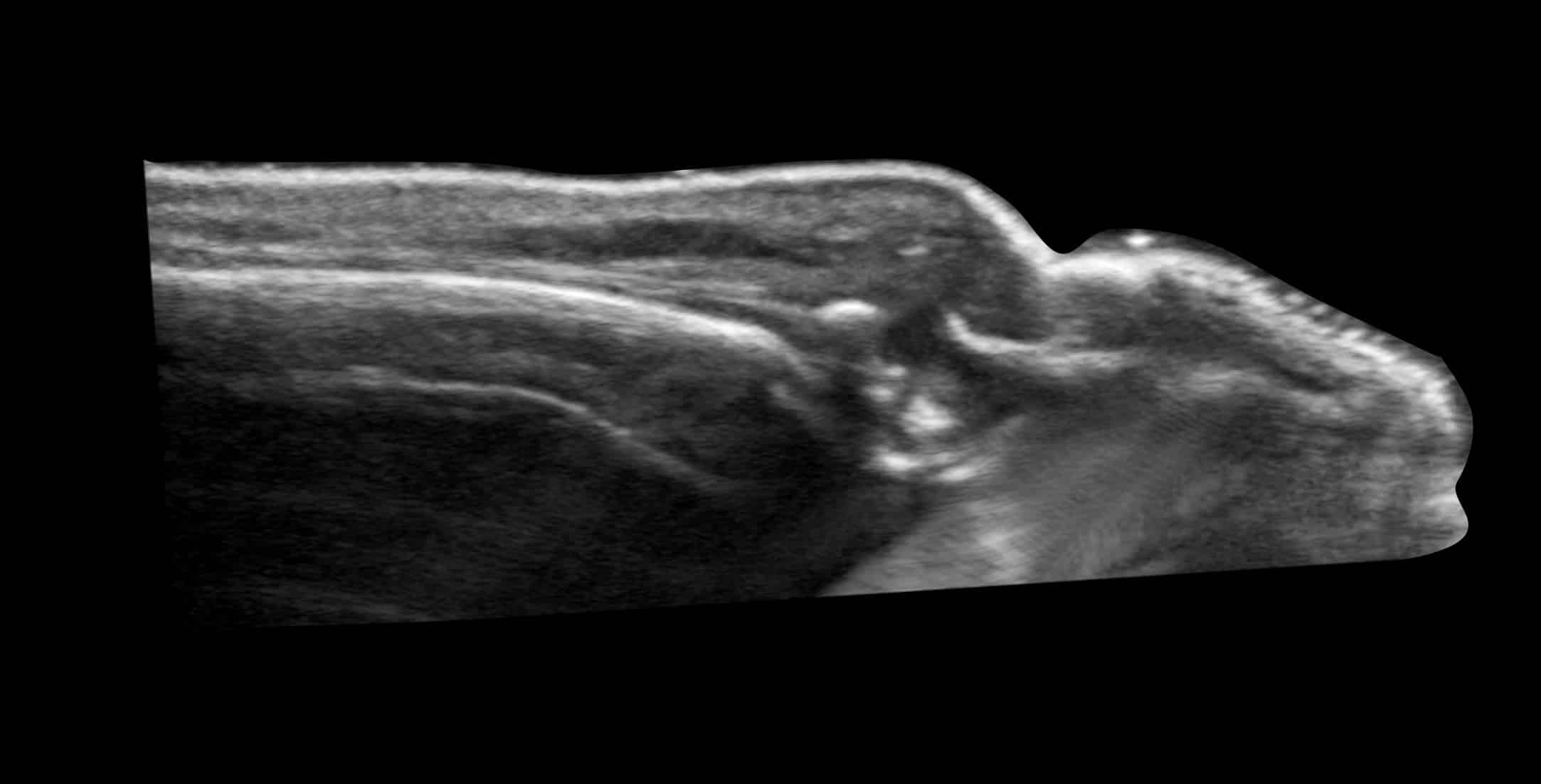 ---
IMAGE INTERPRETATION

Clinical Image. There is swelling and redness over the cuticle with destruction of the proximal nail bed. The appearance was one of paronychia, but the chronicity was unusual.

Ultrasound. Disruption of the dorsal distal phalanx is evident as loss of the normally smooth echogenic cortical surface.

Lateral finger X-ray. The X-ray confirms the destruction of the dorsal cortical surface and likely osteomyelitis.
CLINICAL CORRELATION

Distal phalanx osteomyelitis

What began as a deep abrasion on the dorsal distal phalanx probably seeded infection from the far from sterile sporting surface into the tissues of the finger, and over time a destructive osteomyelitis developed. Clinically the chronicity and relatively rapid worsening raised suspicion of a more complex process and imaging confirmed the eventual diagnosis.

When scanning a painful digit high quality ultrasound images can be difficult. The process is painful, and achieving a good window on an irregular and rounded surface is challenging.

We scanned this finger using a water bath. Water transmits ultrasound and direct contact is not required between probe and finger. In addition near field artefact is eliminated which improves the image.

Near field artefact: The first few millimetres of image in an ultrasound are usually disturbed by artefact and very superficial imaging is best done using a stand off pad or a water bath.
---
---
---
---
GP working in Broome in the NW of Western Australia. I work as a hospital DMO (District Medical Officer) doing Emergency, Anaesthestics, some Obstetrics and a lot of miscellaneous primary care | @broomedocs | BroomeDocs |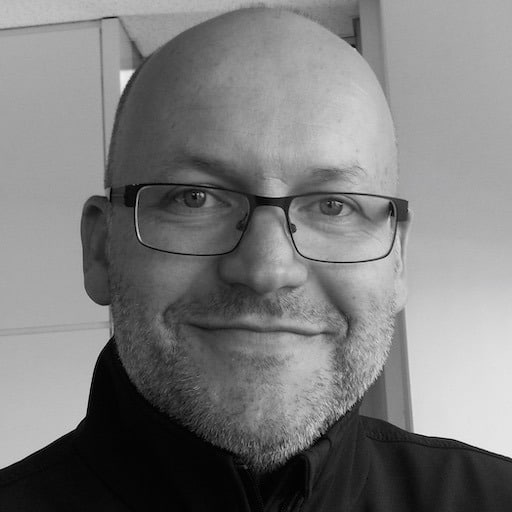 An Emergency physician based in Perth, Western Australia. Professionally my passion lies in integrating advanced diagnostic and procedural ultrasound into clinical assessment and management of the undifferentiated patient. Sharing hard fought knowledge with innovative educational techniques to ensure knowledge translation and dissemination is my goal. Family, wild coastlines, native forests, and tinkering in the shed fills the rest of my contented time. | SonoCPD | Ultrasound library | Top 100 | @thesonocave |